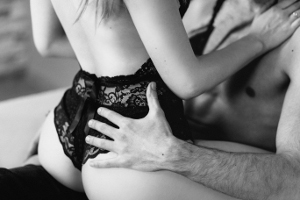 Do you regularly climax before your partner does? Do you wish you could last long enough to share the pleasure of having an orgasm during sex?
Fortunately, there are a myriad of ways to boost your sexual stamina, and sometimes just a few adjustments to the way you do things can make a surprising difference.
In this article I'll be sharing the best tips and techniques I've discovered during my own struggle with premature ejaculation.
Hopefully they'll help you last longer in bed straight away, as well as pointing you in the right direction for developing better arousal control in the future.
1. Choose your positions wisely
Positions which make your stomach, thighs and groin muscles tense have a particular way of making guys ejaculate sooner.
Avoid
The missionary position.
Doggy style – sorry, I know it's awesome.
Most standing positions.
Do more of
The cowgirl – you lying down with her sitting on top.
The reverse cowgirl – her on top facing away from you.
spoons – her lying on the side and you behind her.
2. Switch positions at the right time
A great way to reduce your arousal is to switch positions regularly, unless of course your partner is nearing orgasm.
Generally, position changes can help hold back ejaculation – it's what guys do in porn films all the time. You can even stop and give her some oral or rub her vagina with your penis for a while to give yourself time to calm down.
3. Empty the tank before having sex
If you masturbate an hour or two before sex, you're likely to last much longer when you have sex. This is a classic trick to last longer in bed, and it can work wonders.
4. Go for a second round
Even if it's all over quickly, don't just roll over and hope she didn't notice it was all a bit quick. Go for a second round as soon as you're able to. You'll nearly always last longer the second time.
5. Don't stop just because you had an orgasm
Sex doesn't end the second you ejaculate. Be a good lover and turn your attention to her with your hands, give her oral sex or whatever she likes. You might even recover in time for the second round while she's getting even more aroused, increasing the chances of the holy grail of coming at the same time.
6. Practice makes perfect
This isn't exactly a quick tip, but it's important nonetheless and links to the previous two points. Whether you've recently become sexually active, or have been for years, it's essential to have sex regularly.
If you suffer from premature ejaculation, only having sex once every few days won't help. Sure, some women will be less likely to want it if it's always over quickly. But if you focus on her pleasure, she'll be more than happy to have sexy fun time on a more regular basis.
7. Keep calm and breathe
You're not a dog, so don't pant during sex. There, you'll never forget this point now!
You can reduce your arousal by controlling your breathing during sex. Breathe in slowly for 4 seconds. Hold for 4 seconds. Then breathe out for 4 seconds.
It's amazing how much this alone helps rather than fast, shallow breaths which happen so naturally when you're aroused.
8. Relax your body
Staying relaxed is well known to help guys last longer in the heat of the moment. If you notice yourself tensing your abdomen, bum and thighs especially, try to relax them.
You can switch position or consciously use your mind to 'order' them to relax. And remember the best positions to use in point 1 above.
9. Relax your mind
Relaxing the mind is a trickier beast to pin down. According to sex therapists, if you go into sex worrying about coming too soon, you're more likely to do so.
So try using positive affirmations during sex to relax yourself. I know it's easier said than done, but it's not impossible. Tell yourself you're a good lover, feeling calm and that everything is just fine.
Alternatively, work on your general level of stress and anxiety in life. If you're a particularly stress-laden and tense person, then doing meditation, yoga or relaxation exercises daily will make a difference.
If that all sounds a little too esoteric for you, just remember the breathing. That can help with both bodily and mental relaxation.
10. Wear a condom
Wearing a condom is one of the simplest ways to last longer in bed, even if it does come at a price. Sure, it doesn't feel as good.
But what's better – 2 minutes of great feeling and a great ending for just one of you? Or 10 minutes of good feeling and maybe a great ending for both of you?
11. Use plenty of lubricant
The wetter the vagina is, the less stimulation and pressure, and so the longer you'll last. It's one reason decent foreplay is essential, and also a reason to use lubricant and get wet and slippy together.
12. As Bruce Lee once said, "don't think…feel…"
You've probably heard the classic advice of thinking about something boring or unpleasant. In my opinion, this is terrible advice churned out by countless websites.
Instead, try to focus on all the sensations in your body, and your partner's too. Don't allow your mind to get stuck thinking only about the sensation in your genitals though. Think how every part of your body feels from your toes to your fingers.
Enjoy the complete experience.
13. Relax and do nothing
As I said before, relaxation is key. So much so, that relaxing to the point of doing absolutely nothing can help you last longer. If you're on your back you can try to totally relax and let her take control for a minute or two.
Alternatively, both of you can simply lie still together with you inside and have a tantric moment. This gives you a chance to focus on your breathing and lower your arousal level, as well as connect on a more profound level.
14. Vary your speed and depth of thrusting
If you go at it hammer and tongs, you'll ejaculate sooner – it's as simple as that. But women also like variation, so you can sometimes thrust slowly, sometimes pause deep inside her, sometimes do very shallow thrusts and tease her at the entrance.
Personally, I've found that it helps to mix two things. Sometimes I'll stay deep inside, and then only move in and out a little, so the depth is maintained.
And then I'll almost totally withdraw, only moving my penis head in and out very slowly. I might then do 5 or 6 very slow shallow thrusts, followed by a very slow and deep thrust.
I find I can keep control this way, and my partner loves the anticipation of the next deep thrust.
15. Re-focus yourself physically
This isn't my personal favorite, but I know some guys say it helps a lot. Any small repetitive action with your body can help shift your attention from your groin. For example, gently curling the toes on one foot repeatedly.
16. Take a deep breath and hold it
As well as the normal relaxed and steady breathing, from time to time you can take one deep breath and hold it for longer. Obviously not until your face turns red, but between 5 and 8 seconds is plenty.
17. Don't start off hard and fast
At the beginning of any sexual experience the pleasure is immense, especially if you've suffered some sex starvation recently. So take it easy to start. Get used to the warmth and pleasure and then build up slowly.
If you can get through the first couple of minutes without too much stimulation, you should last longer than if you tear off her clothes and treat her like the world's ending in the next 5 minutes.
18. Make sure you don't need the toilet
You'll probably ejaculate sooner if you have a full bladder. So have a tactical pee before you get going.
19. Counting an action
This is a variation on the classic distraction technique, and is much better than thinking about paint drying. Try counting your thrusts or your breath, or anything else which is easy and rhythmic to focus on. Not my personal favorite, but again, guys do say this technique helps.
20. Stoke the fire before you boil the water
This is one of the most important tips I can give you, stemming from the basic concept that men get aroused much faster than women.
The longer you spend on foreplay (giving her as much pleasure as you can think of) the better, for 2 reasons.
First, it takes the pressure off you, especially if you give her an orgasm first. Second, it raises her arousal to be closer to yours, so you may not even need to last so long when you do eventually have sex.
21. Talk to your partner about it
If you talk openly about having problems with your sexual stamina, it will take the pressure off you. You can then work together and many of the techniques in this article will be easier to implement.
22. Explore tantric sex
This is more of a longer-term mission to undertake. But tantra has a lot to say about the way people have sex, and how there are other ways to go about it. It's well worth looking into as one of the core teachings is about slowing everything down.
One idea you can try now is to spend time massaging your partner before you get to more sexual foreplay. She'll love you for it, and again it'll make her more likely to want sex more often if she's currently avoiding it due to your quick finishing.
23. Use a delay spray
Using a delay spray is a great way to reduce the stimulation you feel, and can often add many minutes to your lasting time.
I used one when I first started trying to deal with the problem and found it was a good confidence booster.
It might look a bit funny spraying yourself up before sex, but it does the trick and you can always disappear into the bathroom for a minute.
Techniques to work on in the long term
All of the tips above can definitely help, and maybe just one or two will make a massive difference. However, in my experience to truly learn how to last longer during sex, a little more effort may be required.
Let's take a look at some classic techniques you can use to understand and better control your arousal levels.
A) The start and stop method
The start and stop method is a good technique to develop an awareness of what happens to your body and mind during sex.
I think it's especially good for guys who have premature ejaculation due to rushed masturbation when they were younger. But it's also useful for guys who last a few minutes already and want to extend that time.
Where it might not be so good is for guys who have an extremely sensitive penis. In that case, a desensitizing product might be a better option, though you can still try this technique alongside it to build your stamina.
If you have such severe premature ejaculation you don't even get to penetration, you can still use the technique when masturbating. And with your partner, you can slow right down and practice the technique with manual and oral sex.
The downside is that like all natural techniques, it can take time to see real progress. Forums are full of guys saying they've been at it for weeks or months and still not seeing progress. The answer is always 'you haven't been at it long enough'.
Find out how to do the start and stop method >>

B) Kegels and reverse kegels
Kegels are probably the most difficult exercise to understand and get right. Probably 99% of online articles tell you to do kegels, but sadly often continue to spread incorrect information.
For example here are some key facts about kegels you don't normally hear:
Doing them can make premature ejaculation worse if you do them incorrectly.
Kegels aren't about strengthening the Pubococcygeus muscles. It's about developing strength, tone and control of both the Pubococcygeus muscle and the Bulbocavernosus muscle.
Kegels is only a last line of defense to hold back ejaculation. At all other times during sex you need to keep your pelvic floor relaxed.
Reverse kegels are also important to balance the training you do, and can help your pelvic floor remain relaxed during sex.
Find out more about kegel exercises >>
Final Word
The key point to take away is to keep an open mind and be willing to try different things, but move on if they don't work.
My view is that the best approach is to hit the problem from every possible angle. The more techniques you put into practice, the better a chance you'll have of lasting much longer in bed.