Last updated on: April 12, 2017 By Ethan Green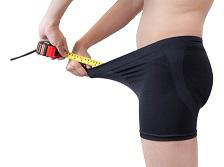 Do you feel that your penis is too short or thin, especially compared to other guys?
It's a very common concern that guys have, so if you're not happy with your size, you may be wondering how you can make it bigger.
Even though there's a wide range of techniques, pills and devices for increasing penis size, there hasn't been much scientific research done to evaluate their effectiveness.
And as you'll see in this article, only one method has been repeatedly proven in clinical trials to successfully increase penis length.
Despite that research, some medical organisations like the British NHS say "there's not much you can do" to increase penis size.
And on the other hand, anecdotal evidence from guys discussing penis enlargement online would suggest that it is possible to achieve growth in ways that doctors say don't work.
It's a confusing topic then!
So in this article I'll be taking a look at all the main approaches to penis enlargement, and assessing how effective and safe they are. Hopefully it will shed some light on the different methods and help you decide if you want to try any yourself.
What's the average penis size?

Before considering the penis enlargement techniques, you might find it useful to look at some penis size statistics.
Many guys feel like their penis is too small, but in actual fact they're within the normal range.
In 2015, researchers at King's College London University looked at 17 previous studies involving over 15,000 men. This is what they found:
The average flaccid length is 9.16 cm (3.6 inches)
The average stretched length is 13.24 cm (5.2 inches)
The average erect length is 13.12 cm (5.1 inches)
The average flaccid circumference is 9.31 cm (3.6 inches)
The average erect circumference is 11.66 cm (4.6 inches)
Of course some men do have shorter or longer penises than others – that 5.1 inches is just the average.
Another study of 1661 men by Indiana University in 2013 found the following:
The average erect penis size is 14.14 cm (5.6 inches)
The range of sizes was between 4 cm and 26 cm (1.6 inches to 10.2 inches)
Finally, it's important to note that in medical terms a penis is only considered to be abnormally small if it measures less than 3 inches when erect.
So before you decide to go ahead with any penis enlargement methods, you may find your penis is actually within the normal range.
What do women think about penis size?
How you feel about your penis size is one thing, but it's also good to consider what women actually want.
In 2007, researchers in the UK looked at more than 50 research projects spanning 60 years with information about over 50,000 men and found the following:
85% of women are satisfied with their partner's penis size, but only 55% of men were satisfied.
90% of women prefer a wide penis to a long one.
In 2015, researchers at the University of California found that women might prefer wider penises only for short-term sexual experiences.
However, they prefer their long-term partner to have a more average size penis. They conclude that it's only the "novelty factor" that might drive interest in larger sizes.
The reality is that women often find that a very large penis can be painful during sex. And as they say, it's not the size of the boat that matters, it's the motion of the ocean!
How to make your penis appear bigger
There are some simple things you can do to make your penis appear bigger. So I recommend trying the following before any of the enlargement methods discussed below.
Lose weight – if you're overweight, the extra padding can make your penis appear smaller.
Shave or trim your pubic hair – if you have a lot of pubic hair, it can make your penis look considerably smaller. So if you trim or shave it, you might find your penis looks much bigger.
Don't look down – when you look down at your penis, the angle always makes it look smaller. Look at yourself in a mirror instead.
Don't compare your downward angle to other guys – if you're in a shared changing room for example, when you look at yourself and then other guys, you'll look smaller for the same reason as above. So think how your penis looks in the mirror if you find yourself comparing your size to other guys.
Measure yourself correctly – if you measure yourself with a ruler, don't just rest it against the skin. Put the ruler on top of your penis and push it into your stomach to the pubic bone. As

Webmd.com

explains: "you don't see the root of your penis tucked up inside your pelvis and attached to your pubic bone"
Remember your age – it's common to worry about your penis size when growing up. Remember though, teenagers develop at different times, so there's no point comparing yourself to others. And your penis may keep growing until your early twenties, so even if you think yours is small now, it might still grow considerably.
Don't compare yourself to guys in adult videos – guys in adult films are chosen for their larger size. They don't represent what's considered average, so try not to compare yourself to them.
Consider counseling – research has shown that in many cases counseling is effective in helping men feel good about their size. So before trying enlargement techniques, it may help to speak to your doctor about how you feel.
Enlargement techniques
1. Penis stretchers / traction devices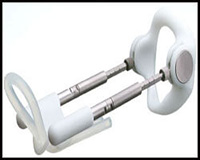 In theory, penis stretchers work by exerting traction on your penis and slowly stretching it over time.
It's the only non-surgical technique which does have research evidence to say it works, albeit very slowly.
In 2010, 2 Italian researchers published an interesting article about penile lengthening in the urology journal BJUI, reporting that:
Although there are only a few well-conducted studies to assess their efficacy, it seems that these devices can produce an effective and durable lengthening of the penis, in both the flaccid and the stretched states.
They go on to discuss 5 different research studies in which there had been significant gains in flaccid penis size. For example, a study in 2002 showed gains of between 0.5 cm and 3.1 cm. A 2008 study showed gains of 2.3 cm. And a clinical trial in 2011 showed average gains of 1.8 cm.
There was no increase in girth in any of the studies though – only flaccid and stretched length.
The main problem is the amount of time you have to use them to see any results. The 2008 study, for example, required men to use the extender for 4 hours a day for 6 months, and the 2002 study 6 hours a day for 3 months.
Importantly, the study authors do note that penis traction appears to be relatively safe to use, stating:
Treatment with penile extenders is generally reported to be well-tolerated…the application of such devices can be recommended in all patients regardless of the penile length, because of the low risk of complications
So if you think you can spend several hours a day for several months using an extender while you watch TV, surf the internet or read a book, this could be a technique worth trying.
Available at: SizeGenetics.com
2. Penis vacuum pumps

Penis vacuum pumps are sometimes used as a treatment for erectile dysfunction as they can help improve erection strength when used.
They work by creating a vacuum which then draws blood into the penis, and because of that are also sometimes marketed as helping increase penis size.
The downside is that they will probably only make the penis bigger for a short while after using them. There's a lack of scientific research into their effectiveness for increasing size permanently.
The only research I could find was conducted by Iranian researchers in 2016. In their study, 37 men used a penis pump for 6 months.
The average size increased from 7.6cm to 7.9cm, which they say isn't statistically significant. They did report though that 30% of the men were satisfied with this increase, concluding that:
Vacuum treatment of the penis is not an effective method for penile elongation, but provides psychological satisfaction for some men.
Anecdotally, some guys do say in forums and customer review sites that they've had success in increasing their penis size using penis pumps.
So although a penis pump could have the potential to help with erection strength, it's not guaranteed to significantly increase your penis size on a permanent basis.
One important safety note worth mentioning is that they can cause tissue damage if used excessively. So if you do decide to try one, make sure you read and follow the safety instructions carefully.
Available at: Hydromaxpump.com  |  Penomet.com
3. Stretching and jelqing exercises
Stretching and jelqing both involve penis exercises you can do using just your hands to increase your penis size naturally.
Jelqing is similar to stretching, using actions similar to milking a cow to force blood into the penis, slowly expanding the parts which hold the blood. This in theory then leads to penis growth.
As far as I can tell, there again isn't any scientific evidence proving that these techniques work. However, medical websites like mayoclinic say that stretching and jelqing do at least appear safe to practice.
Despite a lack of scientific evidence, there's a lot of anecdotal evidence from guys – particularly on sexual health and body building forums – saying that the exercises do lead to size increases.
There are, unfortunately, some rather dubious penis enlargement guides sold online, often requiring you to take some controversial supplements.
If you've seen these and are thinking of trying them, I recommend reading my reviews of penis enlargement guides first.
Interestingly, an article in Science Daily in 2011 reported researchers as saying:
There is no scientific evidence to show that penile lengthening exercises work. Despite this, it is very attractive to patients who like the idea of a non-invasive, low-cost method of penis enlargement and is widely discussed on the internet.
4. Pills, supplements and lotions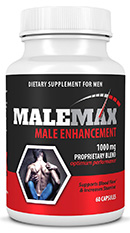 In a similar way to the penis pumps, there are many different pills and creams which are sold online with claims to help with erections and penis size.
The main selling point is usually to help guys with erectile dysfunction or low libido, but a secondary effect can be an apparent increase in size until the pill wears off.
The main problem is that they are only intended to help for short periods of time. So even if you do notice an increase in size, it won't be permanent.
A second problem is that some pills and supplements have ingredients which can be harmful. The regulation of this industry isn't very tight, so you often just don't really know what the pills contain.
And finally, many experts say that these type of pills simply don't work.
On the British NHS website page about penis enlargement, there's a definitive quote from Professor Kevan Wylie, who is a sexual medicine consultant:
They're a complete waste of time…pills and lotions have no proven benefit. If they were effective, they would be on sale at chemists. Using a lotion may help a man become more familiar with his penis, which some men shy away from. So lotions can help a man become more comfortable with his penis but they certainly won't make it any bigger.
5. Surgery
Surgery is probably the most controversial of all the penis enlargement methods. Generally, surgery to change penis size is reserved for men with birth defects or abnormalities.
There's very little research available about the risks and benefits for men who are considered to have a normal size.
In the 2010 study by Italian researchers, they concluded that surgery had a "high risk of complications and unwanted outcomes."
And the Sexual Medicine Society of North America have a clear statement about penis enlargement surgery on their website, saying:
The Society for the Study of Impotence has found no peer-reviewed, objective or independently- monitored studies, or other data, which prove the safety or efficacy of penile lengthening and girth enhancement surgery.

The Society believes that, in men who do not have congenital anatomical anomalies of the penis, the safety and efficacy of penile lengthening and girth enhancement surgery have not been established.

Therefore, penile lengthening and girth enhancement surgery can only be regarded as experimental surgery.
If this is something you're thinking about, it's a good idea to talk it through with your primary care doctor. They can help you understand why surgery isn't usually recommended, and provide you with advice about safe alternatives.
Alternative – penis extension sleeves

If you're feeling a bit disappointed by the lack of a simple way to increase your penis size, there's a much easier and cheaper alternative which could be a lot of fun for you and your partner.
A penis extension is a sleeve which you can wear on your penis to increase the girth and/or length. Some have different shapes or with extra stimulation ribs or contours to make it even more exciting for your partner.
They are also great for erectile dysfunction – if you lose your erection strength during sex, the sleeve will allow you to continue without having to stop to try and get your erection back.
The great thing is that there's no faffing around or spending months working on your size – you just slip it on and then surprise your partner with your instant change in size, shape and texture.
Available at: Lovehoney.com
Conclusion
Despite what some clever advertising campaigns may try to convince you of, scientific research shows that there's no quick and easy way to permanently increase the size of your penis.
There are several different approaches to enlargement, with penis traction being the only one that research has shown to be effective.
Anecdotal evidence from guys talking about their experiences online would suggest that penis pumps and stretching exercises can help, but there isn't much scientific evidence to back this up as yet.
There are some things you can do to make your penis look bigger, which are relatively easy to do. And it may be that the best option is to remember that most men do have a normal size, and to be proud of your body.