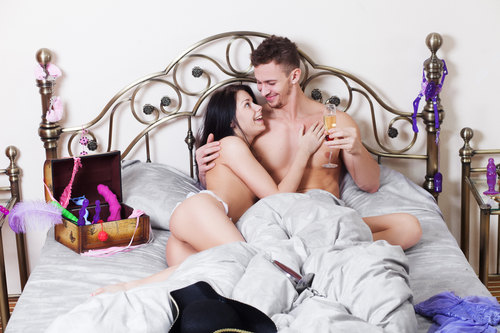 Believe it or not, sex toys aren't a modern invention. For literally thousands of years, people have been using sex toys to spice things up, both with their partner and when alone.
With so many options to choose from nowadays, I decided to put together this buying guide to shed some light on what's out there and help you work out what might suit you best.
Why use sex toys?
Sex toys can come to the rescue when biology lets you down, giving you more options when your body isn't playing ball.
For men with common problems like erectile dysfunction or premature ejaculation, they can use sex toys to please their partner and reduce the stress to perform.
For women, who often find it difficult to climax during regular sex, a toy can be just the ticket to achieving that elusive orgasm.
But more than that: sex toys are fun. From personal experience, I can tell you that accessories up the excitement level in the bedroom. And you don't just have to take my word for it, sex toys have been in use for a very long time; the oldest dildo ever found is from 28,000 years ago!
How to bring up the subject with your partner
Talking about dildos over a romantic dinner isn't for everyone (though can be entertaining!). So bringing up the subject of sex toys is best done in the bedroom.
There are two good ways to go about this: you could buy something as a gift, or you could simply suggest the idea in the heat of the moment, and later go shopping together.
There's really no reason to be worried about talking to your partner about using sex toys. In fact, with more than half of women using vibrators, you might find your partner already has some experience with sex toys.
If I had one piece of advice here it would be to start small (literally and figuratively!). If you've never used a sex toy together before then jumping straight into strap-ons or butt plugs might not be the best idea.
Some fun, non-threatening first toys could be a small vibrator, a cock ring or a blindfold. From there you can expand your repertoire and/or go more extreme if you choose.
With that in mind, let's take a look at the different categories of sex toys.
Cock rings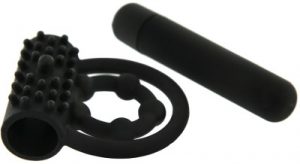 Cock rings are a basic, but effective sex toy choice; a ring made of plastic, metal, or leather, designed to fit around the base of the penis.
A traditional cock ring traps more blood inside your erection, making the penis seem harder. For some men, this can help keep an erection and even delay ejaculation.
More modern cock rings may have a vibrating attachment included, either designed to stimulate you, or designed to press against the woman's clitoris during sex to stimulate her. You might also find options that have two rings, one that goes around the base of the penis and the other around the testicles.
The most important thing to bear in mind about buying a cock ring is that size and flexibility are key! You're looking for either a material (such as supple plastic) that allows for some stretching, or you're looking for a ring that fits you snugly but not too tight when erect.
Dildos, strap-ons and penis extensions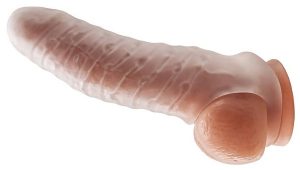 Another simple, basic choice is the dildo. A dildo is designed to look like a penis, and is generally made from hard or soft plastic, or silicone.
In terms of use, a dildo is nearly always used to simulate intercourse, though it can be used vaginally or anally. If you have problems maintaining or regaining an erection, a dildo can be very useful indeed.
A variant of the dildo is the strap-on. This is a harness that's worn around the waist and that holds a dildo in place around the genitals. Strap-ons do tend to be used more by women on other women, or on men.
And there are also penis extension sleeves, where you insert your penis inside the dildo and then use the dildo to penetrate your partner. These can be useful for men who struggle with erectile dysfunction or to provide some temporary penis enlargement.
Again, size is key when dildo shopping. You want a size that's going to be comfortable for the partner who's being penetrated. If in doubt, go a bit smaller than you might expect; you can always work your way up to bigger sizes in time.
Vibrators

On to what's almost certainly the most popular sex toy choice: the vibrator. Much like a dildo, traditionally vibrators are penis shaped, but with the addition of vibration settings to add to your pleasure. Though generally designed more for women, more and more men are discovering how amazing vibrators can be.
Nowadays there really are all kinds of vibrators. From penis shaped to bullet shaped, and those specially designed to massage your prostate or her G spot; the options are endless.
My only general advice for buying a vibrator is to opt for multi-speed settings wherever possible. One standard speed isn't going to be right for everyone, so it's best to have a few options.
Stimulators
Just as the name suggests, stimulators are designed to stimulate. These come in both male and female versions (and a few dual versions).
Male versions tend to look like cock rings, though less tight, and vibrate around the base of the penis. Female versions are usually quite flat and small and are placed over the clitoris (maybe held by straps). Dual versions are some combination of the above that allows vibrations to hit both the clitoris and the penis.
Stimulators tend to be great for women who have problems orgasming from regular sex. They can be tougher for men, however, since overstimulation is just likely to make you orgasm faster than you really want to.
Given that you're most likely going to be buying a stimulator for your partner, my advice here is to let her shop with you. She'll know better than you what she wants.
Anal gear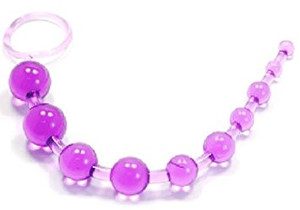 Anal pleasure isn't for everyone, but if it's your thing, there are toys designed especially for you. Other than dildos and vibrators, there are two real kinds of anal toy: anal beads and butt plugs.
Anal beads look like a string of beads, generally small at one end with the beads growing in size up to the other end which will have some kind of ring or string attached to it. These are inserted in the anus and then slowly pulled out (using that ring) during sex.
Butt plugs may be penis shaped, but more usually are cone shaped. The top of the plug is tapered, and the bottom flares into a wide base with a rim around it to stop the plug going up further than you want.
With both these options, size is again the main issue. And again, my advice is to start smaller than you think necessary and work your way up.
Be VERY careful to buy top quality anal gear and ensure that rings/strings on beads are firmly attached, and that bases on plugs are wide and easy to grab hold of. This will prevent any embarrassing trips to the emergency room.
Fleshlights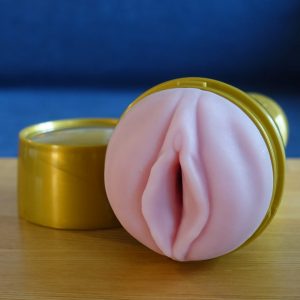 Fleshlights are one of the most popular male sex toys, known for being high-quality male masturbation toys. There's a huge range, with the majority being realistic vaginas used to simulate real sex.
They are are a great way to make your solo masturbation time a whole lot more pleasurable, but can also be fun to let your partner use on you for a different experience or when she can't have sex herself.
To find out more about these, have a read of the review of the Fleshlight Stamina Training Unit.
Accessories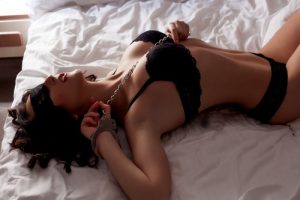 Finally, we come to a catch-all category. Accessories can mean anything that hasn't already been covered. Nipple clamps are a good example, designed to stimulate the nipples of both men and women during sex.
You might also want to think about S&M accessories too, if that's something you want to explore together. There are plenty of blindfolds, spanking toys, whips, restraints and ropes available to enhance your pleasure.
There are also plenty of what I call "gag" accessories, meaning funny or joke things like edible underwear and sex games.
And last, but definitely not least, there's the most important sex toy accessory of them all: lube. Lubricant improves sex for everyone involved, and should certainly be used if you're using a sex toy for penetration.
I'm sure there are things that I haven't mentioned here, since the sex toy market is so huge. But these are the main categories that are important when you're first getting into them.
General sex toy buying advice
When it comes to sex toy shopping, there are a few things I think you need to keep in mind:
1. Size
Not too big, especially for beginners. Remember that in some instances size is very important (such as with cock rings).

2. Price
Obviously, you're not going to want to spend more than necessary, especially if you're buying something you've never tried before and you're not sure if you're going to like it. That being said, cheap isn't always the best option.
There are plenty of cheap sex toys on the market, but they usually aren't high quality and will break easily. More importantly though, some of them might not be safe for use due to the materials they're made of. Which brings us to…
3. Materials
Glass and metal sex toys are becoming more popular, and these (though pricey) are a great option because they're safe and easy to clean. However, most sex toys, especially affordable ones, are going to be made of plastic or silicone.
If you're going plastic, then you need to make sure that that plastic is phthalate-free. This should be marked on the packaging, the advertising, or alternatively the product might be marked "skin safe." Phthalates have been linked to all kinds of health risks and should be avoided, especially when it comes to sex toys.
Silicone is a popular and affordable choice, and a good one too. Just be aware that you can't use silicone toys with silicone-based lubricant or with (most kinds of) condoms. In this respect, plastic could be a better choice.
Taking care of your toys
Once bought, remember to take good care of your toys. Whether metal, glass, plastic, or silicone, toys should be washed either with warm soapy water or the special cleaning spray provided after use, and left to air dry. They should then be stored out of direct sunlight (and maybe in a locked drawer or box!).
Toys should be treated the same way as body parts are treated, since they can spread STDs. You should use a condom on a toy if that toy is to be used on more than one person in a session. And if a toy is going from vagina to anus (or the other way round), then that condom needs to be changed in between times.
Sex toys are an excellent addition to any bedroom, and one that I'd highly recommend. Not only will they do the job when biology fails us, but they're also fun and very sexy.
Can't face going into a sex shop? Then shop online instead. You might even find that shopping together is great foreplay.