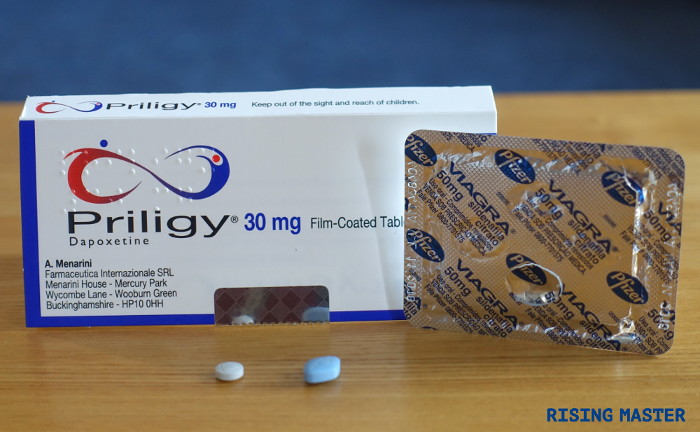 Many readers have asked if it's safe and effective to combine different premature ejaculation and/or erectile dysfunction treatments.
Sometimes it's in the hope that a dual approach will be more effective. But it might also be that you suffer from two or more sexual problems at once.
If you're thinking of doing the same, you'll find some helpful information about the most common combinations people ask about here.
Please note that this article isn't a substitute for medical advice. And as you'll see below, the standard advice for most combinations is either to avoid them, or check with your personal physician or doctor first.
Why combine treatments?
Everyone has their own personal reason, of course. But the main reasons readers have expressed are to:
Improve premature ejaculation more than one treatment does
Overcome serious erection problems
Cope with the difficult issue of dual PE and ED
Increase erection size (and in some cases penis size)
Improve libido
Have sex more often and/or more times in one encounter
These are all very understandable reasons. But the question is, will two treatments work better than one, and is it safe?
---
A difficult questions to answer
Unfortunately, there isn't always clear guidance about combining sexual dysfunction treatments.
There are several possible reasons why:
There isn't enough clinical research into the safety and effectiveness
If scientists believe there could be serious adverse effects, they don't risk testing with people
Your medical history and other medications are important to consider
Drug companies don't tend to advise people to use their competitor's products
With non-prescription treatments, there's often limited guidance from the manufacturer
So even though I'll look at some combinations below, please understand that this is often a grey area. And that other factors can play a key role in making a decision.
---
Should I consult my personal physician or doctor before combining treatments?
Yes, absolutely. Even if you can buy a treatment online, it's still good to check if it's safe to combine it with a different drug or remedy.
And in some cases, you might already have a medication because of a different condition, such as painkillers or anti-depressants.
In that situation, you should still check with your personal doctor before taking another sexual dysfunction treatment at the same time.
---
Common combinations men ask about
1. Tramadol and sildenafil (viagra)
Advice: avoid unless your doctor advises it
Why: The hope is that the viagra (or similar sildenafil products) will help with erectile dysfunction. And then the tramadol will prevent premature ejaculation.
There's no available clinical research into this combination though. And medical sites like drugs.com don't have any specific advice about it.
However, they are both strong drugs, with many potential side effects and warnings. So I don't recommend experimenting with them without consulting your doctor.
---
2. Viagra and alcohol
Advice: don't drink excessive amounts
Why: some men find that alcohol helps with premature ejaculation, and increases their sexual self-confidence. It also naturally goes with social situations, of course.
However, alcohol can cause erection problems, making viagra less effective. Here's what the patient leaflet says:
Drinking alcohol can temporarily impair your ability to get an erection. To get the maximum benefit from your medicine, you are advised not to drink excessive amounts of alcohol before taking viagra.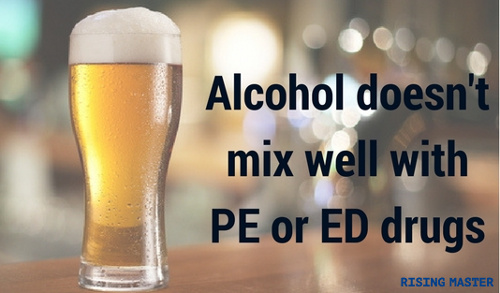 ---
3. Viagra and poppers (amyl nitrate)
Advice: avoid
Why: Some people use poppers to relax their muscles, making sex easier; others say it increases libido and lasting time.
But Pfizer (the manufacturer of viagra) specifically advises not to take this combination on the viagra patient leaflet. The reason is the risk of a dangerous blood pressure drop.
---
4. Priligy/dapoxetine and tramadol
Advice: avoid
Why: the manufacturer of priligy specifically warns against taking priligy and tramadol together because they can both affect blood pressure.
And if you take one, you need to wait before taking the other. Here's what the priligy patient leaflet says:
Do not take Priligy at the same time as any of the medicines listed above (note – tramadol is on that list). If you have taken any of these medicines, you will need to wait 14 days after you stop taking it before you can start taking Priligy. Once you have stopped taking Priligy, you will need to wait 7 days before taking any of the medicines listed above
---
5. Priligy and erectile dysfunction drugs
Advice: discuss with your doctor first
Why: both priligy and some erectile dysfunction drugs can lower blood pressure. Unlike with tramadol though, the advice on the priligy patient leaflet is to check with your doctor first:
Tell your doctor or pharmacist if you are taking…certain medicines used to treat erectile dysfunction, such as sildenafil, tadalafil or vardenafil, as these medicines may lower your blood pressure, possibly upon standing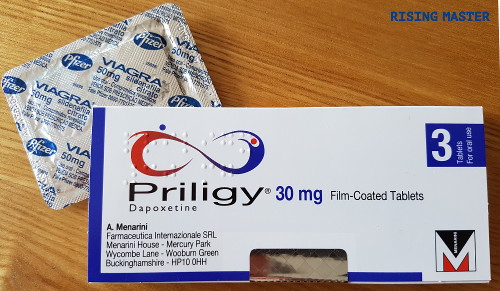 ---
6. Priligy and alcohol
Advice: avoid
Why: the manufacturer advises against using alcohol with priligy. It can increase the effects of alcohol, such as dizziness and sleepiness, and increase the risk of accidents or fainting.
---
7. Priligy and desensitizing sprays / creams
Advice: discuss with your doctor first
Why: desensitizing sprays are one of the most popular over the counter treatments for premature ejaculation. And they tackle the problem in a completely different way to priligy.
There's no information about the safety of combining both though. I contacted Promescent, the manufacturer of a lidocaine-based delay spray, and they advised consulting with a doctor first.
On a personal note, I tried this particular combination and didn't have any additional problems beyond the side effects they have on their own. It also seemed more effective than when taking just one.
---
8. Desensitizing sprays and erectile dysfunction drugs
Advice: discuss with your doctor first
Why: there's no official information available about using a delay spray with an ED drug. I also asked Promescent about this, and they offered this advice:
We don't have any data on the combination of Promescent and other products or any side effects of combining them. We would always recommend they consult with a physician or doctor before using Promescent in combination with any prescription medication such as ED treatments.
On two occasions, I've tried viagra and a desensitizing spray. Once with promescent, and once with fortacin.
I found it helped with the issue of the spray causing erection problems, and didn't cause additional noticeable side effects. But I still recommend checking with your own doctor first.
It's also thought that viagra helps some men with premature ejaculation. So it might be better to try it alone to start with, rather than a combination therapy.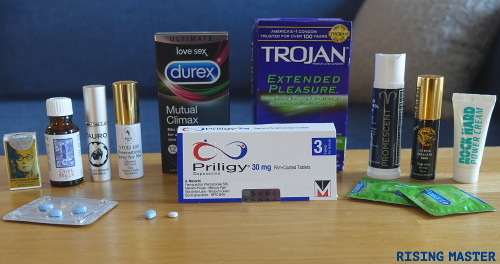 ---
9. Desensitizing sprays and numbing or normal condoms
Advice: fine with a normal latex condom. But not with a numbing condom.
Why: numbing condoms almost always contain benzocaine. Sprays/creams usually contain lidocaine, benzocaine or prilocaine.
It doesn't help to apply two types of desensitizing at once though. The result is likely to be erection problems and an unpleasant burning sensation.
However, it's fine to use both a delay spray and a normal condom, as long as it's latex. You can find out more about using desensitizing sprays here.
---
10. Sildenafil and a vacuum erectile device (penis pump)
Advice: might help if the individual treatments aren't effective enough.
Why: PDE5I drugs like sildenafil are the usual first-line treatment for ED. If it doesn't help, a penis pump is often recommended next.
Researchers found that combining the two was a more effective treatment when one wasn't good enough on its own.
All 41 men in the research study said they were more satisfied with the dual therapy. Though it was noted that younger men preferred this approach.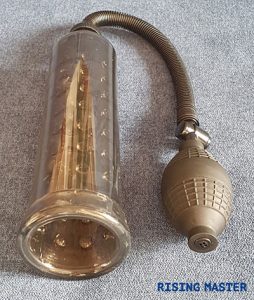 ---
11. Vacuum erectile device and desensitizing spray
Advice: there's no available medical advice about this. My view is to be very careful if you try it.
Why: a common side effect of desensitizing products is difficulty in getting an erection. So a penis pump can help when that happens.
However, penis pumps can cause tissue damage and pain. So in my experience, you need to be very alert for any discomfort when you use it. If your penis has reduced sensitivity, it's difficult to judge though.
So I advise not combining the two unless you check with your doctor first and take extra care.
---
12. Male enhancement pills and herbal remedy combinations
Advice: medical sources often advise avoiding unregulated over the counter pills. My view is that you should research them carefully and discuss with a doctor first.
Why: there are many pills sold online that promise to help with erectile dysfunction, premature ejaculation, low libido and sexual performance.
However, many are in the supplements category, and therefore untested and unregulated. This means they can be dangerous even on their own. So mixing them isn't a good idea either.
There are undoubtedly herbal remedies that do work well, and have been used in traditional medicine around the world for hundreds of years.
Just be aware that they are often sold in pill form along with other ingredients. And that means the effects, and the potential side effects, are difficult to predict.
You can see some examples of pills I've tested and researched among my erectile dysfunction articles.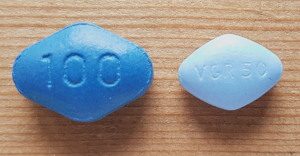 ---
Your questions and experience
Do you have a question about any other combination not covered here?
Have you tried any of the above combinations, and are willing to describe your experience so other readers can learn from it?
Please leave an anonymous comment below to help grow this resource.
Further reading
In 2011, a group of researchers published a large review of combination therapy for erectile dysfunction.
If you're interested in specific pharmaceutical drug treatment combinations, this journal entry might interest you.
And you might also like to read more premature ejaculation articles.