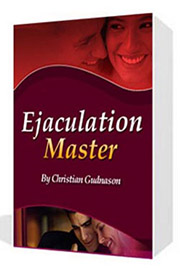 As a premature ejaculation guide, the Ejaculation Master has some good sections, but I ultimately found to be lacking in accuracy. A line from their website illustrates why I wasn't too impressed:
"Yes! I am dying to give it to my honey good! Please send me the guide!"
I'm sure the author, Christian Gudnason, could have employed someone to check both the website and book for accuracy (and still could!).
On the plus side, I was impressed that the money back offer was made very clear on the website – a good thing since you might be taking him up on that offer.
The Ejaculation Master is 64 pages long, and does get straight to the training without any waffle, which is something it has in its favor. The usual introduction about PE is at the back of the book for some reason, but does cover the basics for people new to the topic.
The content
Back to the start, and the first section focuses on relaxation and visualization techniques. It doesn't go into a lot of detail about relaxation, giving a basic introduction to standard techniques which you can easily find online.
The visualization section actually had me chuckling to myself. It's more of an erotic magazine entry than a technique, and I can't help but think the author got carried away when he wrote it.
I also think that it conflicts with most PE advice about learning to control arousal before masturbating, rather than increasing it.
The next section is about pelvic floor muscle exercises, where I found some advice I don't agree with at all:
"And since you cannot overwork your PC muscle, you can practice it pretty much anytime you think of"
This just isn't true. You can overwork any muscle, and it's particularly important not to go crazy with kegels otherwise you can make your ejaculation control worse. So I was surprised to see this advice.
The awareness exercises that accompany the arousal section seem reasonable to a certain extent. But encouraging people to make sounds and moan when pleasuring themselves might not feel natural for some guys.
15 minutes of touching your body before your genitals seems a long time. The exercises which encourage you to move from step to step of arousal just seem overly complicated and ask for too much precision.
Finally, something positive comes along in the focus-changing section. It's only a small section, but actually has some great advice which you don't find in most other books.
And then sadly it's back to criticism when the partner exercises section arrives. They're just too confusing, and involve an unnecessary amount of communicating with your partner about what's happening.
The extras
The hypnosis MP3s which come with the program are designed to help with stress-relief, confidence and concentration. Unfortunately I had trouble downloading them, so can't comment on the quality of them.
There's an interesting free 14 page book that appears when you click the order button. It says there are only 100 free copies to give away, but I suspect there will be an endless supply as it eventually tries to get you to buy more stuff.
The free book is about boosting testosterone, and contains some useful information. It might not be that essential in learning ejaculation control, but it's interesting all the same if you feel you're somewhat lacking in testosterone.
Conclusion
The Ejaculation Master just doesn't measure up to other books about PE. It has some strange ideas, some poor advice which could lead to the problem getting worse, and is just too complicated.
There are some useful ideas to be found in the book, and perhaps you'll get a laugh out of reading some sections as I did. But really, if you're looking for a serious PE guide, this perhaps isn't the best choice.