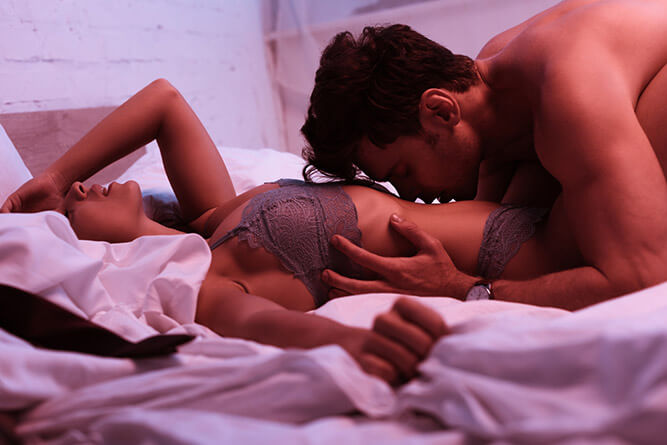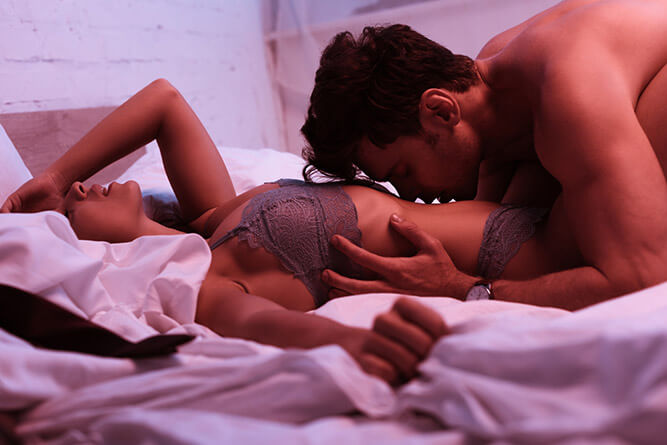 Oral sex can be an exciting part of foreplay and an intense sexual experience that many women enjoy. It's also a great way for men with premature ejaculation to extend lovemaking and give themselves some time out when they feel close to climaxing.
The best news is that it's not so hard to improve your technique. All you really need to do is try out new movements and observe how your particular partner reacts.
In this article, I'll share some of the best techniques I've found over the years, and I'll also explain how you can learn what works best for your own partner.
Everyone is different
A key point to keep in mind is that all women are different. What works for one might not work for another, and what worked last night might not work tonight.
Where does that leave you? With a lot of experimenting to do or the courage to simply ask her to tell you what she likes.
When testing the water, try different movements, patterns, positions, speeds, and rhythms. Mix things up until you have a good repertoire of techniques that you feel comfortable with and seem to work well.
Your ability to respond to her feedback is arguably just as important as your initial experience and skill with your tongue. Listen and pay attention, and if what you're doing isn't getting the right sighs and moans, don't get disheartened – just move on and try something else.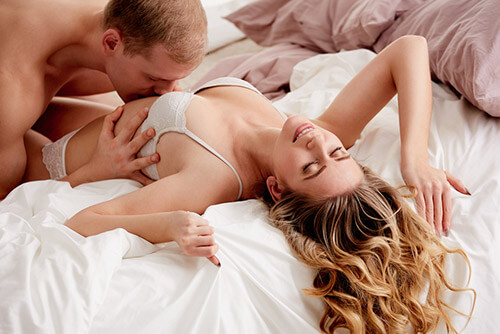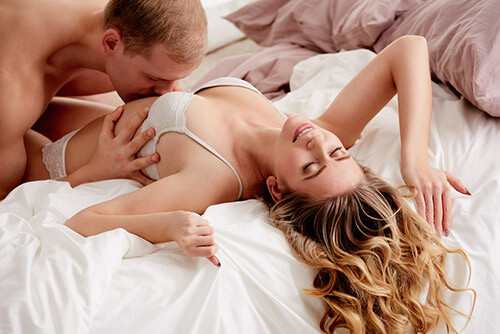 Don't skip or rush oral sex
It can be tempting to skip oral sex or only do it for a couple of minutes. This isn't ideal though; a generous lover shows a partner that their pleasure is important.
Spending a good amount of time on oral should also help raise her arousal level and increase the chance that she enjoys your lovemaking as much as you do.
How long do you need to do it for? That depends on the woman (and perhaps how flexible your neck is!)
Until she orgasms would be good, but she might ask you to stop before then, or orgasm simply might not happen (which is fine). At the very least, you'll probably want to continue until she seems to be getting very turned on.
Start out slowly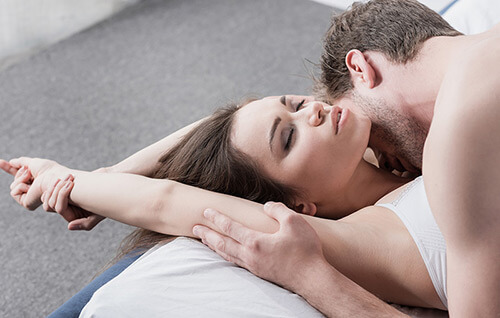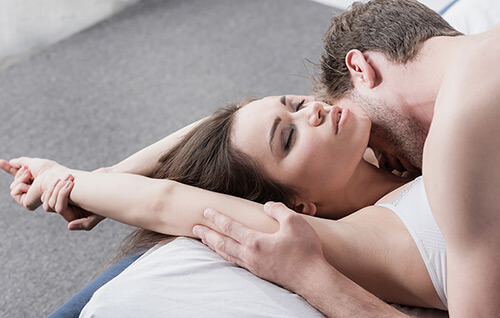 A classic mistake with oral sex is to dive in with your tongue pressing hard on her clitoris and/or flicking away at lightning speed. This can be uncomfortable for the woman and takes away the fun of the build-up.
You need to start out slowly. In fact, start out by steering clear of her vagina. Kiss her lips, neck, breasts, and the inside of her thighs. Make her wait for the real action. There's a lot to be said for anticipation, and it can be fun for you to make her wait for it…and really, really want it.
When you do finally get down there, avoid the clitoris for a while, licking around it rather than touching it.
When you do get to the clitoris, start slowly. Caress it gently with the soft top side of your tongue (not the hard tip) and only slowly start to add more pressure to your movements.
You want to tease to please. This will do much more to turn her on than just getting straight down to business.
Get creative with your tongue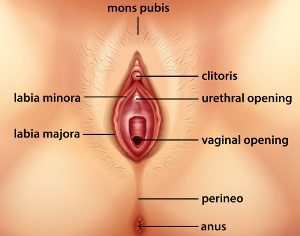 The flat surface on top of your tongue is soft and flexible, whilst the tip is harder and can exert more pressure. Try using the full, top part of your tongue at first, maybe moving to the tip later – if she likes that.
Keep your tongue flat and soft, and lick up from the bottom of the labia to the clitoris at the beginning. If she enjoys that, you can eventually move on.
Move your tongue in an up and down motion, or side to side. Whatever you choose to do, spend some time on each movement in a constant rhythm. Start slow, build steadily, and allow some time to see how she reacts to each movement and repeated rhythm.
Vary your movements
It pays to be observant, so keep track of which movements elicit moans of pleasure, and stick with the ones that do, at least for a while.
A classic trick to discover new movements is to spell out the alphabet with your tongue around the entire area. This means large, flowing, and artful calligraphy – not tiny letters with a fine-tipped pen!
When you find a letter, or part of a letter, that makes her moan, experiment with that letter a bit more. Alternatively, finish the alphabet and then go back to the letter movements that she seemed to like most.
You need to keep that rhythm going, but start to gradually speed up and press harder as she moans louder. Remember, gradually means over the course of several minutes, not seconds.
Don't neglect the rest of her genitals either – it's not all about the clitoris. Many women have a sensitive patch just to one side of the clitoris, for example. Lick there and see what reaction you get.
Get comfortable
If you're planning on spending a decent amount of time giving her oral sex, there are two issues that can crop up, both around your comfort.
The first is neck ache, which can be handled by switching positions. Having her sit on a couch or the side of the bed with you between her legs can work. Alternatively, try putting a pillow under her bum to raise the area slightly.
Secondly, there's tongue ache. If your tongue starts to get tired, gently suck her clitoris or kiss around the vaginal area instead. After a couple of seconds, you can go back to licking.
Unless your neck is hurting or you have a preexisting condition, it's worth putting up with a bit of discomfort. She probably does the same for you!
Use your hands
If you're in the right position, you can simultaneously caress her body with your hands while your tongue is busy.
The breasts, inner thighs, and backs of the knees are all erogenous zones, so stroking them will make her feel great.
You can also use her hands to spread her labia, giving you better access. Try pushing up the hood of the clitoris to reach the more sensitive part with your tongue (this is a technique for later, not right at the beginning).
Alternatively, you can penetrate her with your fingers. If you're going down the penetration route, there are a couple of options. Try inserting one or two fingers and making a 'come here' motion to stimulate her G-spot.
You could also let your fingers linger and stroke around her entrance to take advantage of the massive amount of nerves there. Both are good, and a combination is even better.
Don't insert any fingers until she's lubricated and turned on though.
Experiment with different positions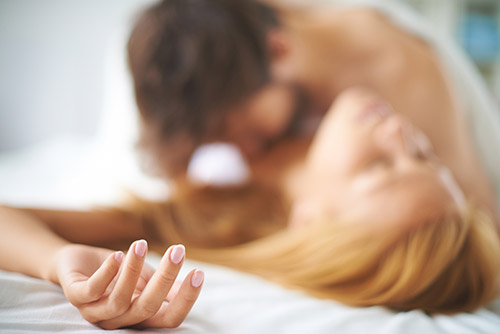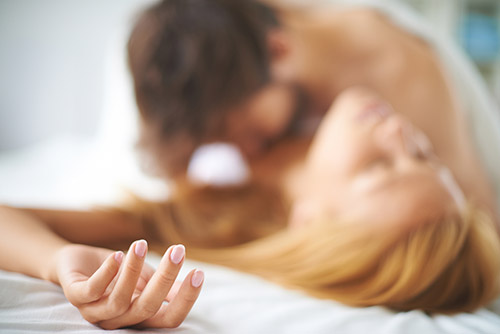 There are many positions that work for oral sex. From lying down to sitting up, 69, or even sideways (resting your head on her inner thigh helps deal with neck ache).
Try different positions to find out which ones work best for you and your partner. And try not to get stuck in a pattern of repeating the same step-by-step routine every time you have sex or some of the anticipation and excitement will slowly wane.
Having said that, try not to switch positions if you're already going down on her and she's enjoying it. If you do, you might break the flow and make it more difficult for her to reach orgasm.
And despite what I said, once you do find a magic formula for your partner (if it exists), there's no need to reinvent the entire wheel if you know what gives her earth-shattering orgasms.
Sure, add a few fun variations in the form of details, but don't deny her the oral orgasm she loves in the name of endless experimentation.
Discover what works and don't stop
I'm repeating myself, but this is such an important point: pay attention to her feedback. Listen out for her moans and sighs so you can slowly build a picture of exactly what she enjoys most.
When you get the signals that she's turned on and getting close to orgasm, keep doing exactly what you're doing.
Look out for heavy breathing, moaning, an increase in her lubrication, grinding or pulsing, tightly gripping your hair, head, bedding or whatever she can reach!
Don't stop, don't change anything, just keep going. When she says "yes" she means "keep doing that and don't stop."
Leave your experimenting and playing around for the beginning and middle of your oral sex. Once you reach the point where she's seriously turned on, any kind of variation (position, movement, pattern) might interrupt her concentration.
Knowing when she's really into what you're doing and is on the path to orgasm is something that takes time and experience with a new partner. But you'll eventually learn when she hits the sweet spot of just needing you to carry on with the exact same rhythm until she reaches orgasm.
That might be 30 seconds before, a minute, or several minutes. As I said at the start, all women are different.
Don't stress if she doesn't climax
On a final note, don't be upset if she doesn't climax when you give her oral sex. It's important not to get stuck in a vicious cycle of questioning why she doesn't come.
Keep working on it, but don't create any drama around the issue. Not all women will orgasm with oral, but it doesn't mean it's not an amazing experience that they enjoy before, during, or after penetrative sex.
For men with premature ejaculation
When I first started having sex, the idea of pulling out during sex and giving my partner oral for a while was always a bit strange to me, so I didn't do it much.
With time and experience, however, I've come to learn that this is actually a good way to deal with premature ejaculation and extend your lovemaking session.
Ideally, you don't want to pull out just as you're on the verge of orgasm, give her oral for a minute or two and then go back to it because you might find you're still too close to ejaculating. Learn to stop before you're at the point of no return, and then switch to oral sex for a bit.
Again, some experimenting is probably needed to make it work for you and your partner. But I do recommend trying this if you struggle with how long you typically last during sex.