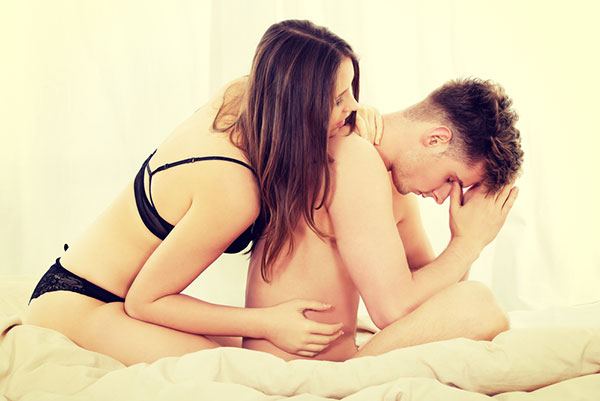 Have you ever met someone you really liked, and everything seemed to go perfectly right up until the moment you first end up in bed together.
And then it all went horribly wrong.
Maybe it's all over before she's anywhere close to having an orgasm, or perhaps you can't get an erection.
If so, there's the possibility that it's due to the underlying nerves that stem from sexual performance anxiety.
Do you have it?
Do you regularly find yourself worrying about the following:
How good your sexual performance will be.
How long you typically last during sex.
If you'll be able to get, or maintain, a hard erection.
Whether or not your partner will have an orgasm.
If she'll think you're big enough, handsome enough or good enough in bed.
Most men have these sort of worries from time to time. But if they become too overwhelming, they can cause all kinds of problems for your confidence and sex life.
Fortunately, sexual performance anxiety is something which can be dealt with.
I know because I suffered from it for a long time, and eventually managed to control it. You can find out more about my experience in my premature ejaculation story.

If it's something you're going through right now, this article will hopefully help you find ways to reduce it and go back to enjoying your sex life.
What causes it?
There are many possible causes of sexual performance anxiety, and several factors can come together to create a cocktail of negative thinking. Here are a few of the most common contributors.
1. Porn star role models
How often do men watch, read, talk or think about porn? Online movies can quickly lead to you having the wrong idea of what good sex is really like.
This may be both about what women want and/or how well you should be able to perform. The more you watch, the more you find handsome, muscular men going at it like crazy for 20 to 30 minutes.
But this is unrealistic and well beyond what the average man lasts for during sex. It's also not what most women find adequate or even comfortable.
If you look at the facts about premature ejaculation and how long women really want their partners to last, you'll probably be surprised.
But the damage is already done for most men. Slowly but surely you start to believe you should be able to perform like other guys do. Men forget that these are not 'normal' sexual encounters.
Here are some common things porn actors do that help them keep going for ages:
Have a break and just change the camera angle.
Use a

delay spray

.
Ejaculated already before filming.
He may not be attracted to the other woman/man.
Have sex several times per day.
Use pills like Viagra to keep going.
Those films don't demonstrate the ideal way to have sex or the ideal length of time. And men are rarely as capable in bed as the films suggest. Nobody puts home videos on the internet of times when it didn't work out.
So don't compare yourself to porn actors, and you'll have more self-esteem in regards to what you can actually do.
2. Men boasting about their sex lives
Men like to boast about their sexual prowess. Not all men of course, but enough do to make others feel inadequate. Maybe they just choose their best moments or get very creative with the truth.
In the same way that when a group of men start telling each other jokes, everyone feels obliged to come up with jokes that are as funny, if not funnier, the same happens when talking about sex.
If someone announces that they lasted ages and their partner had the best time ever, how many men are then going to say, 'oh, last night I was quite disappointed by my performance'?
So try not to believe what you hear the next time you're with a group of guys having a beer and the conversation goes that way.
3. Expecting to be amazing every time

Many men feel that they should be able to perform well every time. This is another unrealistic expectation that can lead to sexual anxiety.
There are so many different things that can affect how a particular sexual experience will turn out, for example:
Your age.
How tired you are.
Your hormones.
Your health – both physical and mental.
Your levels of stress or anxiety about other issues in your life.
How you feel about your partner and/or your relationship with them.
How you feel about yourself.
Some medications.
Alcohol or drugs.
How long it is since you last had sex.
The place where you're having sex.
The memory of your previous sexual experiences and your feelings about them.
All of these factors can come into play in any particular combination. Sometimes leading to a great experience and sometimes leading to an experience that you're not satisfied with.
So it's important to realize, accept and be OK with the fact that sometimes things just won't go the way you want them to.
This is especially important if you haven't been having sex for long. Many guys take some time to get used to the excitement and pleasure of sex.
So go easy on yourself if your first time(s) don't go according to plan.
4. Negative thoughts when things don't go the way you expect
If you do have a 'bad' sexual experience it can be easy to draw the wrong conclusions.
If you start to draw conclusions such as 'I'm no good in bed' or 'I'll never last long enough', then there's the chance you'll slip into the vicious cycle of sexual performance anxiety.
This is when the anxiety itself becomes a major factor in you experiencing premature ejaculation or erectile dysfunction for example.
5. The vicious circle
The result of this kind of negative thinking may be that you end up in a vicious circle.
Your worry about not lasting long enough itself causes you to climax too soon. Or worrying about not getting an erection then stops you from getting one.
It could be that your first sexual encounter was over quickly because of a combination of nerves, excitement and not being prepared for the overwhelming experience of having sex.
But rather than thinking it was just you not being used to it, you may have thought 'oh no, I'm one of those guys that can't last very long'.
And that belief then turned into a fear which meant that it happened the next time, and the next…
As I said earlier, the key is to not allow yourself to make these kinds of damning statements. They eat away at your confidence and keep your stuck in the vicious circle of sexual performance anxiety.
What happens when you have sexual performance anxiety?
If you do start to approach sexual encounters with anxiety, it can affect you in a couple of major ways.
First of all, you'll probably not be feeling relaxed before having sex. If it's with a new partner, that can be quite normal. But the tension created by anxiety is different than the tension created by excitement.
The combination of the two is likely to make you climax too quickly, or have other difficulties such as not getting an erection.
Secondly, you can get stuck in your mind and thoughts, worrying about whether you'll last long enough this time or if it will 'happen again'. This means you're not doing 3 important things:
Fully enjoying the experience.
Being aware of the sensations in your body which warn you that you're approaching the point of no return, and need to switch positions or rest.
Keeping relaxed – a physically tense body will ejaculate quicker, or struggle to get an erection.
Ways to control it
Hopefully just reading this will start the ball rolling in undoing some of the negative thinking that you may have about your ability.
But realistically, it may take more work to overcome this level of anxiety. Here are some things you can do.
1. Tackle stress and anxiety outside of the bedroom
Performance anxiety doesn't just have to be tackled in relation to sex. You can also find ways to reduce your overall stress or anxiety levels in life:
Try meditation, breathing exercises, mindfulness, yoga or any physical exercise or hobby you find relaxing.
Work on other issues in your life which are causing you problems. It could be that work stress if affecting you.
Keep yourself fit and healthy with a good diet. This can improve both your physical and mental state.
2. Don't compare yourself to anyone else
This includes professionals, guys in porn movies and your friends.
3. Remember that not every time will be perfect
You won't always last as long as you want and you may not always get the best erection. There are factors beyond your control, and sometimes you need to accept that.
4. Try not to get into a cycle of fear
I know this is like saying 'the solution to the problem is to just not have the problem' which isn't very helpful.
But it's important to remind you that constantly thinking and worrying that 'it's going to happen again' will make it more likely.
5. Communicate with your partner

If you keep all your worries inside your own head then they will feel bigger, scarier and harder to deal with.
The anxiety is a lot to do with how you think they feel. So if you discuss it, you can work together to find solutions or alternatives to what is currently happening in the bedroom.
6. Changing the goals to reduce the fear of failure
Sexual performance anxiety ultimately boils down to the fear of failure.
You may see failure as the inability to maintain a rock hard erection and bring your partner to orgasm through 10 to 20 minutes of penetrative sex.
It may be then that you've set yourself an unreasonable goal at this moment in your life.
You have the power to change that goal though, especially if you discuss it with your partner.
Perhaps the two of you can decide that you'll find other ways of pleasuring one another. The goal could be that you are both satisfied through any means possible.
There's more than just penetrative sex to be had. You can stimulate and please your partner through great foreplay, manual or oral sex for example.
If you talk openly, develop an open mindset and think beyond basic sex, then you reduce the fear of failure by changing what success means.
If you pleasure your partner in bed every time through other means, it will build your self-confidence. It will help you feel that you're a man who can make her happy in bed.
And then little by little this increase in confidence and self-esteem will help you improve on the things you were previously having difficulty with.
7. Consider professional help
Sometimes all the self-help advice in the world doesn't quite do the trick. You may benefit from professional help from a counselor, therapist or psychologist.
They can be particularly useful for helping you develop more positive ways of thinking. As well as helping you discover any reasons contributing to the sexual worries that you weren't aware of.
8. Avoid drugs and alcohol
Both legal and illegal drugs can have an effect on both your sexual functioning and mindset.
Many guys realize that drinking alcohol can help them last longer in bed for example. But drink too much and it can stop you from getting a proper erection.
It's a tricky line to walk and in many ways it's best to stick with the rule that healthy is best when it comes to sex.
9. Slow down, breathe and try to relax
From the minute you start kissing right up to having sex you need to take action to keep yourself calm.
Controlling your breathing is one of the best ways to keep both your body and mind more relaxed. Longer, deeper and controlled breaths will keep you steady.
And with the actual act, although there's no denying the passion of a 'quickie' can be exhilarating, it's not always the best for guys with anxiety.
Women also like a slow, sensual and passionate build up. Take time over the foreplay. And when you do get down to having sex, you don't need to go at it like a jackhammer.
Changing the speed, hardness, depth, and rhythm can all work well. And it takes the pressure off you to feel you need to do the porn star thing.
The final word
If there's one thing you take away from this article, make it this: you can change your expectations about sex right away.
Tell yourself that from now on, sex isn't just about your ability to last forever or be like the guys in porn films.
It's about you and your partner enjoying each others company, and finding fun and interesting ways to satisfy each another for extended periods of time. Penetrative sex is no longer the only goal.
You might also like
Depending on what the exact manifestation of your anxiety is, you might find it helpful to check out the main page about premature ejaculation, or some of my articles about erectile dysfunction.