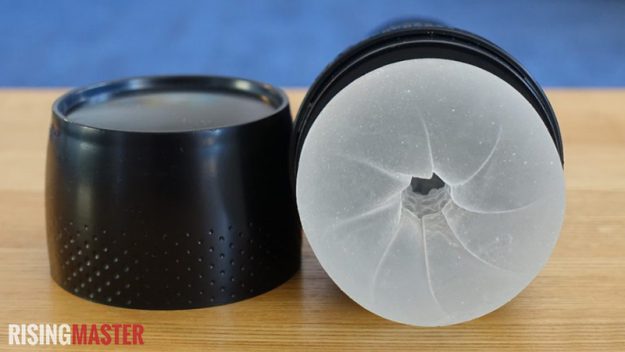 From silky smooth realistic vaginas to interactive virtual sex systems, the world of men's sex toys is growing at a fast pace.
There are many companies that make them, but we've decided to focus on Fleshlight and Tenga in this review. They have a reputation for making high-quality sex toys at reasonable prices, with plenty of variety to enjoy.
So without boring you with a long introduction, here are some of the best we've played around with in the bedroom.
1. Fleshlight Flight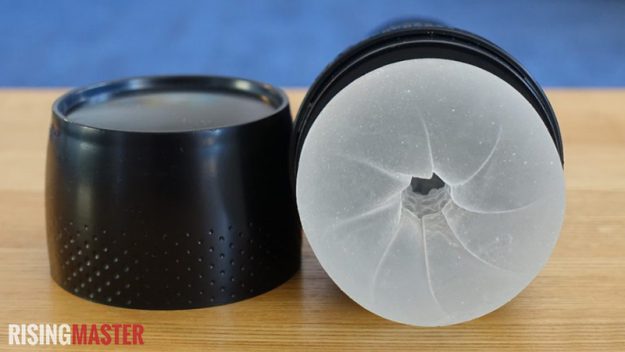 The Flight is a remodeling of the classic fleshlight design, smaller in size, and less blatant than the giant pink lips of previous versions.
The external case is considerably smaller in size, which is perfect if you weren't a fan of the giant flashlight concept.
The black casing and translucent skin color scheme also look better. Along with the streamlined shape of the case, it has a sleeker and stronger feel.
The hole itself has an unusual vortex shape. And the smaller size and dotted rib design make for a tighter experience than previous fleshlights.
Key features:
Smaller and sleeker than other fleshlights
Masculine color scheme and neutral entrance shape
Very tight feel, with a strong suction effect
Ribbed dots give powerful stimulation
Easy to clean and lasts for many uses
The only complaint is that the smaller size means men with a very wide girth, or who are longer than 6 inches, might find it a bit too tight.
The skin also seems to have changed a little. Although it's still very soft, it had a slightly oily feel on arrival.
This is to protect the softness of the skin apparently, but it meant it needed a good clean before using it.
Overall, this is one for men who like the tightest possible experience. The design is a big improvement for fleshlight too, so there's a lot to like about it.
---
2. Fleshlight Stamina Training Unit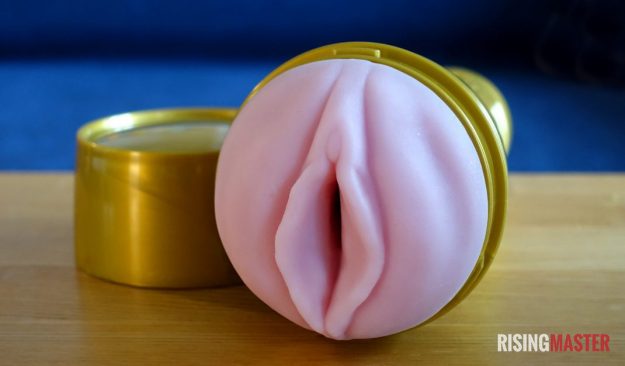 The fleshlight stamina training unit (STU) offers a unique combination of pleasure and purpose.
Fleshlights always feel fantastic, with some more intense than others depending on their tightness, the internal contours, and design.
The STU was created to be especially stimulating, so it provides a serious challenge to your control during sex.
You also get a helpful guide which explains techniques you can practice to improve your sexual stamina. So basically, it's a fun way to tackle a serious problem in private.
Here's why we love the STU:
The internal skin is made from a silky soft silicone that feels great
The internal ribs and contours provide different sensations in each section
You can adjust the tightness and grip to provide stronger suction effects
It can help with premature ejaculation
It's easy to clean and maintain
It lasts a long time
The main downside is the overall size because of the exterior case. It was designed so you can conceal the vagina shape though, so you can forgive it for that.
Overall, whether it's purely for pleasure, or you want to increase your stamina in bed, it's a high-quality sex toy that you'll enjoy time and time again.
---
3. Tenga Flip Hole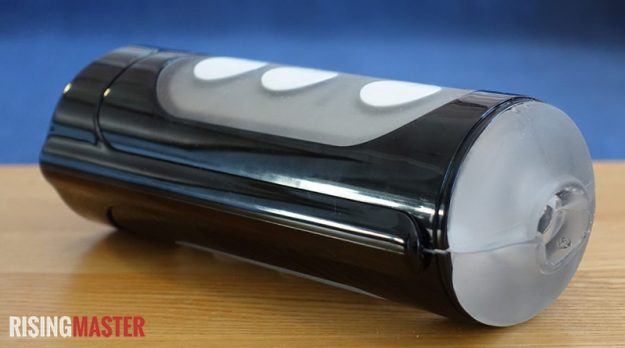 Japanese company Tenga produce a range of unusual sex toys, with the original Flip Hole being the most popular.
The internal structure is seriously complex, with more ribs, contours and stimulation points than you'll find in any other stroker.
And the skin is smooth and soft on the penis, yet grips and stimulates you in all the right ways.
There are three pads on the side which you can squeeze to adjust the level of stimulation. So you can change the entrance tightness, the level of suction, and how it stimulates the head.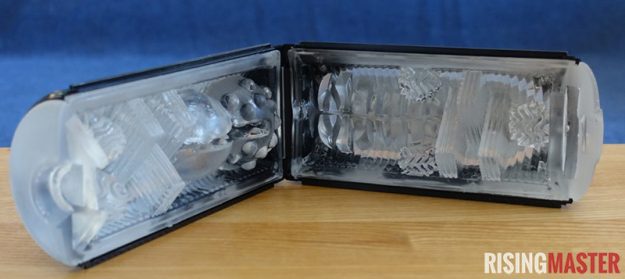 Here are the key features:
The internal ribs, orbs, and contours provide pleasure in different ways in each section
The material feels soft on the skin, but you can squeeze it tight enough to simulate a deep suction effect
It feels satisfyingly tight
You can adjust the sensations manually, providing more variety
It's easy to clean as you can open it up in half
You can use it in the shower or bath
The main downside is the size – if you're 7 inches or longer, you'll only be partially stimulated.
And despite looking like electronic buttons on the unit, they are just squeeze points, so you can manually adjust the sensations.
Overall, the Tenga Flip Hole is a decent alternative to fleshlight toys. The main plus is the option to change the feeling as you go.
It's not electronic, as the buttons might suggest, but it still gives you more control and variety than other toys.
---
4. Fleshlight shower mount attachment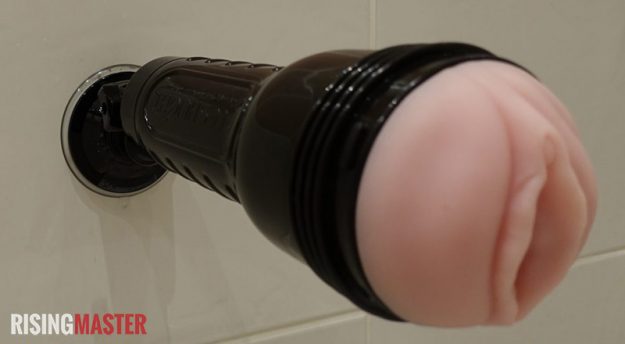 Add the shower mount to any fleshlight, and you can recreate the unique pleasures of hands-free sex in the shower.
All you need to do is unscrew the end cap of your fleshlight, attach it to the strong suction cup, and stick it to a tile at the right thrusting height.
And when you're finished, you can easily turn it inside out to give it a rinse and clean it in no time.
Here are the key points:
Sex in the shower. Need we say more?
The hands-free concept is a lot of fun
It can be used in the shower, bath or any surface that will take a suction cup
It's easy to attach to bathroom tiles, and holds strong
You can twist the end cap to provide different suction effects
It's easy to clean and lasts a long time
It feels sturdy enough for normal use, but the suction cup isn't invincible. So you have to be a little careful when using it.
And if too much water runs into the Fleshlight, you'll end up using a lot of lube. So correct placement is the key to using this one the best way.
Overall, the fleshlight and shower mount combo do a great job of giving serious pleasure along with a little bit of fantasy.
---
5. Vstroker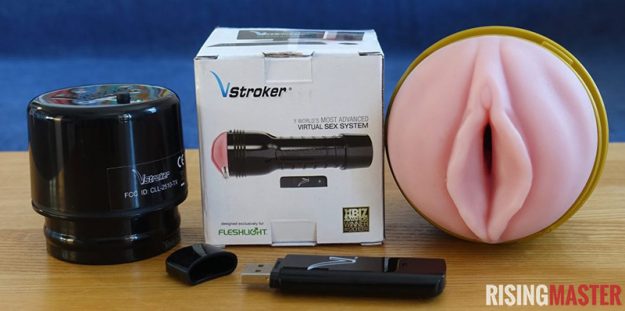 The Vstroker is a fun introduction to the world of virtual sex. If you already own a fleshlight, you just need to get the adapter kit. If not, you can get a pack including a new fleshlight and the Vstroker.
The hardware consists of a wireless transmitter you attach to the end of your fleshlight, and a USB receiver to plug into your computer.
Then on your computer screen, you can choose from a range of point of view HD videos. Each video has several scenes, which you can go through in order or select as you please.
In each scene, your chosen adult star will respond to the movements of your fleshlight. Slow down and she'll beg you for more. Speed up and she'll respond more excitedly, and eventually build to a spectacular climax.
Here are the key features:
It works with any fleshlight
It's easy to set up and use
There's a wide range of videos of famous adult movie stars to enjoy
The videos are HD, point of view and well filmed
The responsiveness adds an exciting element to your solo time
'Hero' movies which challenge you to follow the screen rather than the other way round
Regular new content, including interactive games and new models
Option to use it with live cams
The main downside is that you need to pay for access to the member's area after your initial free trial ends – if the free videos aren't enough for you.
It's also worth noting that there isn't a precise level of responsiveness. She won't respond to your exact movements – you simply trigger slow, medium or fast scenes from her.
Overall, it's a lot of fun with enough variety to keep you entertained for a long time. And if you ever fantasize about being in a threesome, the Vstroker will give you a taste of what that's like.
---
6. Tenga Egg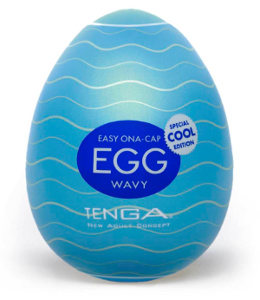 The Tenga Egg contains a super stretchy sleeve that you roll over your penis and grip in your hand to stroke with.
It's so stretchy, it can fit up to 12 inches. So if normal sex toys have been a letdown, you'll be fine with this one.
Like the Tenga Flip Hole, the material feels supple, smooth and silky on the skin. And with the pack of lube included you can create a very arousing experience.
Here are some of the key points:
It's small and discreet
The skin is soft, stretchy and feels fantastic
As it sits in your hand, you can control the pressure and grip more than with normal sex toys
It comes with a pack of lube
Good price and lasts for several uses
The main complaint is that it doesn't have the same longevity as traditional strokers. We managed to get a few uses out of it by using a sex toy cleaning spray and cornstarch. And to be fair, for the low price ($11.99), you get a good number of sessions with it.
It also makes a bit of a slurping noise when you go fast, which might be off-putting or comical, depending on your mood.
On balance, it's a fun novelty toy if you're looking for something new. But it's not the best choice if you're looking for one that will last a long time.
---
7. Fleshlight QuickShot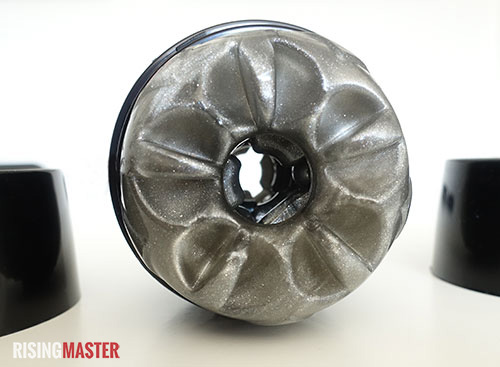 The Quickshot is one of the newest designs from Fleshlight. However, it's probably our least favorite, despite a couple of points that might appeal to some people.
After successfully downsizing with the Flight, it seems Fleshlight wanted to push the compact concept even futher. But we think they've gone too far this time, with its short 3.5 inch insertable length.
Having said that, it's the first one that's open at both ends. So it kind of works like a giant cock ring that you can use to stroke whatever part of your penis feels best.
Main points to consider:
Insertable at both ends
Very small and compact design, good for travel
Easier cleaning as you exit the other end!
Very tight feel, perhaps too tight if you have a large girth
Material not as soft as previous fleshlights
Doesn't look like a sex toy
We get the idea of making the stroker smaller. But something just felt missing in not being able to envelop yourself completely inside it.
We also found the material lacking in softness, which along with the strangely mechanical visual design, made it distinctly unsexy.
Yes, it's easier to clean and transport. But since we don't really care about either of those points, we think the Quickshot missed the mark.