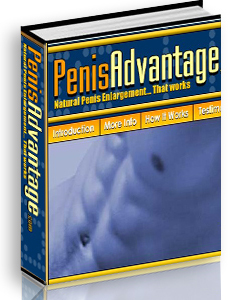 If you're interested in trying to increase your penis size naturally, Penis Advantage is one of the better guides to stretching techniques.
It's the only penis enlargement program I've seen which doesn't involve any supplements, equipment or other products apart from some lubricant.
It's pure stretching and jelqing exercises all the way. So in that way, I think it's safer and cheaper than some of the more controversial guides which require you to buy various supplements.
Like other penis enlargement guides I've reviewed recently, it's not actually a book you pay for. It's an online course you get instant access to via a member's only website.
The website itself is well organized, with a clear menu and a linear path to follow. I think that the design and layout are a bit dated, but the content itself is what counts.
The introduction is comprehensive, covering the key facts about penis enlargement, and claims that you should see results in 2-8 weeks, with a growth chart so you can track your progress.
The program
The program starts with safety advice and warm up exercises, which is important when doing stretching, so it's good that the author takes the safety aspect seriously.
When you get to the core of the program, the different techniques are well explained with precise step by step instructions. Each one also has a short video of a woman holding a fake penis to show you exactly how to do them.
Once you understand the different techniques, you're introduced to a 1 week program to follow. This is followed by weekly programs up to week 7.
Then there are suggestions of making your own custom program or following an advanced version after that. So you do get the entire system laid out for you in a methodical and clear way.
Beyond the basic program, you'll get what's called penis advantage version 2. This consists of a mind-boggling array of advanced exercises, routines and techniques.
So if you're the kind of guy who likes having the most advanced techniques, you might enjoy experimenting with these.
The website also gives you a range of other free guides, some of which are quite useful – others less inspiring. Probably the best one is the sex positions guide since it actually has decent photos to demonstrate them.
I was initially impressed when I noticed a chat room and forum section. But bizarrely, both lead to a disused chat box. I guess most people just get on with the exercises and don't bother with the community aspect.
Furthermore, I emailed the author to ask some questions about the chat box, but received no reply. So I guess you're on your own to practice the techniques, which let's face it, is probably what most guys would want anyway.
Pros
Only natural stretching and jelqing exercises.
You don't need to buy any extra equipment or supplements.
Huge range of different exercises, from beginner to advanced.
Well explained techniques, with videos showing each one.
Good sections on safety, warming up and cooling down.
Lots of extra sex guides.
Cons
The website and guide look dated.
It's access to a private member's website, not a downloadable guide you can own. Presumably because of the number of videos.
The author didn't reply to my questions, and the chat feature doesn't work.
Verdict
What I liked about Penis Advantage is that it only contains natural exercises. Other programs which claim to be natural then surprise you by telling you to get supplements, some of which you might not even be able to find in your country.
If you're interested in natural and permanent penis enlargement, it teaches you the necessary exercises very clearly and gives you a wide range of variations. I tried the exercises and found them to be easy to understand and safe to do.
Unfortunately, I practiced the exercises in this guide and 2 others for 3 months and saw no permanent change to my penis size.
After some sessions, it did appear a little bigger, but marginally so and it would always go back to the same size by the next morning.
So I can't recommend the guide based on personal experience.
Where to buy
I don't include any links to penis enlargement guides on my website because I don't feel they work. I'm also skeptical about the exaggerated claims they make and the overall safety of such techniques.
However, if you still want to get it, a simple online search will take you to the Penis Advantage website.
Alternatives
Penis enlargement is a controversial topic, with many supposed techniques and products that just don't work.
There are some techniques that do work though. To find out more, you might like to read my main article discussing penis enlargement.