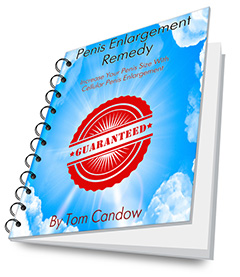 Penis Enlargement Remedy is one of the latest in a long line of penis enlargement eBooks. And in my opinion, one which you need to think carefully about before getting into.
The author, Tom Candow, claims this a cutting-edge approach to penis enlargement. And it's certainly one which takes time to get your head around (your thinking head, that is).
I thought my knowledge of biology was pretty good, but I had to do some research to see if his method actually has a solid scientific basis.
The cellular growth concept
The core concept is all about encouraging cellular growth. You do this by taking two supplements and then doing natural stretching exercises to direct the growth to your penis.
Unfortunately, I can't tell you exactly what the method is, or what the supplements are, because it's protected by copyright. But I can tell you about the research I did to find out more about the theory behind it.
Essentially, there is scientific evidence that the supplements can encourage the biological processes at play in the system.
However, I couldn't find anything to suggest it would definitely work for penis growth. So I guess it's either cutting edge or wishful thinking.
One of the supplements is well known as a sexual enhancer – I've used it myself in the past with good results.
The other is one of those slightly controversial miracle supplements which many people swear by, but others aren't so convinced. Both supplements are legal and easily available though.
Other than supplementation, there's an interesting section about encouraging growth through the right kind of gym work, with details about how to train to boost your natural growth hormones.
And at the end, Tom tells you exactly how to time the supplements, gym work and penis exercises for maximum effect.
The core program
The core program consists of a combination of pelvic floor muscle exercises, stretching and jelqing. They are all natural exercises, with detailed step by step instructions for doing them safely and effectively.
I disagree that you can do as many kegels as you like in one day though. To me, that risks over-training your pelvic floor muscles, but I always err on the side of caution where kegels are concerned.
After explaining all the different exercises, you'll find an easy to understand daily exercise regime, with 6 weeks' worth of programs.
Following that, there are instructions for pushing your training even further in the following weeks. All these natural exercises do take time, so it's good to see a clear path to follow as the weeks go by.
Finally, Tom also offers some useful advice about premature ejaculation, correcting a curved penis and erectile dysfunction.
As with most eBooks these days, you get some extra sex guides included, some of which are interesting, others not so much.
Pros
A unique system using cellular growth methods.
Well written and easy to follow guide.
Good description of stretching exercises.
Unlike some online guides, you can download your own copy of this one.
The author responded quickly and in detail to my questions.
Cons
You have to buy additional supplements which you're not told about until after you pay for the guide.
The supplements and technique are controversial and experimental.
There's no scientific proof that the technique will definitely work for the penis, though there is evidence it can encourage growth in general.
Verdict
I think the Penis Enlargement Remedy is either genius or over the top. You could remove the rather controversial supplement as the core program is fairly standard stretching and jelqing techniques.
I tried all the exercises, finding the instructions easy to follow and the techniques safe to do. However, I had no success with them. I actually tried the techniques for 3 months, using both the ones in this guide and in others, combining them to see what the effect would be.
I sometimes saw minimal growth at the end of a session, but it wouldn't last into the next day and at the end of 3 months there was no difference to my size.
To be fair, I didn't try the supplements recommended by this guide as I didn't feel comfortable taking them. So I can't comment on whether the complete program works or not.
If you like to try out the latest theories, you might find the concept behind the Penis Enlargement Remedy appeals to you – it's a fascinating theory after all.
But do be aware that to follow the program properly, you have to buy a couple of supplements, and you'll be delving into an experimental world of tissue growth.
Where to buy
I don't include any links to penis enlargement guides on this site because of the lack of success I've had with them and my concerns about their safety. But if you're interested in finding out more, searching for the name online will take you to the website of the guide.
Alternatives
Penis enlargements is a topic which many guys are interested in, but there's little proof it's possible. However, there are ways to make it appear bigger. You can find out more about that in my analysis of penis enlargement methods.