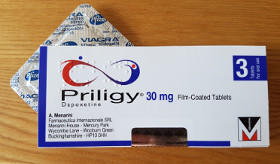 In today's fast paced world we often need quick solutions to our problems. So it's no surprise that many guys are tempted by premature ejaculation pills such as Dapoxetine.
The problem though is that pharmaceuticals often come at a cost, with pills made to enhance sexual ability being no exception.
I'm not just talking about financial cost, although drugs like Priligy can certainly be expensive: in some countries 3 pills will cost you over $100.
What I'm really talking about are the side-effects that these kind of pills can cause, especially the prescription anti-depressants. In my view, something you take to improve your sex life shouldn't give you problems like erectile dysfunction or decreased libido.
The purpose of this article isn't to convince you that pills don't work, because for many guys they clearly do. What I want to do is give you an insight into the variety of pills available, and to help you weigh up the pros and cons carefully.
Anti-depressants
1. Paxil, Zoloft, Prozac and Anafranil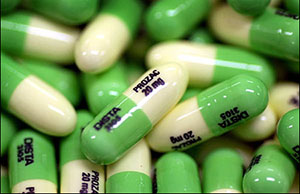 Anti-depressants are sometimes used off-label by doctors as a temporary premature ejaculation measure.
Off-label means that they aren't officially recognized as a treatment, but doctors can use their discretion to prescribe them anyway.
There's a wide range of anti-depressants, but there are 3 most commonly used to help premature ejaculation:
Paxil – the brand name for Paroxetine.
Prozac – the band name for Fluoxetine.
Zoloft or Lustral – the brand names for Sertaline.
These 3 are known as SSRIs, which stands for Selective Serotonin Reuptake Inhibitors. They can take between a week and 2 weeks to start working properly, at a lower dose than people who suffer from depression take.
A doctor would test them with you to find one which works and has the least side-effects. If none of them suit you, then they may try you on another kind:
Anafranil – the brand name for clomipramine.
Anafranil is known as a tricylic anti-depressant and works in a different way. The hope being that it would do the trick where the others failed.
Issues with taking anti-depressants
There are 3 major problems I see with using anti-depressants as a premature ejaculation treatment:
You have to take them every day on a permanent basis. Some sources say they may work if you only take them a few hours before you have sex. But guys often say they end up having to take them daily.
There's a conceptual point to consider: do you really want to take anti-depressants if you don't suffer from depression?
There's a long list of potential side effects, some of which are serious and can have a negative effect on your sex life in other ways.
Just a few of the well-known side effects of these anti-depressants include:
Nausea and vomiting
Diarrhea
Headaches and dizziness
Insomnia
Appetite and weight changes
Decreased libido
Erectile dysfunction
The list is actually much longer, but I think you probably get the point by now. Anti-depressants do help delay ejaculation, but you're opening up a Pandora's box of possible side effects.
Importantly, please don't be tempted to buy these drugs online or illegally. You should discuss taking them with a medical professional first.
2. Priligy (the brand name for Dapoxetine)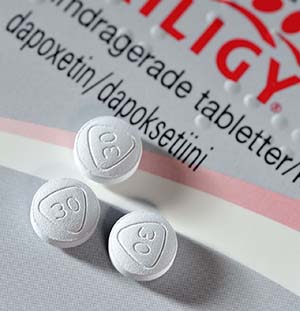 Priligy was originally intended as another SSRI anti-depressant. Instead it became the first official premature ejaculation pill.
The main plus point is that your body processes it faster than other anti-depressants, so you only need to take it on the days you have sex.
It's approved in many countries around the world, but not by the Food and Drugs Administration (FDA) in the United States yet. And it's not available under the National Health Service (NHS) in the United Kingdom.
In testing I found it extended my lasting time by between 2 and 4 minutes on average. With that came some side effects such as headaches though. And in clinical trials it's been that many men do experience at least mild side effects.
My opinion is that Priligy is perhaps a bit over-hyped and over-priced. Yes it works, but not that effectively and brings with it other possible problems. If you're interested in more details about this drug, have a look at my longer Dapoxetine review.
Other pills for premature ejaculation
3. Tramadol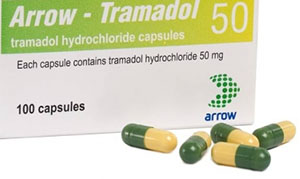 Tramadol is a strong synthetic opioid analgesic which has been found in recent years to help delay ejaculation.
I rather unexpectedly found that tramadaol helps delay ejaculation when recovering from surgery 2 years ago. I found it added around 5 minutes to my lasting time on average, mirroring the results of several clinical trials investigating the effect.
However, I also experienced another effect that Tramadol is known to create – physical and psychological dependency. It is an opioid after all.
For this reason it's unlikely to ever be licensed to be used as a mainstream premature ejaculation treatment, even though the dose for premature ejaculation is much lower than for pain.
As a premature ejaculation treatment just 25mg – 50mg is effective, but for severe pain you can take up to 400mg.
Nobody knows if using Tramadol is safe to use in the long-run for premature ejaculation. And to top it off here are just a few side effects you may experience:
Hallucinations
Breathing problems
Constipation
Nausea and vomiting
Headaches and dizziness
Fever-like symptoms
So my advice is to only consider tramadol if your doctor recommends it, and avoid buying it online from untrustworthy websites.
4. 5-HTP supplements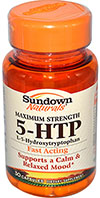 Scientists believe that some men have premature ejaculation because of low serotonin levels. 5-HTP is a precursor to the hormone Serotonin, so taking supplements of 5-HTP can help raise the serotonin levels in the body.
This is a premature ejaculation treatment, however, with little evidence to back it up.
If it does work you don't need a special premature ejaculation version made from 5-HTP. You can pick some up from a local health food store.
Or you could just try eating food high in Tryptophan, another precursor of Serotonin. Meat, eggs, fish, nuts and bananas are all good examples.
5-HTP is classed as a natural supplement and so it's relatively easy to manufacture delay pills without needing FDA approval. Because of that you'll find 5-HTP in various pills for premature ejaculation sold online.
5. Erectile dysfunction drugs: Viagra, Levitra and Cialis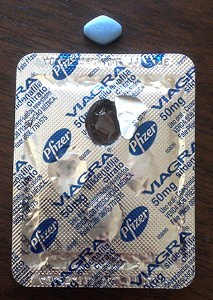 It's possible that drugs known as phosphodiesterase inhibitors may be helpful for guys with premature ejaculation.
They're better known, however, for helping guys get or maintain erections. The following 3 are most commonly experimented with:
Viagra – the brand name for sildenafil.
Levitra – the brand name for vardenafil.
Cialis – the brand name for tadalafil.
A study in 2005 found some interesting results when guys with premature ejaculation took Viagra. They found that although it increased lasting time, it wasn't by much. But it did have the following effects:
Men felt that they had better control.
Men felt more confident in their sense of control.
They were more sexually satisfied.
They needed less time to rest between having sex the first and second time.
So although these drugs aren't designed as delay pills, they may help in different ways. Particularly useful is the shortening of the break men need. It's well known that guys tend to last longer the second time round. So if that second time occurs sooner, it's likely both partners will be happier.
Doctors don't usually recommend these drugs for premature ejaculation though. You may have to bring the idea up yourself in discussion. If you want to find out more about this, you might like to check out my Viagra review.
6. Other delay pills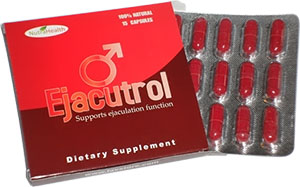 There are a variety of other premature ejaculation pills to be found online, often made from several natural ingredients. Here are 4 examples:
A) Ejacutrol – contains 5 natural ingredients:
Schisandra Chinensis
Mucuna Pruriens
Cistanche Deserticola
L-arginine
Gotu Kola
B) Delay – made by the company with the name 'Delay'. Contains the extracts of 7 natural ingredient:
Cnidium monnieri
Cuscuta chinensis
Griffonia simplicifolia
Passiflora incarnata
Pyridoxine
Elletaria cardamomum
Piper nigrum
C) Duramale – contains 7 natural ingredients:
Indian Gooseberry
Elephant Creeper
Indian Ginseng
Pellitory
Nutmeg
Tailed
Clove
D) Magnumer Stamina – made by Biprosper Labs. Contains 11 ingredients, mostly natural. Note that it contains Gelatin, so isn't suitable for vegetarians or vegans.
Ginkco Biloba
Phosphatidylserine Complex
Acetyl-L-Carnitine
St. John's Wart
Glutamine
DMAE Bitartrate
Bacopin
Vinpocetine
Silica
Magnesium Stearate
Gelatin
None of these delay pills have been tested in clinical trials, nor have they been approved in any country as far as I'm aware. That doesn't mean they don't work, just that there's no research evidence for it.
It's your choice if you want to experiment with any of these natural supplements. Just don't be too surprised if you don't get the results you're looking for.
Summary
As you can see then there's an extensive range of pills which are claimed to help guys with premature ejaculation. Some of these claims are based on scientific evidence, but others are more spurious since they don't need medical approval.
It's a personal choice to take medication or not, and a difficult one for guys who are desperate to end their suffering in bed. Whatever you decide to do, do it safely and with medical guidance if possible. And make sure you check out every possible option for dealing with premature ejaculation at the same time.
Alternatives
My first choice treatment for dealing with premature ejaculation is through natural techniques, but I can understand if you need something which will help you out immediately.
If you do need something which will help you straight away, I recommend trying out desensitizing sprays before taking any pills.
And if you're interested in dealing with the problem naturally, there are some good ejaculation control guides which teach you how to control your ejaculation on a lasting basis.