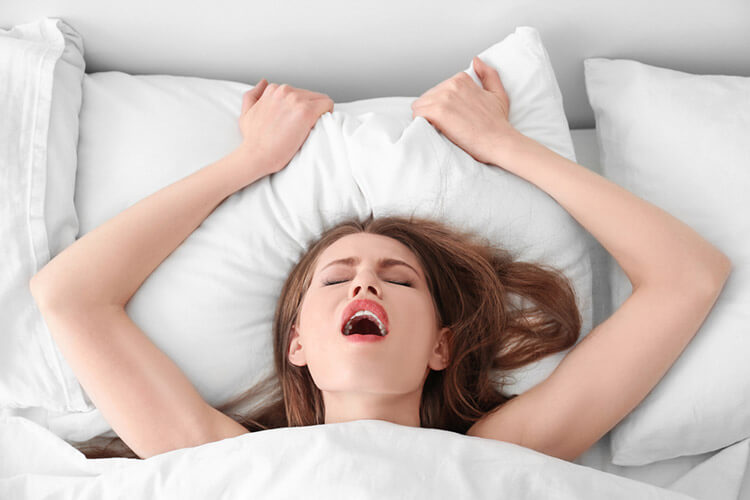 Everyone likes it when their partner has an orgasm. It makes you feel like you're a good lover, and that your partner is happy with your sex life.
The thing is, we're sometimes left with a little doubt in the back of our minds. Did she really climax that loudly, or was she faking it?
The classic joke is that if you have to ask them, then they probably didn't. But I don't think that's quite true – not everyone has a noisy orgasm, and it can vary in intensity from one day to the next anyway.
But if you don't want to ask your partner directly, how can you be sure? Let's take a look at some of the signs that might help put your mind at ease. Just remember – this isn't an exact science though!
1. The classic sign
Before we get into what are, in my opinion, the best signs (i.e. hard to fake!), it's worth addressing the classic sign.
Firstly, if you think loud screaming or moaning is a 100% reliable sign, it's not always the case. I think there's a better way of working out if it's a sign or orgasm or not.

Does she scream or moan loudly, then roll over and move onto something else? Not great.
Or does she start making noises that she wasn't making before, and then suddenly become much quieter and hold you close, perhaps shaking or breathing unusually deeply for a while? I'd say that's a more likely sign of orgasm.
There's still a problem with this, however. Women sometimes fake orgasms. So although the above could mean she's climaxed, it might also mean that she wants you to think she's climaxed.
See the conundrum? That's why I recommend looking a little deeper than noise levels alone.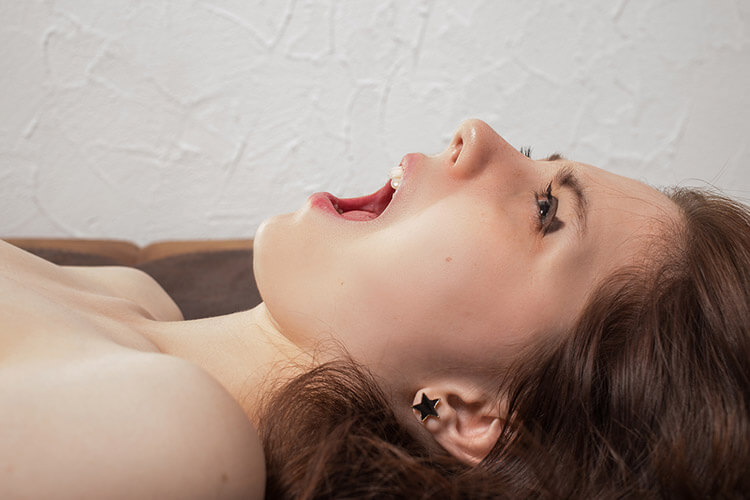 2. The best signs
For me, there are two excellent signs that a woman has climaxed, and they are both pretty simple:
She has a 'tell'. Some women just have a thing they do when they orgasm. It could be shaking, laughing, tensing her stomach up. But if you know her well enough, you'll know.
She tells you. If your partner is a good communicator and you have an honest sexual relationship, she'll outright tell you that she has or hasn't climaxed.
Of course, both these signs will depend on your relationship and how long you've been together. So let's look at a few subtler signs to look out for.
3. Subtle biological signs
There are a few biological signs that a woman is aroused and has orgasmed. But these are a bit complicated, for reasons that will become clear:
Her pupils dilate: a great sign, but not the easiest to keep an eye out for!
Her face and chest flush: okay, except she might just be hot after all that exercise.
Her vagina becomes more lubricated: slightly more helpful, though she's probably already quite lubricated. And it can be difficult to tell if you're wearing a condom.
Her brain activity changes: yeah, you're not going to be able to see that!
So these biological signs might work in the lab, but they're not so practical in real life.
4. More practical signs
Here are a few of my personal observations that may help you (but there's no 100% guarantee):
Her vaginal muscles contract and spasm: not true of all women, and not true of all women all the time. But if it does happen, it's a strong signal that there's an orgasm going on. This is also an easier one to tell if you're giving her oral sex.
Her nipples get hard: again, not true of all women every time. But if her nipples suddenly become harder, it's possible she's about to orgasm.
Her breathing changes: it gets faster, deeper, then stops for a second until she begins to orgasm.
Her voice changes: a tricky one, but if she suddenly cries out in a primal scream (or uses language she normally doesn't), then this could mean she's climaxed.
5. You may never know
All of these clues, whether obvious or subtle, are fun to look out for. But they ignore one simple truth: you can't expect to always be sure if your partner has climaxed.
The perhaps frustrating reality is that even after you've read everything there is to know about sex and women and orgasms, you might have to accept the fact that there will always be a little mystery – and that's ok.
And not knowing might not be as big a deal as you think. Should you constantly worry about your partner's climax tally? Perhaps not.
Sex isn't just about orgasms
As a caring and good lover, you'll want your partner to have an amazing time in bed. But it's important to understand that orgasm isn't the be all and end all of sex (for women or for men).
Sex in itself breeds intimacy, which is important to a successful relationship. Basically, sex is its own reward.
In fact, there's a whole method of sex without orgasm that's called Karezza. Practitioners of Karezza say that sex is more fulfilling without orgasm, that relationships are better, and that intimacy is improved.
Not only that, but female orgasm is a strange and unpredictable thing. According to research, only around 8% of women regularly experience orgasm from penetrative sex.
That doesn't mean that you shouldn't try to make your partner orgasm in other ways, such as with great oral sex. But it does mean that for regular sex the odds are stacked against you.
Most women have had sex without climaxing at least once in their lives (and probably much more often), and realize that it happens.
Now, I'm not saying that women are used to not reaching orgasm or that it doesn't matter if they don't. I'm just saying that they understand it won't happen all the time, and won't hate you for it – as long as you have good sex that you both enjoy.
The orgasm balance
The real take-home is that when it comes to orgasms you need to strike a balance. Your partner has the right to orgasm if that's what she wants; but she equally has the right not to feel pressured into having an orgasm.
That might sound complicated, but with good communication, it shouldn't be. Partners should both feel comfortable enough to make their wishes known.
And as a good partner, you should be able to place her wishes over your own (don't feel the need to make her orgasm if she doesn't want to or can't).
It's also important to work together to find out what gets her there. Penetration doesn't work? Be willing to go down or use your hands in the way she likes. And if you finish first, don't be shy to use your hands or tongue to get her there.
What are your thoughts?
Does your partner have a 'tell' that they've reached orgasm? What are the signs of climax that you usually notice, and does it worry you if your partner does or doesn't have an orgasm during sex? Feel free to share your thoughts in the comments below.
You might also like
You might find it helpful to read more about how the female libido works. And you might also like to see some tips for satisfying a woman in bed.