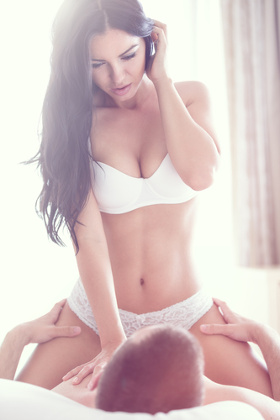 You know which positions you prefer, and which are likely to make you orgasm. Maybe it's doggy style, perhaps it's simple missionary. But what about your partner?
Simply put, there are some positions that are more likely to make her orgasm than others. Which are they? That's what you're about to find out!
The two simple rules
Before we get to some great positions to try, there are two simple rules that you should remember when it comes to positioning:
Don't forget the erogenous zones
The more erogenous zones you can involve in a position, the more likely she is to orgasm. Breasts and genitals are obviously erogenous, but so are the inside of her thighs, the neck, and the backs of the knees.
The best positions will allow you and/or her to touch at least some of those erogenous zones.
Keep it simple
Nobody wants to feels uncomfortable, so avoid complicated positions unless she's a yoga expert. She's not likely to orgasm if she has her legs behind her neck.
So with that in mind, here are the best (and easiest) positions to spend plenty of time on next time you have sex.
1) Spooning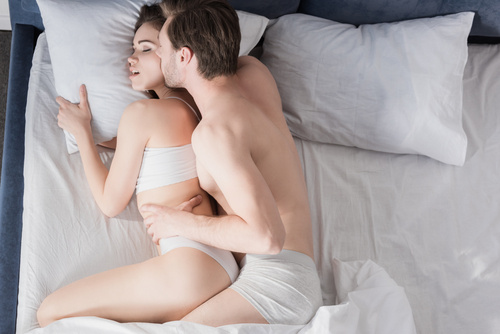 Spooning is great for everyone – it's very low impact and both partners can relax while doing it. Get your partner to lie on her side with her knees slightly raised towards her chest. Then you press up against her from behind, allowing you to penetrate from the rear.
Nobody takes any weight, and your movements will be rocking rather than thrusting, so this truly is low energy. It also has the added benefit of being a position that can help you last longer in bed, since the movements are more subtle.
The advantages? Spooning allows a woman to stimulate herself from the front, meaning her chances of orgasm are much higher. And cuddling means that this is a very intimate position as well.
On the downside, there's no eye contact here, which puts some people off. Plus, some women find it a little more difficult to orgasm when lying on their side as opposed to on their back. So it's a good position, but not everyone will reach climax in it.
2) The Rocking Horse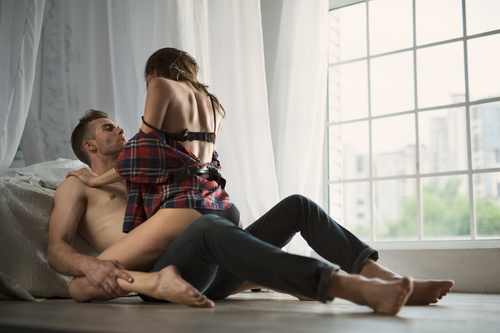 The rocking horse is another nice, low impact position. You sit with your legs outstretched (either leaning against the headboard, on a chair or even the couch). She sits on top of you and wraps her thighs around you.
This is one of my personal favorites, and is a particularly comfortable position to hold, since both partners are sitting down, and again, motion will be rocking rather than thrusting.
The main benefits are that there's lots of physical contact, and there's intimate eye contact. And she can control the motion, meaning she can move at a rhythm that's right for her.
On the negative side, it can be tough to get decent clitoral stimulation in this position. But you can improve the chances by holding her butt to you tightly and asking her what works.
Alternatively, try using a special clitoral vibrator, or a vibrating cock ring. That will allow stimulation of her clitoris at the same time (and new sex toys are always fun!).
3) Reverse Cowgirl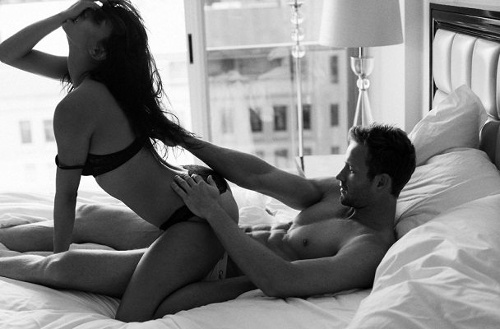 I'll be honest, this isn't a great position when you've just met someone. It's a little impersonal (and speaking from personal experience, tough on the girl's thigh muscles). But it can be very effective in achieving orgasm.
You lie flat on your back or propped up against some pillows, and she turns around and sits on your penis whilst facing your feet.
Pros? She can self stimulate her clitoris again, which we already know increases her chances of orgasm. And you can stimulate her butt, which for some women is especially pleasurable.
On the negative side, there's no eye contact, and this can be a bit of an energetic position for her, since there's lots of bouncing around.
4) Doggy Style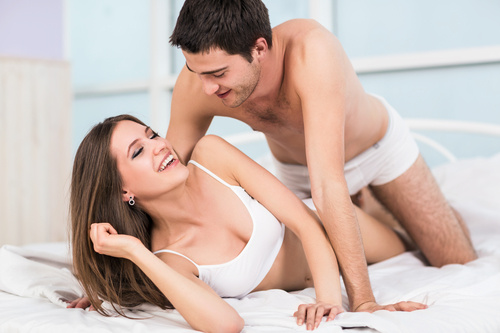 Doggy style is a real classic when it comes to sex positions, and is absolutely one of my favorites (as well as the favorite of most of my female friends).
She goes down on her hands and knees, you kneel behind her and enter her from behind. Simple.
On the positive side, she can self stimulate, and you can get nice deep thrusts (and stimulate her G spot at the same time). On the negative side, no eye contact can make this a little impersonal.
Having said that, there's something particularly sexy about the naughty look you can give a guy if you turn your head towards him…
For a fantastic variation on doggy style, try playing around with pillows. Enough pillows in the right areas (particularly under her stomach) can prop her up so that she's more comfortable. And it might even increase your chances of G spot stimulation.
5) The Slide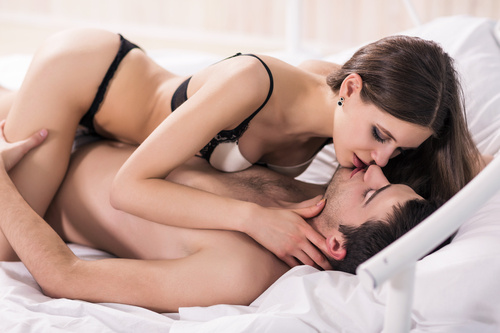 For the slide, you lie flat on your back, and then she lies flat on top of you, allowing you to slide inside her. The motion again will be rocking rather than thrusting.
The pros are full body contact as well as eye contact, and there's no aching thigh muscles for her. And because her legs are together (rather than spread), penetration will feel tighter for you.
On the negative side, it may be a little more difficult for her to achieve orgasm with her legs together without a bit of practice.
If it's not quite working, she can always spread her legs a little, so they go on either side of yours, increasing her chances of orgasm. And as things get hotter, she might want to arch her back and come up onto her knees so that you can get deeper thrusts rather than just rocking back and forth.
Don't forget to experiment
There are tons of sexual positions out there for you to choose from, and half the fun is in experimentation.
There's no guarantee that your partner is going to have an orgasm whatever position you choose – female libido is a complicated thing. But some positions are going to just be better for her than others.
The only way you're going to find out what works is by trying out some different things and figuring out what works for you as a couple.
You might also like
Your choice of sex positions is just one piece of the puzzle. So you might also like my tips for great foreplay or fantastic oral sex – both of which are great to work on if you want to increase orgasm frequency and intensity.