Welcome to Rising Master – a blog and resource to improve men's love lives.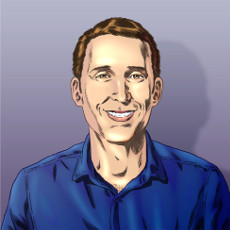 Hi there! I'm Ethan Green, the creator of this website and writer of most of the articles here. Let me tell you a bit about myself and how I might be able to help improve your love life.
I'm from England, where I studied psychology in London, and then worked in mental health for the best part of a decade.
The advice I give on this site doesn't come so much from my education or work experience though; it's based much more on the embarrassing failures and joyous successes of my own love life.
I think personal experience is very important when trying to help others. And when it comes to issues in the bedroom (or wherever else you choose!), there's no substitute for someone who's been through those good and bad moments of "what on earth just happened?"
In the beginning
Although it's since evolved, I created Rising Master 5 years ago in 2013 because of my struggle with premature ejaculation.
It took me a long time to do something about my problem, mainly because I buried my head in the sand for years. But also because it was difficult to find reliable information or something that actually helped.
I've now learned a lot about ejaculation control, and experimented with a wide range of treatment options. So I think I have a very good understanding of what's needed to develop good sexual stamina, as well as what's best avoided.
So if that's the reason you found this website, hopefully my experience and advice will help you find a safe, effective and lasting solution.
Later on
Although premature ejaculation was the catalyst for Rising Master, I've picked up one or two other problems along the way, as well as learning a thing or two about intimacy and sex.
I've had testicular cancer (I'm all clear now), problems getting an erection, sexual performance anxiety and one or two knocks to my self-confidence because of life's unexpected twists and turns.
Fortunately, I think I've done a pretty good job of dealing with these issues, even though it hasn't always been easy. And to be honest, things still don't always work out as planned in the bedroom!
Most men will experience ups and downs in their sex life, and rarely will anyone 'perform' perfectly every time they have sex. So if you do end up having difficulties at some point, I might be able to point you in the right direction for dealing with them.
And if you're simply looking for tips to help you become a better lover, I'll be glad to impart my experience and knowledge in the hope that it's useful to you.
Thanks to some friends
Although I wrote most of the articles here, I'm lucky enough to have trustworthy and open-minded friends who help out with some of the topics.
I also regularly ask a couple to test out some of the sex products and treatments I've reviewed to get a second opinion. In particular, I'd like to say thanks to Karen for continuing to write such useful sex advice articles.
Support for the LGBT community
The vast majority of the articles here are written from the perspective of heterosexual sex. When talking about our personal experience of intimacy, it's inevitable that we'll describe it in the way that feels natural to us personally.
However, we're very aware that many of the sex problems, techniques, products and treatments we discuss apply to a more diverse community.
So for now, the best we can do is to openly say that despite the image the website might portray, we do support the lesbian, gay, bisexual and transgender community.
What we can also do is promise to very carefully moderate any homophobic comments, or abusive replies to other readers' comments.
Finally, if you're reading this and have any suggestions for ways we can improve our support of LGBT rights, please use the contact page to get in touch with us.
All that remains is to wish you the very best in your journey towards a better love life. Whether you've come here looking for advice about a specific problem, or are looking for ways to better satisfy your partner, we hope you find something that helps.
Best wishes,
Ethan & Karen