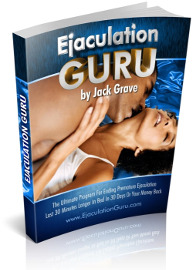 The best way to stop premature ejaculation permanently is to develop better control of your body and mind through natural techniques.
A good premature ejaculation book will teach you how to do the techniques correctly and effectively. Following one of these guides helped me to last much longer, so I'm a believer in the potential for them to help.
In this review, I'll be discussing four popular books. They are all self-help programs, available as an instant download so you can get started straight away.
Key points to look for
There are a few key points that I personally expect from a good guide:
Detailed background information about premature ejaculation.
Tips that can help you last longer right away.
A range of effective exercises and techniques to gain ejaculation control.
Complete, detailed and step by step instructions.
So with those criteria in mind, let's take a look at my recommendations.
1. The Ejaculation Trainer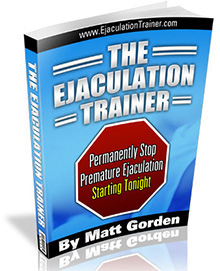 The Ejaculation Trainer has stood the test of time as one of the most popular and effective books on premature ejaculation.
Before I created this website, it was the second program I'd tried. I followed the exercises diligently for a couple of months and had great results with them.
It took me from lasting between 1 and 5 minutes on average to over 10 minutes most times, and sometimes (though not always) much longer.
What worked for me was a combination of things. There are lots of practical tips which help you straight away (the emergency tactics mini book). And there's just the right amount of background information to help you fully understand the issue.
Then there are several practical exercises to help you control your arousal, erection type, and ejaculation response. The exercises are all well explained, easy to do, and very effective if you stick with them.
My only criticism is that the author makes some bold claims about you being able to last 10 to 30 minutes from day one.
I think that might be possible if you already last a few minutes usually and just need some pointers for doing things differently. But if you have severe premature ejaculation, it will probably take some practice to last that length of time.
That's my only criticism of an otherwise excellent book though. Once you put the techniques into action, you'll find it's a serious guide to a serious problem.
It made a big difference to my sex life and confidence, so for that reason, it's still my top pick.
Check out the Ejaculation Trainer >>
2. Ejaculation By Command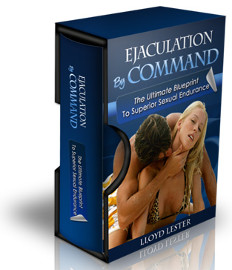 The author of Ejaculation by Command, Lloyd Lester, is a respected sex expert, with 10 sex guides to his name.
I like that he tries to make life easier with different options to suit your style: read the book, follow a quick start summary, or listen to the audio version.
As well as giving you all the key background information on premature ejaculation, the guide is packed with effective exercises and techniques to improve your stamina.
For example, you'll learn about arousal control and edging, kegels, correct breathing, sensate focusing, tantric sex techniques, and a diet that promotes healthy sexual functioning.
As well as all the useful solo exercises, Lloyd also put a lot of thought into how you can make it work with your current partner.
There are techniques that you can practice together during sex. And he also explains how to give your partner an orgasm before intercourse. That will help boost your confidence, and allow you to have longer and more satisfying sex.
My only criticism is the same as the Ejaculation Trainer – some exaggerated claims about being able to last 20 minutes longer from day one.
On the whole, Ejaculation By Command is a solid guide. It's easy to follow and understand, full of useful exercises for both you and your partner to practice.
Knowing what I know now, I imagine I would have had similar results to the Ejaculation Trainer if I'd read this one first.
Check out Ejaculation By Command >> 
3. Ejaculation Guru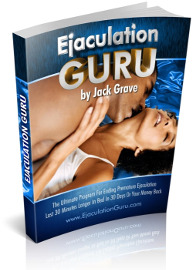 The Ejaculation Guru is one of the most recent premature ejaculation books, with an emphasis on using the pelvic floor muscles to control ejaculation.
The author, Jack Grave, clearly has a lot of faith in his technique, talking about that one method almost exclusively for 30 minutes in his introductory video.
He describes the book as being based on a new technique. But when I read the guide, I found it's based on the classic kegels technique of using the pelvic floor muscles at the point of no return.
Despite that, he does a good job of explaining how to do pelvic floor/kegel exercises. There are extensive instructions, including safety advice and an exact description of how to use the muscles during sex.
I particularly liked the sections on arousal control. He rightly splits this into 2 parts, mental and physical arousal, with useful ideas to gain control.
He talks about understanding your arousal scale, visualization, NLP, breathing, changing mental focus, and changing the way you have sex to control your arousal.
He also offers some methods to last longer straight away, which you can use while developing the pelvic floor muscles.
Overall, I think he explains his techniques accurately and in detail. If you're interested in kegel exercises in particular, you'll probably enjoy Jack's positive approach.
But if you're looking for a more rounded approach to premature ejaculation, you might find Ejaculation Guru a bit too focused on that one technique.
Check out the Ejaculation Guru >>
4. Lasting Longer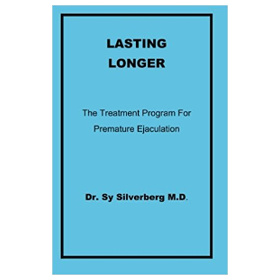 Lasting Longer is a cheaper and simpler alternative to the previous two books. The author is a sex therapist who amazingly first wrote the book all the way back in the 1970s.
And he says that his simple approach was developed through his experience of helping guys in therapy.
Like some other premature ejaculation guides, it focuses mainly on the start and stop technique. However, there's also a good section on the role of sexual performance anxiety.
He talks a lot about the importance of changing your attitude towards your 'performance' and sex life in general, and I found this section very helpful.
However, I don't really think there's as much content as there could be, especially when compared to the amount of information and exercises in the others I've read.
Even though he describes his technique in depth, it left me wondering why he'd chosen to focus solely on one method and not offer more.
Overall, it's not bad – it's just kind of missing half the story. Maybe the approach was a revolutionary idea 40 years ago. But in the modern day and age, many men want tips which will help them straight away, and a range of different techniques to try.
And like the Ejaculation Trainer, there's no support option with this one. Though to be fair, the main technique is described very clearly, and don't leave much room for confusion.