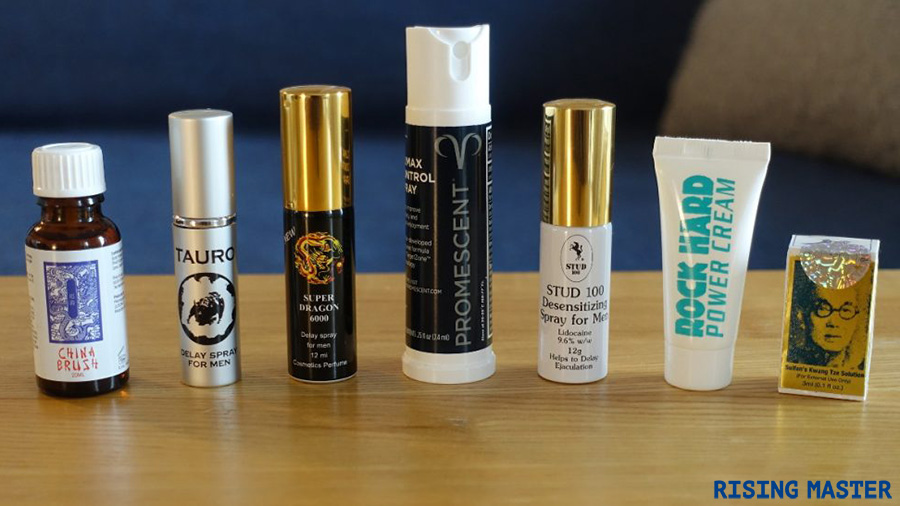 If you have difficulty controlling when you ejaculate during sex, delay sprays can be a great way to increase your lasting time.
I personally had good results from using them back when I was really struggling with premature ejaculation.
I liked the fact that you can get them discreetly without a prescription, and that they work without much effort on your part.
These are some of the main reasons why I think it's a good idea to try one:
It can help you last longer by reducing the physical sensitivity during sex.
It's an easy and immediate way to stop premature ejaculation.
You can apply it subtly just before having sex.
It can improve your confidence when having sex.
It's important to understand that even the best delay spray isn't a permanent cure for premature ejaculation. I'll talk about more long-term options at the end of this review.
But if you want something that can help you right away, this is an easy and effective option to consider.
1. Promescent
Ingredients: lidocaine 10%
Application: metered pump spray
Intercourse and oral sex: yes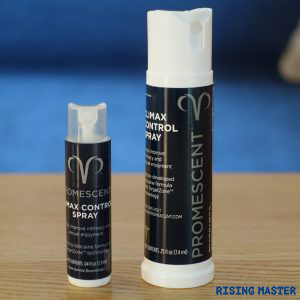 In my experience, Promescent is the best delay spray currently available. It ticks every box in terms of effectiveness, reliability, and lack of side effects.
It's one of very few that are FDA compliant and has undergone successful clinical trials. It has a dedicated team and customer service behind it, and is recommended by many doctors in the United States.
At a time in my life when I was struggling a lot with premature ejaculation, I found it enabled me to last between 10 and 20 minutes on average. This was a notable improvement from the usual 1 to 5 minutes.
It has a unique design in that the spray is absorbed quickly by the skin to numb the sensitivity, but doesn't reduce your erection strength or stop you enjoying sex.
This absorption action also means it doesn't transfer to your partner like many others do, and can be applied just 10 minutes before having sex. It can also be used with oral sex, and with or without a condom.
The main downside is that it's the most expensive of the delay sprays. And like all of them, if you apply too many doses, it can reduce the sensation a little too much.
Overall, considering the improved control that it gave me, and the fact that it's made by a trustworthy company, this is a delay spray that I highly recommend trying at least once.
Buy from promescent.com  |  Promescent review
---
2. Dynamo Delay
Ingredients: lidocaine 13%
Application: metered pump spray
Intercourse and oral sex: yes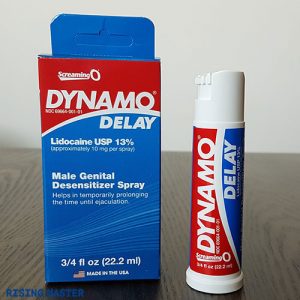 Dynamo Delay is made by the adult toy company 'Screaming O', and is probably the best of the lower-priced sprays I've tried.
It has the highest lidocaine content I've seen, with 13% USP. That will be a good thing if you've found in the past that you need a large quantity to get the desired effect.
But if you're new to desensitizing treatments or have had erection problems in the past because of them, I'd be careful with this one and start with just 1 dosage.
It has a useful metered pump like Promescent, which helps you get the same dosage each time though.
It takes action quickly, in just 5 to 10 minutes, and there's no real smell. So it's good for both oral and intercourse. There was some tingling, but it wasn't a serious issue as it is with some sprays.
My only real criticism is that the strong dosage can be an issue if you get the dosage wrong. I found it numbed me too much with 3 sprays, so you do need to watch out for that.
But overall, if you're looking for a reasonably priced and strong spray, Dynamo is a good choice.
Buy from Amazon  |  Dynamo review
---
3. Stud 100
Ingredients: lidocaine 9.6%
Application: metered pump spray
Intercourse and oral sex: yes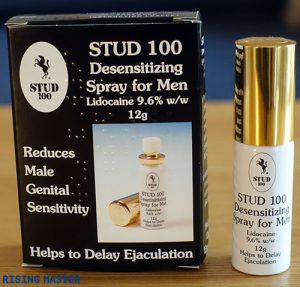 Another decent low price delay spray is Stud 100, which is also FDA compliant. The difference between the many lidocaine sprays isn't always obvious; it often comes down to some small, but important details.
Like Promescent and Dynamo, Stud 100 has a metered pump so you can apply the same amount each time. It also takes action quickly and can be used with oral sex as long as you wipe off any excess first.
I found it helped me last several minutes longer – as long as I used the right dosage, which took a couple of attempts to work out.
The main problem is that it's a bit unpredictable. Nearly all of the lidocaine sprays I've tried have a similar problem of getting the dose right.
So they either appear to do nothing or numb you too much until you find the exact quantity that works for you.
On the plus side, it gave me no side effects like tingling and it didn't transfer to my partner.
On balance, I think Promescent and Dynamo are more effective and have better customer support. But considering the low price, Stud 100 is one of the better delay sprays to try.
Buy from Amazon  |  Stud 100 review
---
4. Fortacin
Ingredients: lidocaine (7.5 mg per spray), prilocaine (2.5 mg per spray)
Application: metered pump spray
Intercourse and oral sex: yes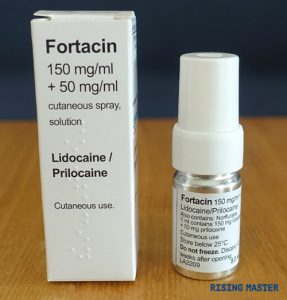 Fortacin, also known as Tempe and PSD502, is an effective spray, but unfortunately not widely available.
It made headlines a few years ago when clinical trials showed it helped men last 6 times longer. An increase from 0.6 minutes to 3.6 minutes on average was reported.
I found it worked extremely fast – just 5 minutes is enough for it to take action. And it was definitely effective, helping me last a good few minutes longer.
Like Promescent and Stud 100, it has a convenient metered pump, is fine to use with oral sex, and with or without a latex condom.
My main complaint is that it gives a hot tingling sensation, even with smaller doses. It's not a deal-breaker but is slightly more uncomfortable than the previous two.
On the plus side, Fortacin has undergone more clinical trials than any other spray. It was approved as safe and effective by the European Medicines Agency, which is no easy feat.
However, it's not available globally. The U.K. is the only country I know where it's easily available, either on prescription or online pharmacies. But if you live in the United States, you won't be able to get it shipped from the U.K.
---
5. Super Dragon 6000
Ingredients: lidocaine 10% & vitamin E
Application: spray bottle
Intercourse and oral sex: not advised for oral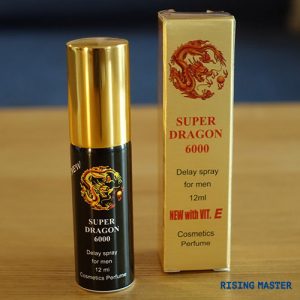 Super Dragon 6000 is another relatively strong lidocaine desensitizing spray. And like Fortacin, it also works very quickly.
The manufacturer says 5 minutes is enough time, though if you wait 20 minutes it will be even more effective.
I found it worked reasonably well – it helped me last several minutes longer. I'm not sure the vitamin E does much though, and suspect it's more of a gimmicky extra.
Strangely, the manufacturer advises against using it with oral sex. I'm not sure why, as others with lidocaine are fine as long as you wipe yourself first. Perhaps they are erring on the side of caution.
Either way, if you decide to take their advice, it makes the spray much less usable than others. If you never have oral anyway, then it's not a problem; I imagine many men won't be too impressed by that idea though.
In terms of side effects, there was some tingling, and when I applied too much the numbing made it difficult to get an erection.
Super Dragon hasn't undergone clinical trials or been approved by any official body. It doesn't appear to have a dedicated pharmaceutical company behind it, and different versions of it sporadically appear online.
So it's not always easy to find the original version, and most reputable online sex shops have discontinued it.
Buy from Amazon |  Super Dragon 6000 review
---
6. Dragon's Delay Spray (Super Dooz)
Ingredients: lidocaine 10% & vitamin E
Application: spray bottle (not metered)
Intercourse and oral sex: not known if safe for oral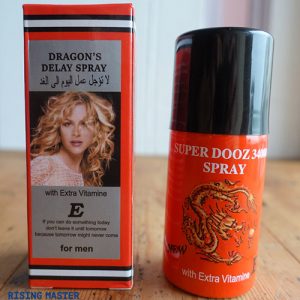 Dragon's Delay spray is a slightly confusing product as it also goes by the name 'Super Dooz'. Bizarrely, the bottle and package have a different name and branding on opposite sides.
It has the same ingredients as Super Dragon 6000, but there's no official word on whether it's made by the same company or just a copy.
It works very fast, has a strong numbing action, and it definitely helped me last longer. There was no smell either, which is always a plus.
The instructions were very basic, with no advice about whether it's ok to use with oral sex or not. But if it's the same as Super Dragon, my suspicion would be that it's best not to.
My main concern is that it's not a metered spray, and shoots out in a fast, continuous stream. That means you can't apply the same amount each time, which isn't so helpful.
It hasn't undergone any official testing or been approved for use anywhere. And I couldn't find much information about the company behind it. So that makes it harder to trust the quality of the product, even though it seems to work.
Buy from Amazon  |  Dragon's delay spray review
---
7. Climax for men
Ingredients: lidocaine 10%
Application: spray bottle (not metered)
Intercourse and oral sex: not known if safe for oral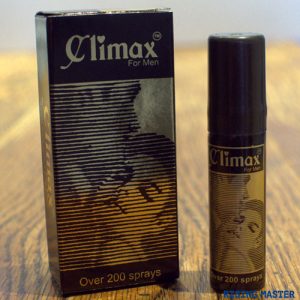 Climax for men is a generic lidocaine delay spray which, like most others, works well but does have a couple of downsides worth bearing in mind.
The 10% lidocaine does the usual job of providing a powerful numbing action that lasts a good couple of hours. It did help me last longer when I tested it, so it does its main job reasonably well.
However, I found several issues with using it that keeps it in the bottom half of the list. Firstly, it created a noticeable tingling that lasted a long time.
Secondly, the spray isn't metered, so it's hard to apply the same amount each time. The spray also leaves a slightly greasy layer and has a faint chemical smell to it.
It's made by a pharmaceutical company in India, but hasn't had clinical trials or received any official approval. So once again, you can get it online, but it doesn't have such a solid backing behind it.
Buy from Amazon  |  Climax spray review
---
8. Stud 5000
Ingredients: lidocaine 10%
Application: spray bottle (not metered)
Intercourse and oral sex: not for oral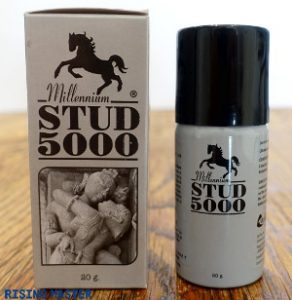 Despite sounding like an upgrade to the well-known spray Stud 100, it's not made by the same company. I'm not sure what the people behind Stud 100 think of it, but I imagine they aren't too impressed!
I don't think they have too much to worry about though, as this spray isn't as user-friendly as the original Stud spray.
There's no metered pump, again making it tricky to define the amount you need with any accuracy. It also has quite a noticeable chemical smell.
My main complaint with it though is that even after washing off the excess correctly, it numbed my partner's mouth during oral sex. And that's far from ideal, as you can probably imagine.
On the plus side, that strong 10% lidocaine did the trick, and I was numb enough to last considerably longer during sex.
But at the end of the day, we weren't overly impressed by the lack of instructions and the side effects it had.
As well as ripping off an established brand, this is one we would recommend avoiding unless you're particularly interested in working your way through generic sprays.
Buy from Amazon |  Climax spray review
---
9. Tauro Extra Power Delay Spray For Men
Ingredients: Ginseng, Ginkgo Biloba, Hedera Helix, Chamomilla Recutita, Phenoxyethanol, Laureth-9, Eugenia caryophyllus bud
Application: Spray can
Intercourse and oral sex: not clear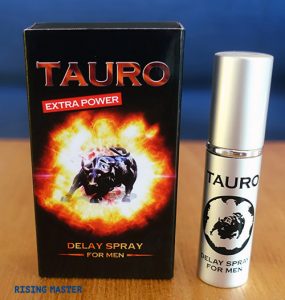 Tauro is an unusual desensitizing spray in that it contains a mix of traditional herbal ingredients used for sexual problems.
But it also contains parabens, which have caused some controversy, despite being shown in studies to be usually safe in small doses.
But if you're attracted by the 'all natural ingredients' marketing point, you might want to investigate the ingredients further.
As for its effectiveness, I found it was much milder than the lidocaine and benzocaine sprays. It did provide some numbing, but it was quite gentle.
On the plus side, there was no smell, and it seemed to be fine for oral sex, both of which are important points.
However, there are other issues to consider. Firstly, it takes 30 minutes to work, which is much more than the standard 5 to 10 minutes of most. Secondly, there was a tingling sensation which lasted over an hour.
Again, Tauro hasn't had any official testing or approval. It's also becoming harder to find nowadays, so I suspect might be discontinued eventually.
Buy from Amazon  |  Tauro review
---
10. China Brush
Ingredients: eight Chinese medicine ingredients traditionally used for sexual dysfunction
Application: a liquid solution with a brush to apply it
Intercourse and oral sex: not for oral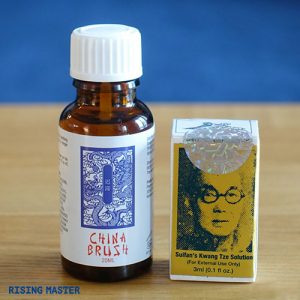 China Brush is promoted as being an ancient, all-natural formula that men in Asia have been using for years.
I did some research into the ingredients, and it seems they are used for a range of problems – from low libido to premature ejaculation and erectile dysfunction.
The first time I tried it, it worked pretty well, extending my time by over 10 minutes during sex. However, there are some annoying issues with using it.
Firstly, you need to apply it between 30 to 60 minutes before sex. Secondly, it sometimes produces a stinging sensation which can be quite unpleasant. Some readers have told me it was too painful for them to use again.
Another problem is the authenticity. There are reports of fake products being sold, which don't work, or produce that stinging sensation without the benefits.
So even though it has the potential to work, I don't recommend it very highly because of the risk of discomfort, and the number of fake reports surrounding it.
If you do want to try it, in the review below I discuss where you might be able to get the authentic product from.
---
Recap of the top 3
If you're still not sure, you might find it helpful to read the longer review of the top rated sprays:
---
A more permanent solution
Although delay sprays can work well, they aren't a permanent cure. So I also recommend learning control naturally as well as trying a spray in the short term.
There are plenty of techniques to develop lasting control. Although it can take a bit of time to master them, it's well worth the effort.
To find out more about this, you might like to check out my reviews of premature ejaculation guides.