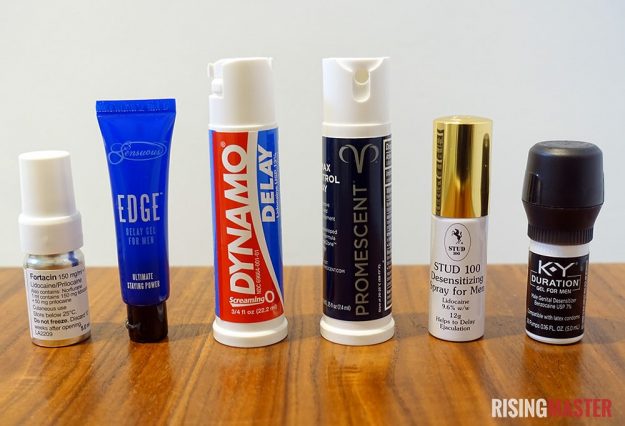 A delay spray can be a very effective over the counter treatment for premature ejaculation – especially if physical sensitivity is causing you problems during sex.
I've personally had great results with delay sprays, finding they usually help me last considerably longer. I like the fact that you can order them discreetly online, and that they work without much effort on your part.
In the years since starting this website, I've tested many different sprays and gels, and continue to do so as new ones appear. And in this review, I'll be recommending the ones that have worked best.
1. Promescent
Ingredients: lidocaine 10%
Application: metered pump spray
Intercourse and oral sex: yes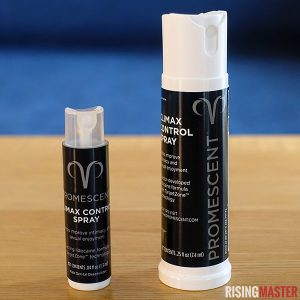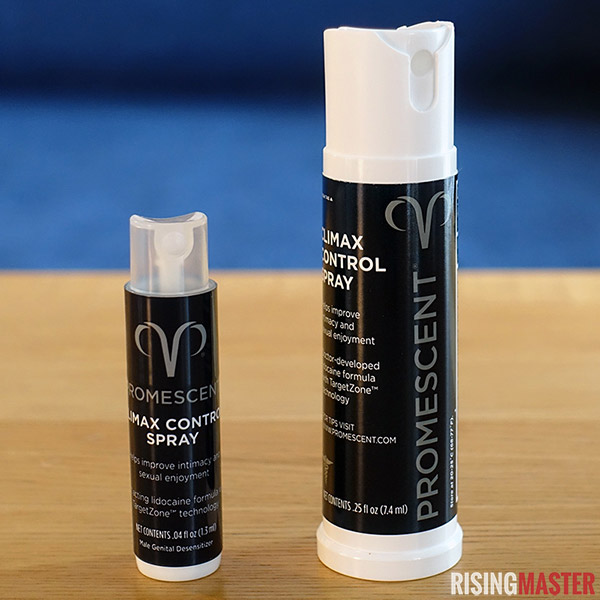 Promescent is my current favorite of the many delay sprays I've tried. It's effective, easy to use, and has a dedicated company behind it who provide excellent customer support.
It's one of very few that are FDA compliant and has undergone successful clinical trials. For that reason, it's recommended by a growing number of doctors and urologists in the United States.
At a time in my life when I was struggling a lot with premature ejaculation, I found it enabled me to last over 10 minutes on average. This was a notable improvement from the usual 1 to 5 minutes.
It has a unique design in that the spray is absorbed rapidly by the skin. So you can apply it just 5 to 10 minutes before sex and don't have to wait around for it to start working.
The rapid absorption also makes it less likely to transfer to your partner, which is an important point. It's fine to use it for oral sex, and it will work either with or without a condom.
The main downside is that it's the most expensive of the delay sprays. So if you're on a tighter budget, you might prefer one of the ones below.
But considering the improved control that it reliably gives me and the good reputation of the company behind it, promescent is the delay spray I recommend trying first if you can.
Buy from promescent.com  |  Full review
---
2. Dynamo Delay
Ingredients: lidocaine 13%
Application: metered pump spray
Intercourse and oral sex: yes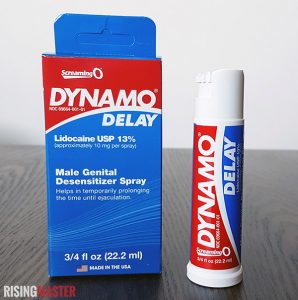 Dynamo Delay is made by the adult toy company 'Screaming O', and has the most powerful numbing of the lower-priced sprays I've tried.
It has the highest lidocaine content I've seen, with 13% USP. That will be a good thing if you've found in the past that you need a large quantity to get the desired effect.
But if you're new to desensitizing or have had erection problems in the past, I'd be careful with this one and start with just 1 spray. It has a useful metered pump like Promescent though, which will help you get the same dosage each time.
It takes action quickly, in just 5 to 10 minutes, and there's only a light smell, which is to be expected. It's fine to use it for both oral and intercourse. There was some tingling, but it wasn't a serious issue as it is with some sprays.
My only real criticism is that the strong dosage can be an issue if you get the dosage wrong. I found it numbed me way too much with 3 sprays, so you do need to watch out for that.
But overall, if you're looking for a reasonably priced and strong spray, Dynamo is a good choice.
---
3. Stud 100
Ingredients: lidocaine 9.6%
Application: metered pump spray
Intercourse and oral sex: yes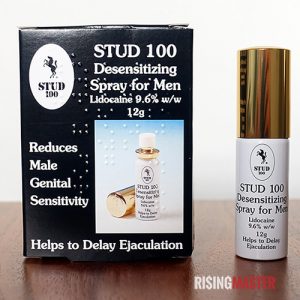 Another decent low price delay spray is Stud 100, which is also FDA compliant. The difference between the many lidocaine sprays isn't always obvious; it often comes down to some small, but important details.
Like Promescent and Dynamo, Stud 100 has a metered pump so you can apply the same amount each time. It also takes action quickly and can be used with oral sex as long as you wipe off any excess first.
I found it helped me last several minutes longer during sex. And once I got the dosage right, I found it to be an effective spray that was easy to use.
The only potential problem is the same as all sprays – it can take some experimenting to find the perfect dosage. Until then, they either don't work, or work too well and affect your erection quality or pleasure.
On the plus side, there was only a mild tingling sensation, which was tolerable. And we didn't have any problems with it transferring to my partner.
On balance, the difference between these first 3 sprays boils down to the quantity of lidocaine and the way the spray is absorbed by the skin.
I like Promescent because it absorbs so well and it works well. Dynamo is good if you need a stronger effect. But Stud 100 is also worth trying out to see if it suits you, especially at the low price.
---
4. K-Y Duration spray and gel
Ingredients: spray: lidocaine 9.6%. Gel: benzocaine 7%
Application: spray or gel depending on which you use
Intercourse and oral sex: only the gel for oral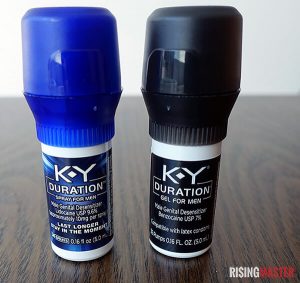 K-Y duration is one of the rare delay products that's made by a trusted brand. They have a spray and a gel version, which is slightly confusing – both aim to do the same thing though.
I found the spray is basically the same as most of the other lidocaine sprays I've tried. It works well when you get the dosage right, but numbs too much with just 1 or 2 sprays too many.
I'm not sure why, but K-Y advises not to use a condom with the spray, despite having the same active ingredient as brands that don't warn against using a condom. And that, for me, is a bit of a deal-breaker.
However, they do have a gel version, made with benzocaine instead, which is latex condom friendly. I didn't find it nearly as strong though, and had to use many doses to get even a mild effect.
Despite that, I've included both in this review for two reasons. Some men are unable to use lidocaine, so this presents one of the very few benzocaine alternatives – even if it's a mild effect.
And secondly, K-Y provide clear instructions and safety advice, which is useful when using a product on your delicate bits. Having good instructions is something that's frustrated me in the past with less well-known companies, so I highlight this point when applicable.
A couple of final points for both versions is that they are fine to use with oral sex, and only have a faint smell. So with their relatively fast action, they are both worth trying if you're experimenting with different sprays and gels.
---
5. Fortacin
Ingredients: lidocaine (7.5 mg per spray), prilocaine (2.5 mg per spray)
Application: metered pump spray
Intercourse and oral sex: yes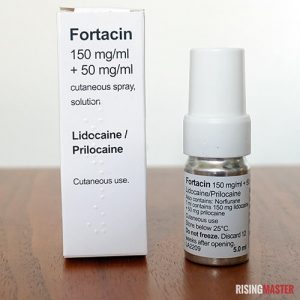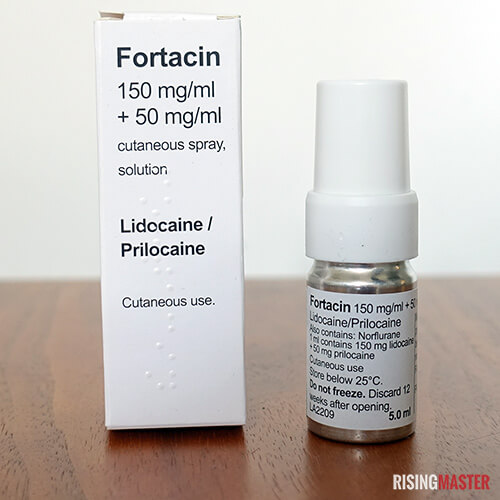 Fortacin, also known as Tempe and PSD502, made headlines a few years ago when clinical trials showed it helped men last 6 times longer. An increase from 0.6 minutes to 3.6 minutes on average was widely reported in the news.
I found it worked fast – just 5 minutes is enough for it to take action. And it was definitely effective, helping me last several minutes longer.
Like the previous sprays in this list, it has a convenient metered pump. It's fine to use with oral sex, and with or without a latex condom.
My main complaint is that it gives a hot tingling sensation, even with smaller doses. It's not a deal-breaker, but I found it slightly more uncomfortable than those that only use lidocaine.
On the plus side, Fortacin has undergone more clinical trials than any other spray. It was approved as safe and effective by the European Medicines Agency, which is no easy feat.
One logistical issue to be aware of is that it's only available in the U.K. and some other European countries on prescription. But it's currently not sold in other regions of the world.
---
6. Edge Delay Gel
Ingredients: ginkgo biloba, ginseng, horny goat weed, velvet bean, and uncaria gambir.
Application: gel
Intercourse and oral sex: yes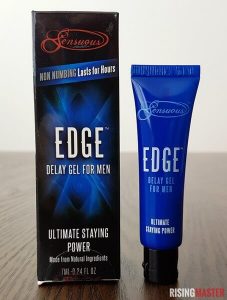 Edge delay gel involves a completely different approach to the typical lidocaine delay sprays. It contains a wide range of ingredients used in different parts of the world for sexual problems like premature ejaculation, erectile dysfunction and low libido.
It's also different in that it takes a long time to work – around an hour for full effect – but then lasts considerably longer than lidocaine-based sprays. I found it was still working several hours after applying it.
As it's a gel rather than a spray, it's a little trickier to apply the same amount every time. And I found that even with a little too much, there's quite a strong tingling sensation. So it's important to be careful with how you use this one.
The actual numbing wasn't as powerful as lidocaine sprays for me, but that might be a good thing if you've had issues with getting an erection because of the numbing. But on the whole, it was good enough to take the edge off the sensitivity and help me last a little longer.
A final point in its favor is that we had no problems using it with oral or unprotected – there was no transference, smell or greasy residue.
So on balance, I personally prefer lidocaine sprays, but if you prefer to avoid those, Edge is an interesting alternative.