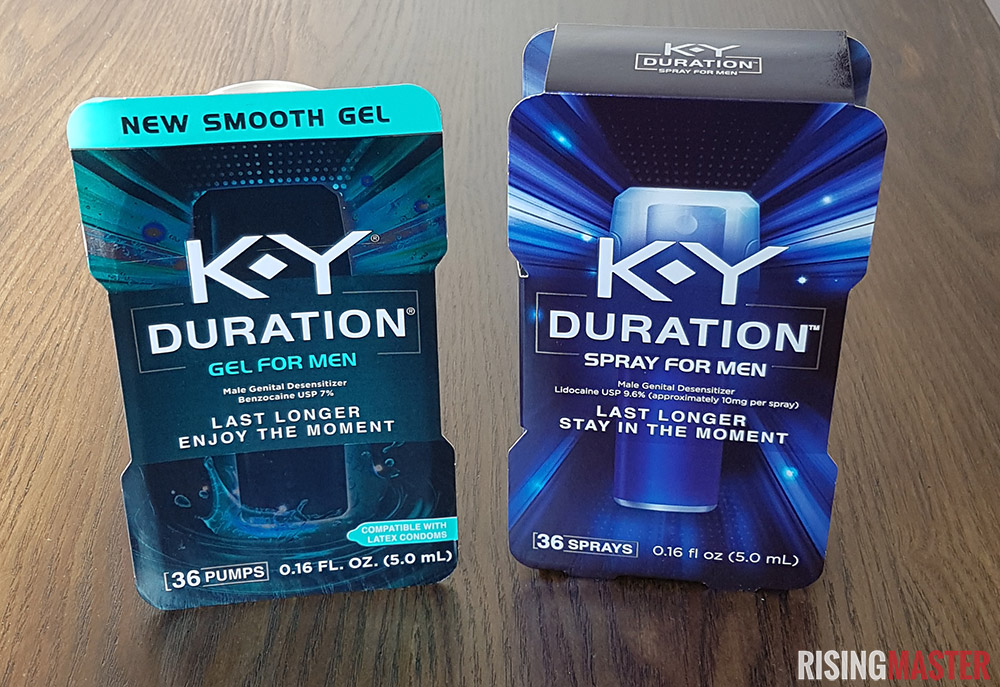 At a glance
K-Y Duration is intended to help men with premature ejaculation, and it's one of the very few delay sprays that's made by an established brand.
The lidocaine spray was very effective in helping me last longer during sex. The benzocaine gel version was much milder, and not as easy to use. So for me personally, the spray is the better of the two versions.
You get detailed instructions and safety advice with K-Y, which isn't always the case when you buy this type of delay product online. So it's a good one to try if you'd like one that's both effective and made by a reliable company.
Pros
Choice of lidocaine spray or benzocaine gel.
The spray version is strong and numbs well.
Starts working in 5-15 minutes.
Clear instructions.
Fine for oral sex.
Reasonable price.
Minimal side effects for most men.
Cons
The gel can be used with a condom, but not the spray version.
The gel version only has a mild effect.
Not a cure for premature ejaculation.
Too much can affect erection quality and cause tingling sensations.
My experience
I bought both the spray and gel versions of K-Y Duration to test with my partner. Rather than writing two separate reviews, I'll cover both in this article. That way, you can see the main differences between them.
Note: The initial packaging seems quite large, but the actual bottles are small, pocket-sized containers.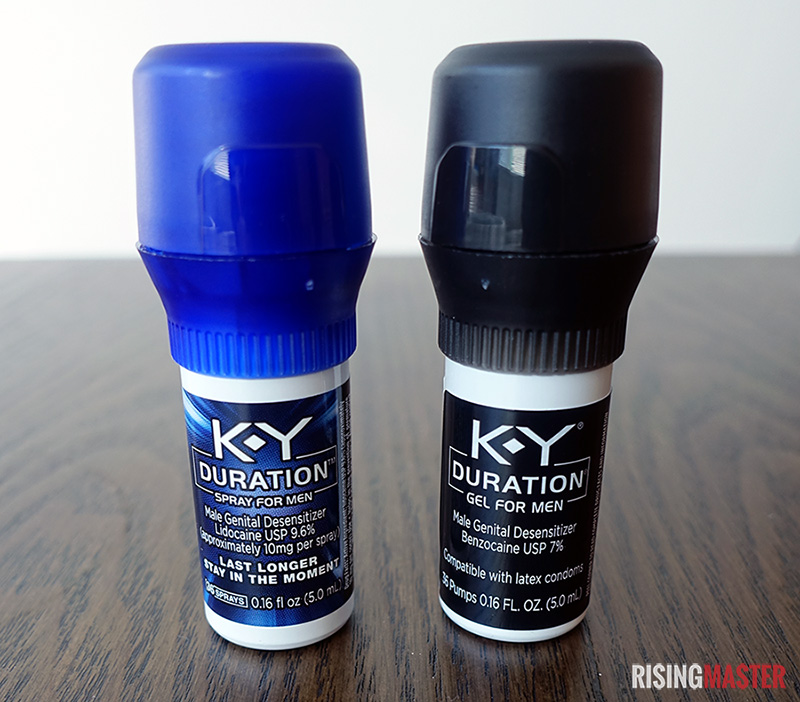 K-Y Duration spray
As always, I did a test spray on my forearm first. No problems there, so I applied three sprays as per the instructions. I kind of knew it would be too much, but I wanted to follow the instructions at least to start with.
And I was right – 10 minutes later I was totally numb, and getting an erection was virtually impossible with the lack of sensitivity. So I washed it off and waited until the next day to try again.
The following day, I used just one spray and rubbed it into the penis head only. It again numbed me, but not so much this time, and I was able to get an erection with some encouragement from my partner.
I'd given it a good wash so we could test it with oral sex. She could smell that very faint lidocaine smell, and whatever the fragrance is they use, but it was very light. And there was no numbing transference to her mouth during oral, which is an important point.
During sex, I could feel enough pleasure, especially on the shaft where I didn't use the spray, to enjoy the feeling. The numbing took the sensitivity out of the tip and frenulum, which is where I most need it.
I felt like I had more control with the numbing, and definitely lasted considerably longer than with no desensitizing. Just to be sure, I tried it a couple more times this week, and it worked the same every time.
So all in all, it seemed very similar to the other decent lidocaine sprays I've used in the past.
Pros of the spray version
Strong.
Fast-acting (5-15 mins before sex).
Easy to use with a measured spray pump.
Fine for oral.
No sticky residue.
Cons of the spray version
Can't use a condom.
Has the usual faint lidocaine smell.
Too much spray will mean erection problems.
K-Y duration gel
I'm not usually a fan of gels. Sprays are easier to apply the same dosage each time, especially this kind of spray bottle with a metered pump.
But this gel at least comes out with a pump action rather than a tube – so that helps measure the dosage. I also liked that it seems to absorb pretty well when rubbed in, without leaving too much residue.
I tried one 'blob' of gel first, and after 15 minutes nothing happened. So I added another three, which seemed to add a little extra numbing. It still didn't feel like enough though, so I doubled the amount to six.
Even with six squeeze worths of the gel, the numbing effect felt very light – especially compared to the spray. And really, I don't think it made much difference to my lasting time.
The good thing is that you can use a condom with the gel, and we tried that the next day. But again, it's hard to know whether the condom, the gel or both made the main difference. But there was some increase in lasting time.
We also tested it with oral, and the smell was even lighter than the spray. Benzocaine seems to have less of a chemical smell than lidocaine in our experience, so that's one plus in its favor.
Pros of the gel version
Fast-acting (5 to 15 mins before sex).
Less smell than lidocaine.
Can use a condom.
Cons of the gel version
Very light effect when I used it.
The gel isn't so easy to repeat the same dosage – only a minor point though really.
Slightly more residue than the spray.
Verdict
K-Y Duration spray worked well for me, but the gel wasn't so good. As I mentioned earlier, I think the spray is very similar to other good lidocaine products. K-Y has made an effort to ensure the mixture absorbs well and doesn't leave a messy residue or smell too strong.
It's a shame you can't use it with a condom though, which is where you'd need the gel instead. And then, if you're similar to me, the effect of the benzocaine might not be strong enough to numb you well.
If you don't have a preference for lidocaine or benzocaine, it might be worth trying both if you don't mind spending the money. Otherwise, I'd recommend the spray unless you really don't want a strong numbing effect.
Further information
K-Y Duration spray ingredients
Lidocaine USP 9.6% (Approximately 10mg per spray)
Ethoxydiglycol
Fragrance
Isopropyl myristate
Stearic acid
K-Y Duration gel ingredients
Benzocaine USP 7%
Carbomer homopolymer type B
Polyethylene glycol
Are they safe to use?
As an over the counter product, K-Y Duration isn't required to undergo safety tests. However, the company states that they use ingredients passed as safe by the FDA for use during sex. That's the same situation as other brands like Promescent, Stud 100 and Dynamo.
There are also some useful safety instructions:
If your partner is pregnant or breastfeeding, consult with a doctor before using.
Ask a doctor before using the lidocaine spray if you've had liver or kidney problems.
Don't use it if you're allergic to the ingredients.
Don't inhale.
Don't use on broken or inflamed skin.
Don't apply more than 20 sprays in 24 hours.
Speak to a doctor or pharmacist first if taking any prescribed drugs.
If burning, itching or a rash appears, discontinue use.
Both bottles also have a child safety lock to prevent any accidents.
Can you use a condom?
The spray – no.
The gel – yes as long as it's a latex condom.
How to use K-Y Duration
One of the points I liked about K-Y Duration is that they provide some clear instructions – not something you often find with delay sprays!
Here's what the instructions tell you:
Spray version
Apply 5-15 minutes before intercourse.
Hold bottle upright two to three inches from the penis.
Apply three or more sprays, not to exceed 10, to the head and shaft of the penis before intercourse, or use as directed by a doctor.
Rub in as required, and then wipe off any excess with a soft, damp cloth prior to intercourse.
Wash product off after intercourse.
Note: they tell you to experiment with the number of sprays required. Personally, I found three was too much, and that it was only necessary to rub it into the penis head.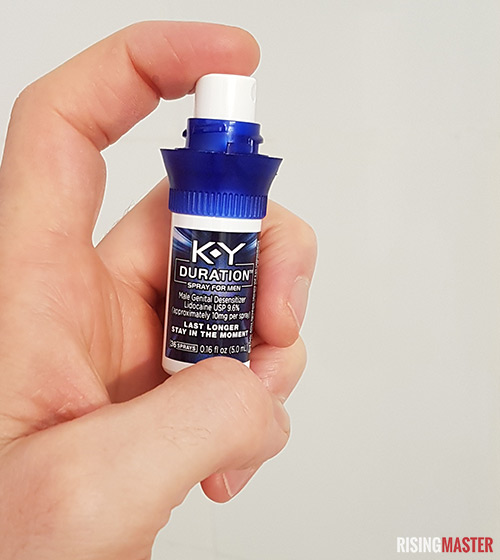 Gel version
Apply 5-15 minutes before intercourse.
Hold product with slight clearance from the penis and tilt the bottle at a 45-degree angle.
Pump the gel and apply a small amount to the penis head and shaft before intercourse, or use as directed by a doctor.
Rub in as required. Wipe off any excess with a soft, damp cloth before intercourse.
Allow the product to dry.
Wash the product off after intercourse.
In this case, I found more was needed for it to work. Three pumps of gel didn't do much, and I needed more to feel much effect. So again, you need to work out how much you personally require.