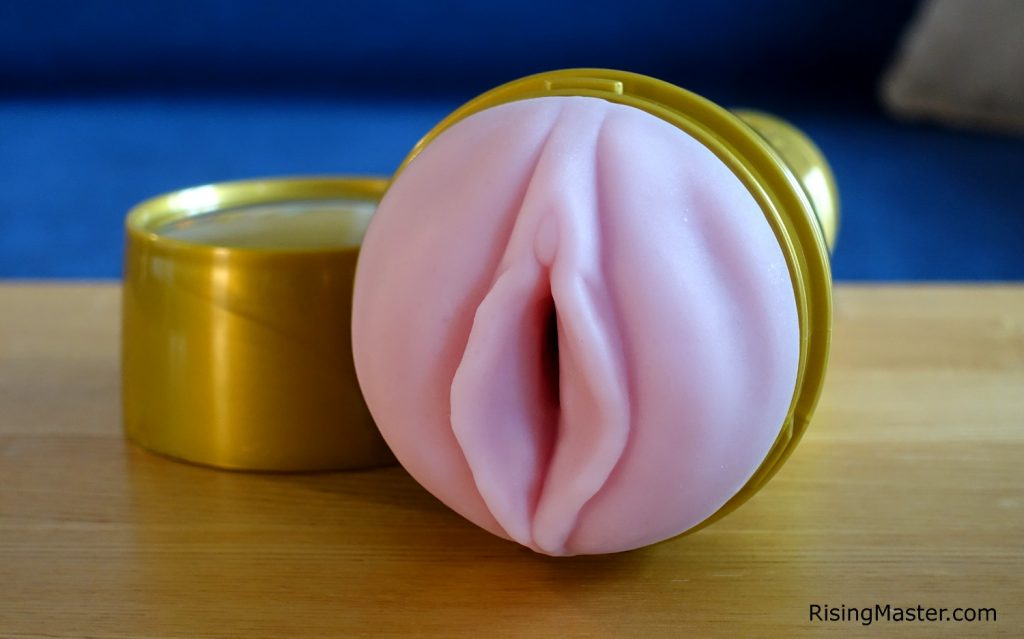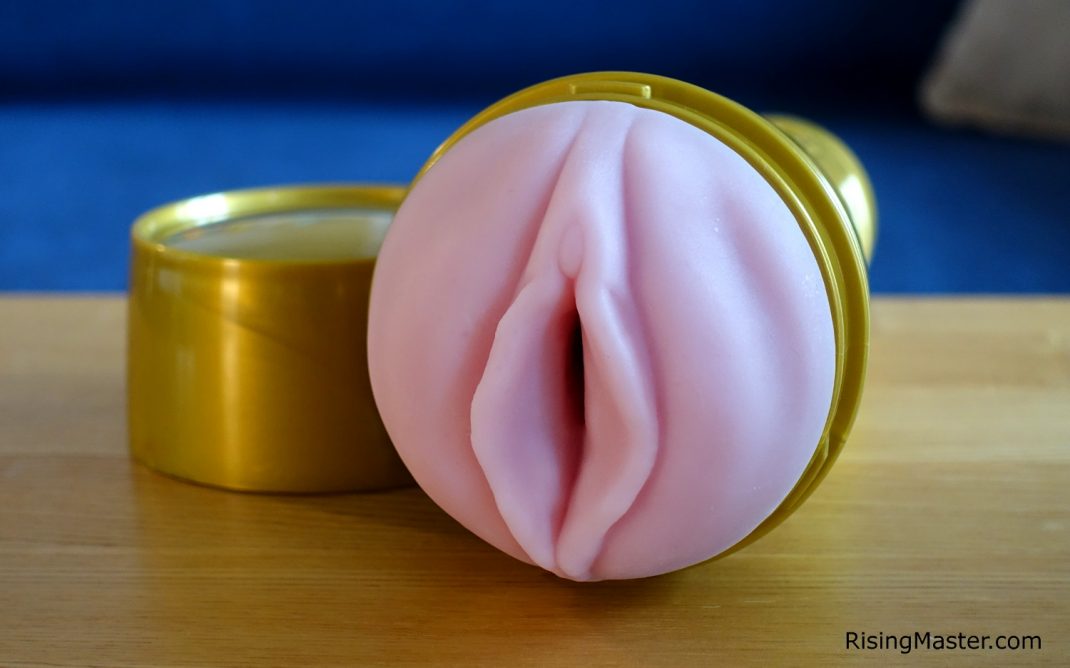 The Fleshlight Stamina Training Unit is a sex toy that's both intensely pleasurable, and useful for practicing techniques to last longer during sex.
Fleshlight produce a mindbogglingly wide range of men's sex toys, but the idea behind this particular one is that you can use it to practice the kind of ejaculation control techniques I talk a lot about on this site.
When I was dealing with my premature ejaculation problem as a single man a few years ago, I found it was a useful way to see if the techniques I was learning were really working or not.
It's not the same as testing them during real sex, of course, but it definitely helps bridge the gap. And even just using one regularly is a great way to stay used to the intense physical stimulation of sex.
So in this review, I'll be talking about how enjoyable the fleshlight stamina training unit is, as well as explaining how it can help increase your sexual stamina.
Find out more at Fleshlight.com
The positives
Discreet packaging
I think all sex toy companies know that they need to use a discreet unmarked box. So as I'd expect, the fleshlight came in an unmarked cardboard box.
I also like the fact that it was neatly presented inside a nice looking pack, rather than flopping around an empty box, which some other companies seem to think is acceptable.
You get instructions telling you how to care for it, some lubricant which lasts around 10 uses, and a useful little guide book explaining the different techniques you can try.
Quality design and realistic silicone skin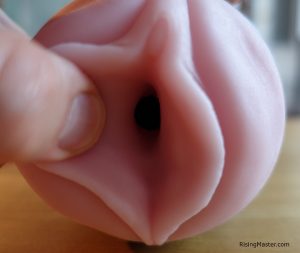 Fleshlight pride themselves on making their sex toys with what they call their 'patented superskin material', saying that it's the most realistic on the market.
To be honest, I have felt better skin, but only on a Japanese made sex doll that cost over £1000. But back in the normal world of affordable realistic vaginas, it's definitely the softest and smoothest I've tried.
The internal skin feels great to touch, even straight out of the box. And once you've warmed it up and added some lubricant, you can glide inside in one easy motion. The first time you try it, it's surprising just how realistic it feels. And it stays soft even as you clock up the minutes playing with it.
Contoured design
It has a detailed interior, designed to feel like the contours of a real vagina, enhancing your pleasure and helping you get used to the feeling of sex.
You definitely feel all the contours, which have two stages: firstly the entrance has circular contours, and then the inside has lots of small bumps which creates a great ribbed feeling when you're using it.
What I found was that the slower you use it, the better it feels because of the sensation of the contours. And depending on how you use it, you can give yourself different sensations.
But really, it's not easy to use it fast when you start out because the stimulation is so strong you just can't take it. If you can cope with the pleasure for longer than 2 or 3 minutes first time round, you're doing well.
Warm inside
The instructions tell you to remove the inner tube and warm it for a few minutes in warm water. It will then stay warm when back inside the tube while you're using it.
I tried it without warming it up the first time, and it still felt good. But when you soak it in warm water first, it feels much more realistic. It also feels more comfortable since the heat helps spread the lubricant around. So I definitely recommend taking the time to warm it up first.
Variable suction effect
I obviously didn't read the instructions very well when I bought my fleshlight, as it took me a couple of uses to discover the suction effect. Basically, the end cap can be turned to create different levels of suction.
Too stimulating for you? Just unscrew the end a bit. Fancy a tighter feeling with suction on the out stroke? Close it completely.
It's good fun playing around with the different suction levels, and helps add a bit of variety to the experience. It's also a good way to measure your progress when practicing techniques like the start and stop method.
Easy to clean
All realistic vaginas do require a little effort to clean and maintain them. But unlike some other brands, fleshlights are easy and quick to clean since you can remove the inside and turn it inside out to wash.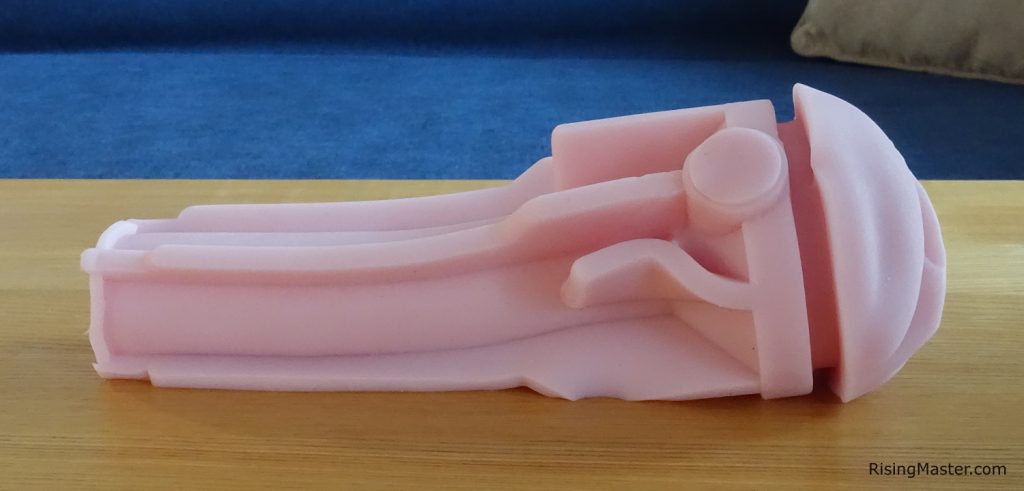 I recommend getting a specific sex toy cleaning spray rather than just using soap. But make sure you do clean it properly by running it under a tap and allowing it to air dry if you want it to last a long time.
The instructions also say you can sprinkle some corn starch onto the skin to keep the softness. I've been doing this with mine, and it does seem to help keep it nice and smooth.
The negatives
The size
My main criticism is that the fleshlight is quite large, which means it's not such a subtle thing to hide if you live with people who like to rummage around your room.
I can understand the idea behind calling it fleshlight, and trying to disguise it as a flashlight. But let's face it – who in the 21st century goes camping with a giant gold flashlight?
To be fair, logic says they do need to be quite big to accommodate the larger men out there. And other popular brands like the Tenga flip aren't much smaller.
The positive side to the size is that unlike most realistic vaginas, it's built into a plastic case with a screw-top lid so you can completely conceal it.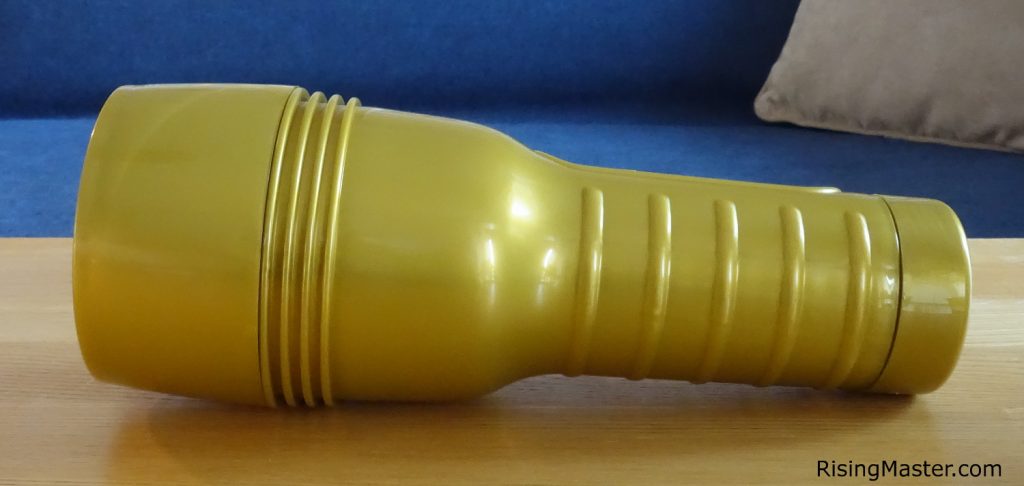 And in fact you can use the size and solid exterior to your advantage – try wedging the fleshlight between heavier objects like your mattress and bed frame to create a fun hands free experience.
And of course, that solid case is what makes those fun accessories like the shower mount and VStroker possible.
The internal size
If you're lacking in girth, you might find it's a bit too loose as it's not as tight as the real thing can be. So if you have a particularly small or thin penis, I'd recommend trying one of the tighter models Fleshlight make.
Limited uses
They say it only lasts for about 100 uses. If you look after it well, you'll probably get more mileage out of it. I guess that's the trade-off for being made from such a soft material.
The final word
Overall, the fleshlight stamina training unit is a high quality and intensely pleasurable realistic vagina. The skin is soft and smooth, with interior contours that put a smile on your face every time you use it.
I found it was very useful for practicing ejaculation control techniques in private. When you're working on some of the trickier techniques like kegels and reverse kegels, it's helpful to simulate real sex, but without having to worry about another person until you're ready.
And even by using the fleshlight regularly, you can stay used to the stimulation of sex. So you'll hopefully be more ready when you next have a partner and face the true test of your sexual stamina.
Where to buy
Most online sex shops sell Fleshlights, but you'll find more variety on their official website. They also regularly have deals on, so you might be able to pick up some extra lube for free, or a discounted accessory like the shower attachment.