Jamaican Stone is one of the strangest ways to help guys last longer during sex that that I've ever seen. And not only that, but it's also reported to bring about stronger erections too.
But as with so many things in life, the phrase 'too good to be true' may unfortunately apply in this case. It's banned by the United States Food and Drug Administration (FDA), partly because a version of it apparently caused a death in 2006.
The man did eat it instead of applying it to his penis, but the case did highlight the potential dangers of the ingredients. So in this Jamaican Stone review you'll find all the important information you need to know if you're thinking about trying it out.
What is it?
Jamaican Stone is said to be an all-natural male sexual performance enhancer. It's usually harvested from the tree sap of a tree native to Jamaica and the Caribbean Islands.
It's then molded into the stone form which you can see in the image above. The standard size is between 0.5 and 1 inches. It's also known as Jamaican Black Stone due to the color of the finished product. Though it is possible to find it in other forms such as drops or gels.
Strangely though, nobody seems to know the name of the tree it comes from! It doesn't say on the packet, and no supplier website mentions the name. And here's the scary part. After it caused a death, it was reported that some versions contain toad venom from the Bufo genus.
Apparently, both the toad venom and the tree sap contain chemicals known as bufadienolides, which can disrupt the normal rhythm of the heart. So no matter where it comes from, it doesn't exactly seem the safest option around.
How to use Jamaican stone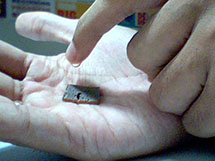 1. Assuming you have the black stone version then the good thing is that it can be neatly hidden away in your pocket until needed.
2. As you can see in the image to the right, you first need to apply a couple of drops of water onto one surface of the stone.
3. Rub the water on the stone in a circular motion until it turns into a milky colored liquid. This should take no more than a minute.
4. Gently rub that liquid onto the sensitive parts of your penis. Concentrate on the head as this has the most sensitive nerve endings.
5. You'll need to find out for yourself exactly how long you need to wait before having sex. It could be anything from 10-30 minutes, so some experimenting is needed.
6. Before you do have sex make sure you wash off any excess liquid with some mild soap. Especially if you don't plan on using a condom, or plan on having oral sex.
7. Dry the stone and store it. It can last for several months if you care for it properly.
My experience
There have been no official studies or scientific research done on Jamaica stone, so I was a little in the dark when testing it. But in the name of experimentation, that didn't put me off.
I ordered it online and it arrived a week later in an unmarked packet. I followed the instructions above, though unfortunately got it wrong the first time.
The problem with these kind of products is always working out how much you need. Too much and you risk over-numbing; too little and it won't work.
But there was no preparing for the surprise of what happens when using too much Jamaican stone. It was an intense burning sensation which took a good 15 minutes to subside even after washing it off thoroughly. And even then it took another 20 to 30 minutes to calm down completely.
The second time I was a bit more sparing and only rubbed a couple of small finger-tip drops on. This time there was still a hot tingling sensation, which again took a while to subside. Though it was more tolerable.
It seems to take about 10 minutes to have a noticeable effect, but 20 to be at the maximum desensitizing potential.
The numbing effect was definitely effective, and there's no doubt that using Jamaican Stone allowed me to have sex for longer. Though nowhere near as long as the 4 hours some sellers claim.
Did it have the other effect of giving a stronger, harder erection? Well, no not really. At least not as far as I could tell. Maybe that part is a marketing gimmick, or maybe it just didn't work on this occasion.
The numbing did last for several hours. This was a record in comparison to all other delay products I've tried which wear off in an hour maximum usually.
Possible issues and side effects
The main side effect is the intense burning sensation if you put too much on.
Even when you get the amount right, you'll still have to put up with a hot tingling sensation.
It's definitely not a good idea to use Jamaican Stone during oral sex because the taste is strong and unpleasant.
The numbing sensation is pretty strong, and so could reduce the pleasure of sex.
The risk of serious harm – see the following section.
Death reported in the news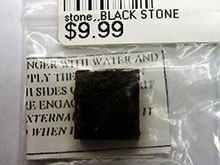 In 2008 the New York Health Department issued a warning for people to stay away from Jamaican Stone. Whether it goes by the name Black Stone, Chinese Stone, Love Stone or Piedra, people should avoid it.
This was because a man died after eating it. Don't ask me why, but he did. The warning also reported that similar versions were behind poisonings and deaths in the 1990s.
Obviously it's not meant to be eaten, but they do further warn that even applying it to the skin can be harmful. Maybe that explains the burning sensation I experienced.
Alternatives
There are alternatives which don't present the same potential risk as Jamaican Stone. To find out more, you might like to check out my other reviews of desentizing sprays.