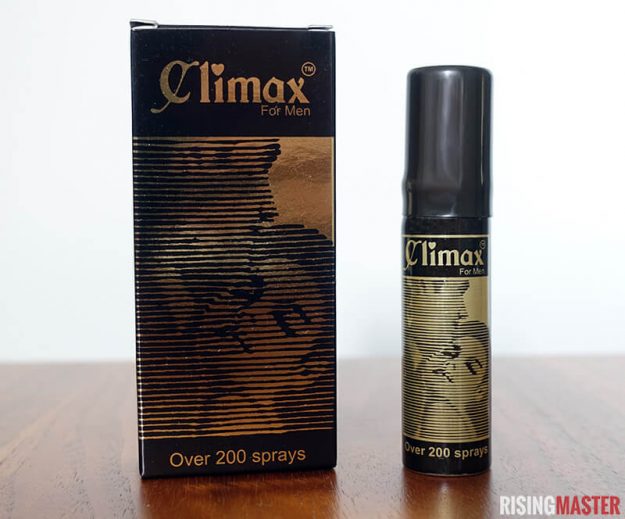 Summary
Climax for men is a strong desensitizing spray that might help some men control their ejaculation response during sex.
I found it worked reasonably well on the numbing front, but it gave me a tingling sensation that took a long time to stop. It also left a greasy layer on the skin that was difficult to wipe off, making it less subtle to use.
The good
Has a strong numbing action.
Takes action in just five minutes.
The metered pump makes it easier to apply the same amount each time.
Lasts around two hours.
Low price.
The bad
Not a permanent cure for premature ejaculation.
The recommended three to four sprays might numb too much.
Faint chemical spray and taste.
Leaves a greasy layer on the skin.
Tingling sensation that lasts a long time.
Lack of instructions or safety information.
Who makes it?
The spray is made by an Indian pharmaceutical company called MidasCare. That explains why even though I bought it on the UK Amazon site, it was sent from India (wrapped in a very large quantity of packaging tape).
I took a look at their website (midas-care.com) and it seems that they specialize in aerosol products like inhalers and a handful of other health products. Perhaps they decided to use their experience in aerosols to enter the lucrative premature ejaculation market.
Ingredients
The active ingredient of Climax for men is 10% lidocaine. That's a very typical ingredient of desensitizing sprays, with many others containing the same.
There don't appear to be any additional ingredients, other than the aerosol and propellant listed on the packaging.
How to use Climax spray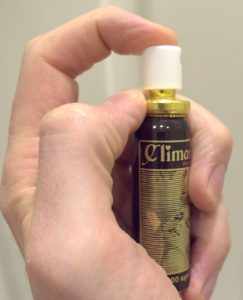 Like many numbing sprays I've tried, the instructions are lacking in detail. This is all the information leaflet said:
For desired effect, spray Climax a few minutes earlier. Shake container before use. Hold can upright, 5 cms away. Spray 3-4 times by pressing the spray button till the entire area is covered.
Presumably a few minutes earlier is 5 to 10 minutes like most sprays. I'm not sure what they mean by the entire area though – is that the head, the shaft, or both?
There's nothing about washing it off before use either, which I would definitely do. Considering the lack of instructions, if you're going to use it, this is what I'd do:
Make a test spray on your arm, and leave for five mins to see how your skin reacts to it.
Shake it and spray just one spray on your penis head and frenulum the first time.
Wait five minutes and then wash gently with warm water, a shower, or with a wet cloth. Also, wash your hands.
Have sex.
Decide if you need more sprays next time and/or if you need to spray the entire penis.
My experience using Climax
I decided to ignore the recommendation of applying three to four sprays, knowing from experience that it would be way too much. So I just used one spray to start with.
I was pleased to see it was a metered pump. That means you can get the same dose each time, which is preferable to continuous sprays or creams.
However, it does shoot out very fast, so perhaps the dose would be more than I expected. I also noticed there was only a faint chemical spray, which is better than the strong smell some have. It did seem a little more greasy than others I've tried though.
It takes action very quickly, and after five minutes I noticed I was already numb. In fact, for just one spray I felt very numb on my penis head where I'd sprayed it.
As is often the case with lidocaine sprays, there was a warm tingling sensation that lasted for about an hour before slowly wearing off. It wasn't a burning feeling like some give, but there was a constant sensation.
I gave myself a quick wash to remove any residue, then invited my partner to the bedroom, who I'd already warned that it was testing time again!
We got down to some foreplay to see how the numbing was and found that it had a similar effect to most other sprays – exactly what I'd imagine. Though I do think it was a little too numb considering I'd only used one spray.
We tested it with oral, with my partner saying it had a faint chemical taste, but like the smell, it wasn't too bad.
We then moved on to sex, and it definitely reduced the stimulation significantly. I think if I'd sprayed the shaft as well, there would have been very limited sensation for me.
It did exactly what it's supposed to do then: desensitize and numb me. I didn't time the sex, but it definitely gave me the ability to last longer by a good amount of time.
Verdict
If you're after a strong desensitizing spray, then Climax will definitely provide that. I found just one spray was more than enough to work and helped reduce the intensity of the physical stimulation of sex.
However, I think there's also the potential to reduce too much sensation, and with it the pleasure. It would be a case of trying it out yourself and seeing if you can get the balance right.
I was unimpressed by the lack of instructions, and the careless ambiguity of some of the few instructions they do provide.
Like so many of these generic lidocaine sprays, the manufacturer doesn't appear to specialize in premature ejaculation. Otherwise, they might have put more thought into the user experience.
Still, for the low price, it's one that might be worth trying if you're keen to try different sprays to find one that works best for you.
Just be aware that no clinical trials have been done on this spray to test its effectiveness or safety.