Disclosure: This article contains affiliate links. If you choose to buy a product after clicking a link, I may make a small commission, at no extra cost to you.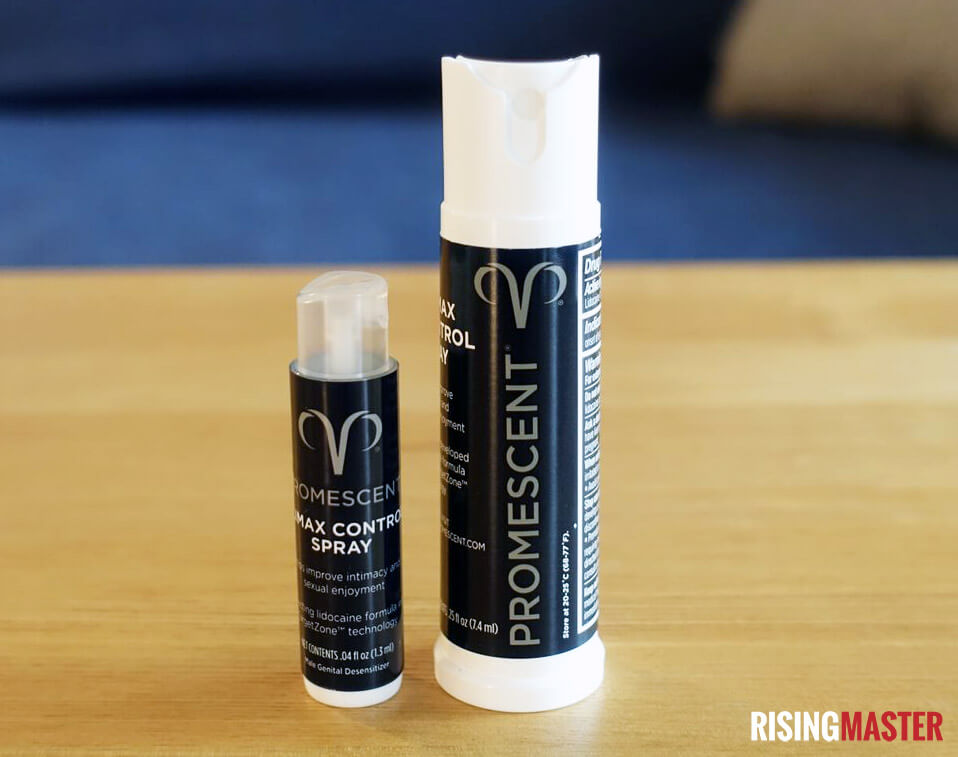 Summary
Promescent is an effective desensitizing spray that numbs the penis so you can last longer during sex. It's easy to use, lasts for a long time, and can be used with or without a condom.
Like all delay sprays, it might give you a tingling or hot sensation, and it's not an outright cure for premature ejaculation. But as an on-demand treatment, it's a reliable option if you struggle with the physical sensation of sex.
Pros
Strong numbing.
Starts working in 5-10 minutes.
Can be used with or without a condom.
Metered pump for accurate dosing.
Easy to use and wipe off the excess before sex to stop transference to a partner.
No strong smell.

Lasts for well over an hour.

Good customer support.
Cons
Not a cure for premature ejaculation.
More expensive than most other lidocaine sprays.
If you apply too much it might be more difficult to get an erection.
---
My experience using Promescent
---
I ordered both the small and standard size bottles directly from the Promescent website as I wanted to compare the different sizes. They arrived in a discreet box and the bottles themselves seemed hygienically and professionally packaged.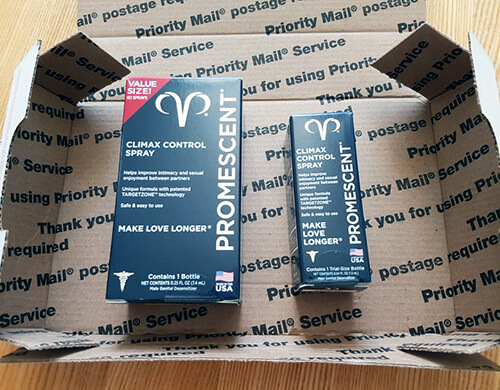 I liked how the small size fits easily in your pocket, which is what the company intended. The standard size is one to keep at home supposedly and has a lot more sprays.
It's nice that they thought about men who are away from home and might want to use the spray discreetly. But really, I don't think it matters which size you choose if you don't need to hide it from someone. The small size is good if you want to test it, but the standard size will work out cheaper in the long run. Other than that, there's no difference as I see it.
Just to be safe for my first test, I first sprayed some on my forearm to see how my skin reacted. There was no burning sensation or rash, so I moved on to test it on my penis.
I sprayed it once and gently rubbed it into the area around the frenulum and the penis head. There was no tingling sensation, which is a good sign. 10 minutes later, I used a damp cloth to give myself a quick wipe, and was good to go.
The instructions tell you to apply 3 – 10 sprays, but I found one spray was plenty. I later tried with an increasing number of sprays as an experiment, but the numbing was too strong.
My first test
I could definitely feel some numbing on the area where I'd applied it, so I'm glad I didn't rub it into the whole penis. But I had no problems getting an erection with some help from my partner, even with the numbing feeling there.
And during sex, I still felt enjoyable sensations as usual, just without that extreme sensitivity that I often feel on the head. This is a particular problem for me at the start – that initial squeeze at penetration can sometimes set me off on its own.
So it was good to feel that sensation less intensely, which helped me get past the initial difficulty and into more flowing sex. And that first time I tried it, I lasted considerably longer than normal – just over 10 minutes. So we were both very pleased with the result.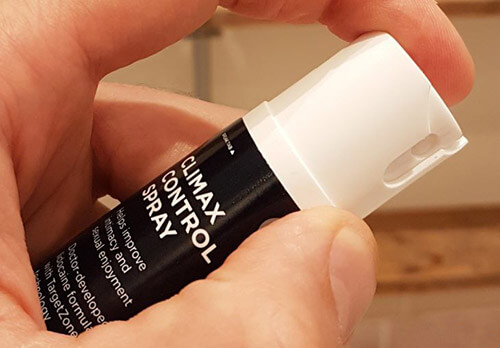 Ongoing tests
I tested Promescent several more times over the course of a week. I didn't use any other kind of delay products or techniques during that time; I just used the spray and kept an eye on the time.
My usual lasting time during penetrative sex with nothing to help delay ejaculation was anything between one and five minutes on average.
And during my tests, I found that it extended the lasting time during actual intercourse to between 10 and 20 minutes, every time.
We also tested it with oral sex and found that as long as you wipe yourself with a wet cloth or have a quick shower first, there was no transference.
No side effects
I personally experienced no side effects from using Promescent, which was great considering how many sprays can cause issues.
Importantly, we could both still enjoy the sensation of sex instead of me being too numb to feel anything. Many others I've tried strip you of virtually all enjoyable sensations.
Having said that, when I experimented with three sprays and rubbed it into the whole penis, the numbing was definitely too strong for me. So I think it's a case of once you find the right number of sprays for you personally, the metered pump will ensure you avoid too much numbing.
As you can probably imagine then, I was impressed with Promescent. It did what it was supposed to do and created no extra problems like transference to my partner or erection loss. And most importantly, I was able to have sex for much longer than with no help.
Please keep in mind though that this was just my experience. I know that some men have problems when using lidocaine-based sprays, so I can't imagine Promescent somehow avoids that entirely for all users.
So be prepared for the possibility of tingling sensations or difficulty in getting an erection if the numbing is too strong for you and you rely on physical stimulation more than mental.
How does Promescent work?
Promescent is a topical anesthetic in spray form. So you apply it directly to your penis before sex to reduce your sensitivity, which will hopefully give you better control.
The ingredient which does the desensitizing is Lidocaine. Lidocaine is also used in some other delay products, but there's a difference in the way Promescent is supposed to work.
The company behind it – the aptly named 'Absorption Pharmaceuticals' – claims they've created a mixture which is absorbed quickly and effectively by the skin. The idea is that the most sensitive nerve endings are directly targeted by the spray.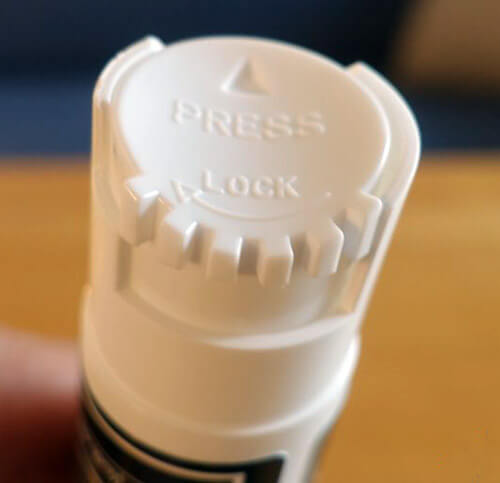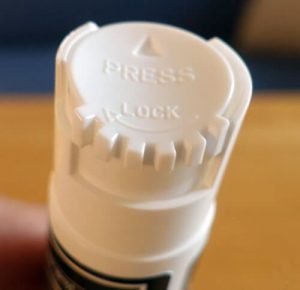 How to use Promescent
Here are some useful points to bear in mind if you plan on trying Promescent:
It needs to be sprayed around five to ten minutes before you have sex.
There's no rule about how many sprays to use. Some men will need one, others five or more. You'll need to experiment to find out how many work best.
You can use it on the frenulum and penis head, or the shaft too. It depends on what works best for you.
I found it lasted for over an hour before slowly wearing off.
Both circumcised and uncircumcised men can use it.
You can use a condom or go without.
Don't use it if your partner is pregnant or trying to conceive.
If you use it with oral, make sure you wipe off the excess with a damp cloth, towel, or have a shower, It doesn't matter how you wipe it as long as you do. Otherwise, you might numb their mouth. The same applies if you have sex without a condom, as the spray could transfer to their vagina if you have sex too soon after applying it and without wiping first.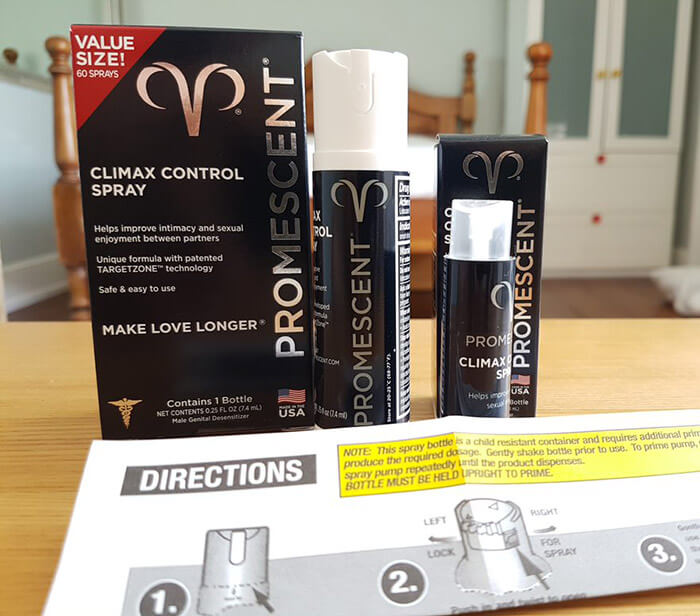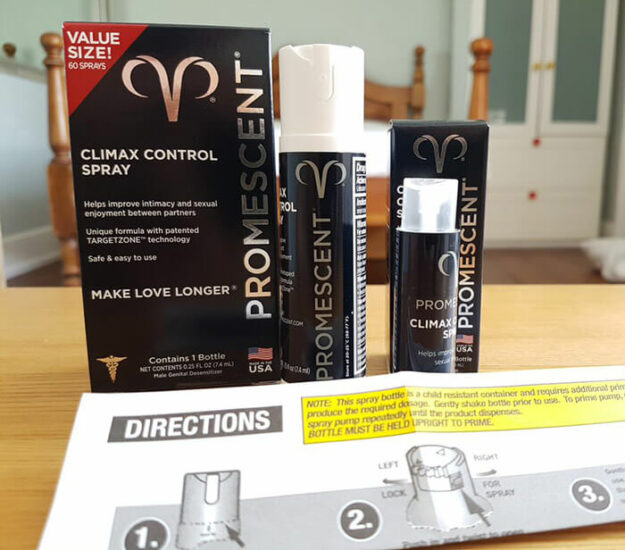 Verdict
Promescent helped me to control myself during sex surprisingly well. I say surprisingly because so many other products kind of do the job, but often disappoint in one way or another.
It extended my lasting time to between 10 and 20 minutes, which was a satisfying improvement from the usual under five minutes. There were no side effects for me or my partner, though some men might find have some issues with the numbing and tingling.
It still allowed me to actually feel the pleasure of sex even though it works by reducing the sensitivity. You can apply it just a few minutes before sex, and discreetly if you need to.
So as far as temporary solutions to premature ejaculation go, Promescent worked well and felt more reliable than other sprays I've tried.