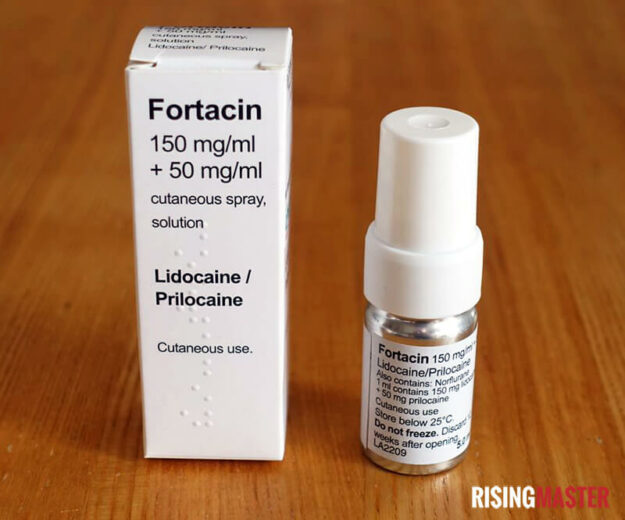 Summary
Fortacin is an effective desensitizing spray for men with premature ejaculation. It has undergone more rigorous clinical research than any other delay spray, and is approved for use by the European Medicines Agency.
It uses a combination of lidocaine and prilocaine, applied directly to the penis. I found it to be fast-acting and easy to use. It did help me last longer, but no more than the other good delay sprays I've used. However, the fact that it has undergone rigorous testing carries a lot of weight in my opinion.
Pros
Made by a reputable pharmaceutical company.
Has undergone controlled clinical trials.
Helps reduce sensitivity during sex, which can help delay ejaculation.
Starts working in just five minutes.
Lasts for over an hour.
Easy to apply.
No strong smell.
Can use with oral sex.
Detailed instructions and safety advice.
Cons
Not a permanent cure for premature ejaculation.
Might cause a tingling or burning sensation.
Can reduce some of the pleasure of sex.
Some men might have trouble maintaining an erection when they use it.
Not available in all countries.
My experience using Fortacin
Fortacin is available on prescription in the United Kingdom, and there are also some online pharmacies that sell it. That's the route I went down, as there are a couple I know I can trust now.
I've tested pretty much every desensitizing spray there is, so decided to ignore the instructions to use three sprays. One works just fine for me usually, and more can cause erection problems.
After a test spray on my arm to check my skin's reaction, I went ahead and sprayed my penis head once. The spray came out in a very fast mist, so I wasted some by accident.
I applied a second spray to be sure, and rubbed it in. It had a light smell, but nothing like many other sprays, so that was a plus.
I waited five minutes and then had a quick wash to get rid of any excess. I could definitely feel a hot tingling sensation, which is typical of these sprays. It was tolerable though and didn't produce any redness or other problems.
Strong numbing
I found during foreplay that there was definitely considerable numbing. It made it a little tricky to get an erection through physical stimulation alone, which often happens. But with a bit of passion and willpower, I was able to get past the erection loss due to numbing hurdle.
I didn't time how long we had sex for, but definitely found it reduced the sensitivity and allowed me to last longer.
These days I'm pretty good with my control if I put my mind to it. But the Fortacin did make a noticeable difference to how quickly I felt the physical stimulation was getting too much.
Fine with oral
We also tested it with oral sex and had no problems. My partner didn't detect a bad smell or taste, and there was no transference of the numbing to her.
We tested it a few more times over the next week, finding it worked consistently. I did feel a hot sensation every time, which isn't ideal, but I could put up with it.
On the whole, though, I liked that it takes action very quickly, numbs reliably, and isn't too greasy to use.
My main criticisms are the tingling sensation and the difficulty in getting an erection due to the numbing. It's a very common problem with delay sprays, especially those with strong topical anesthetics.
But over the week I was able to find an amount that numbed me enough without taking away all the sensation and pleasure. So I do think it's potentially an effective and viable desensitizing spray.
Verdict
Fortacin is an appealing premature ejaculation treatment in that it's one of very few to have undergone a proper testing and approval process.
But in my tests, it didn't seem so different from some other desensitizing sprays I've tried.
It works in a similar way to other lidocaine based sprays, had the same effect, and can still cause problems like erection loss and discomfort.
What makes it stand out for me, however, is the transparency of the brand. It's made by reputable companies, and European agencies that oversee medication have checked and approved it as safe for use.
This is an important point considering how many sprays have no identifiable company behind them and are simply sold online under an impressive sounding name.
So if it's important to you that a treatment has been approved by official regulatory bodies, and you'd like a full patient leaflet explaining how to use it safely, I think Fortacin is a good option.
Further information
The background to Fortacin
The Fortacin trademark is held by a company in England called Plethora Solutions. They describe themselves as a specialty pharmaceutical company on their website. Interestingly, Dr. Mike Wyllie is a director – one of the scientists involved in developing Viagra.
Compared to many other delay sprays that are sold online on sites like Amazon and have little to no information about the manufacturer, there's a lot of information available about Fortacin and the companies involved in it.
The spray I bought is listed as being made by Pharmaserve North West Limited, an established British pharmaceutical company. Plethora has also made a deal with a company called Recordati to distribute it in Europe, Russia, and some other regions.
It's one of very few that have undergone clinical trials and is now listed as approved for use in Europe on the European Medicines Agency website.
You might also see it under different names, depending on the region and the historical timeline you look into. So you might see the same spray listed as:
Ingredients
Fortacin consists of a mixture of two topical anesthetics:
Lidocaine (7.5 mg per spray)
Prilocaine (2.5 mg per spray)
Lidocaine is the main ingredient in the vast majority of over the counter delay sprays and creams. Other than EMLA cream, this is the first one I've seen to mix it with Prilocaine though.
How to use Fortacin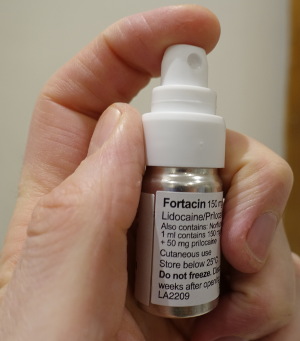 One of the best things about the spray is the very extensive information leaflet. Of the 20+ sprays I've tested over the years, this is the first time I've encountered such detailed instructions and safety advice.
According to the leaflet, here's how to use it:
Shake the spray bottle and prime it by spraying it into the air first, away from the face.
Retract the foreskin and apply three sprays to the head of the penis before sex.
Wait five minutes, then wipe off any excess before having sex.
Don't use more than nine sprays in 24 hours. Leave a four hour gap between every dose of three sprays.
I also recommend experimenting with the number of sprays. For me, one or two is usually enough. Three or more causes too much numbing and therefore erection loss.
Safety advice
The patient leaflet also gives some useful safety advice, for example:
Don't use if your partner is pregnant unless you wear a latex condom.
Non-latex condoms might not work properly.
It's fine to use if your partner is breastfeeding.
If you're trying to have a child, either don't use Fortacin, or at least wash it very thoroughly before sex.
If you get it in your eyes, wash thoroughly with water or a saline solution.
Possible side effects
Based on the clinical trials, it's clear what the possible side effects are. It's refreshing to see a company be honest for once about the problems that can occur.
The listed side effects are:
Common
Difficulty getting or maintaining an erection
Reduced sensation in and around the penis
A burning feeling in and around the penis
Uncommon
Headache
Throat irritation (if you inhale the spray)
Skin irritation
Redness of the penis
Itching, tingling or a painful feeling around the penis
Inability to ejaculate or an abnormal orgasm
High temperature
Side effects reported by a female partner
Burning feeling in and around the vagina
Reduced sensation in and around the vagina
Headache
Vaginal thrush
Throat irritation
Discomfort in the anus or rectum
Loss of sensation in the mouth
Problems urinating
Discomfort, itching or pain around the vulva and vagina
Those possible side effects demonstrate why it's important to wipe off any excess before having sex, either oral or intercourse.
Drug interactions and warnings
It's advised that you discuss with your doctor or pharmacist any other medication you're taking to check if it's safe with Fortacin.
This is especially important in the case of:
Other anesthetics
Any heart medication
High blood pressure medication
Medication reducing stomach acid
Additionally, any medication that can cause methemoglobinemia, including:
Benzocaine
Anti-malaria drugs: chloroquine, pamaquine, primaquine, quinine
Metoclopramide
Nitrofurantoin
Sulphonamides
Dapsone
Phenobarbital
Phenytoin
Para-aminosalicylic acid (PAS)
All of these side effects and warnings might seem worrying. But I think it's important to note that many sprays would have similar warnings if they had been through a similar rigorous testing and approval process.
At least in this case you know how to use it safely, side effects to keep an eye out for, and have a clear idea if you should or shouldn't use Fortacin.
Clinical trials
Fortacin has undergone several clinical trials, each one showing positive results.
In an important phase III clinical trial involving 300 men with lifelong premature ejaculation, the average lasting time during penetration went from 0.6 minutes to 3.8 minutes, compared to 1.1 minutes in the placebo group.
This accounts for the major news stories around the world that shared the headline of how it helps men last six times longer. And importantly, men reported an increase in control, sexual satisfaction, and reduced distress.
It's also interesting to note that the frequency of adverse effects reported in the studies was 9.6% of men and 6% of female partners.
In 2022, a team of researchers also found that Fortacin was effective as an on-demand treatment for premature ejaculation in a study of 91 men.
In a journal article published in Urologia in 2017, the researchers summarised the reason why Fortacin is effective as follows:
Fortacin™… meets the requirements of an ideal treatment for PE because it is fast acting (within 5 minutes), has durable effects, can be easily used "on-demand", and shows minimal side-effects.

Porst and Burri
Where to buy
I don't provide specific links to websites selling Fortacin as the one I bought it from no longer sells it, and I don't have any experience buying it in other countries. None of the usual big websites that you might be more willing to trust sell it at the moment either.
My advice would be to ask your doctor if you can get it on prescription (assuming you don't mind talking to them about it). If not, be careful if you buy it online – do plenty of research to ensure the site you buy it from is legitimate.
Alternatives
For more options, take a look at my recommended delay sprays.
And for more about premature ejaculation in general and alternative treatments, have a read of the main premature ejaculation page.