Disclosure: This website is reader supported. If you decide to purchase a product through one of the links provided, I may receive a commission, at no additional cost to you.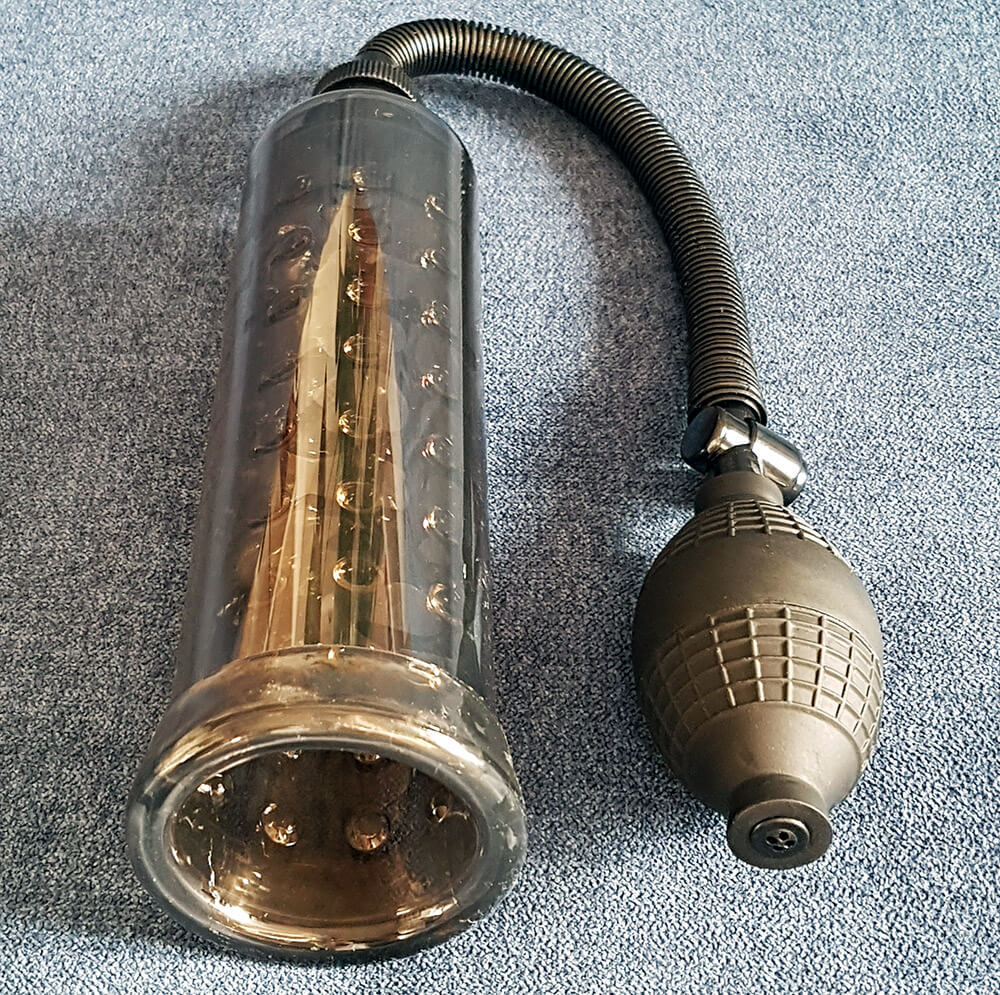 At a glance
If you have difficulty getting or maintaining an erection, using a penis pump is an affordable solution that many men will find effective. I bought the 'Basics Penis Pump' from Love Honey to test for this review, and had good results with it.
Delivered in discreet packaging, it's straightforward to use, and capable of getting you from flaccid to erect in just a few minutes.
It doesn't come with a constriction ring or lubricant, so you might need to purchase those separately. And while it does the job in helping achieve an erection, it's essential to use it with care to prevent discomfort.
Penis pumps are clearly less subtle than taking pills like Viagra. Depending on how comfortable you are with your partner, that could be either a minor inconvenience or a fun addition to the bedroom.
Pros
Affordable pumps and more advanced models are available to suit different budgets.
Quickly helps in getting an erection.
Discreet packaging ensures privacy.
Easy to use.
Consistent and reliable results.
Cons
May not include a constriction ring or lubricant.
Needs careful use to avoid discomfort.
Only provides a temporary enlarged appearance.
More noticeable to use than pills.
Full review
There are moments in life when you wonder if you're being a bit weird. You can't miss them, thanks to the little voice in your head that casually asks "what are you doing?"
The first time I inserted my penis into a plastic tube and squeezed the hand pump in the hope that it would give me an erection was one of those moments.
More importantly, it was also a moment when I discovered something that actually helped deal with what had become a serious problem with my sex life.
If you're reading this, I imagine you know exactly how frustrating it is to not be able to get an erection when you're about to have sex. When your brain is shouting at your penis to "get hard, damn it!", but your penis doesn't take orders.
It's a problem I have every time I meet someone new. It can take weeks to relax enough around them to be able to have fulfilling sex, assuming they are good enough to stick around until things improve. And it's not unheard of for me to go through periods of erection problems even with an established partner.
I've tried Viagra, herbal remedies, getting fit, stopping smoking, and a whole host of other techniques. But the penis pump was arguably the most effective in terms of how quickly it worked and how little effort was required.
In this review, I'll be talking about my first time with a basic penis pump. If you're thinking of trying one too, I recommend reading around rather than going off just my experience, but I hope what I have to say paints a clearer picture of what it's actually like to use one.
My experience
Choosing a pump
Some websites recommend using a medical grade penis pump or the best one you can afford. These can be very expensive though – I've seen them for as much as $500 in the U.S. and £200 in the U.K.
I decided to find out if you can still get good results from a more basic pump instead, as not everyone has that kind of money to spend.
After checking out their extensive range, I bought the 'Basics Penis Pump' from LoveHoney.com, which is an online sex shop I've used plenty of times before and trust. Their simple pump had plenty of positive reviews and was reasonably priced at under $25.
Packaging, discretion, and what you get
It's important that products like these are sent in an unmarked and discreet package. Love Honey is good for that – they use plain boxes with no clue as to the contents.
The pump itself was sealed inside plastic packaging, which is an important hygiene point. It was already assembled and good to go out of the box. And there's an enclosed leaflet with clear instructions and safety advice.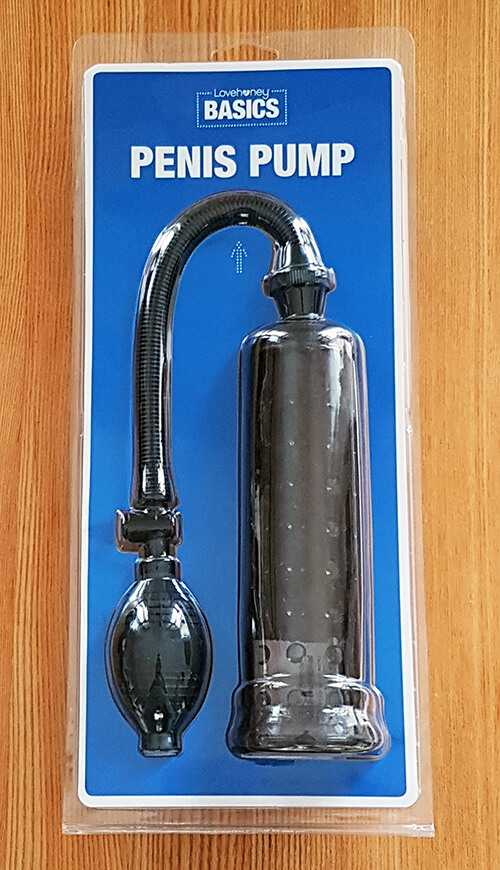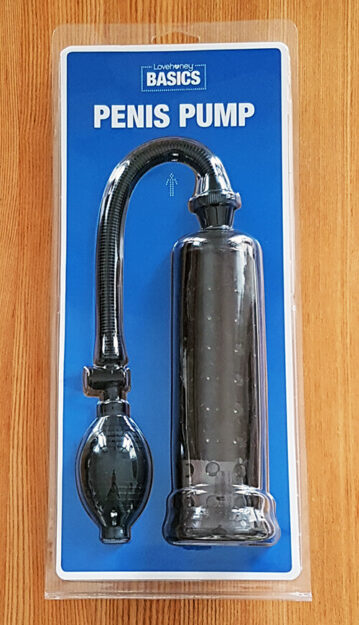 It didn't come with a constriction ring to help keep your erection, or with a lubricant which is necessary to form a seal.
Personally, I chose not to use a constriction ring anyway and already had lubricant of my own, but these are two extras to bear in mind if you buy a pump. If you decide to get a more advanced pump, you might find they are included.
First test
After reading the instructions carefully, I applied some lubricant to the opening of the pump, and inserted my flaccid penis into the cylindrical chamber. I pushed the pump to my body to make sure the seal was airtight and gave the hand pump a very slow first squeeze.
Interestingly, nothing happens when you squeeze the pump – it's when you release it that you feel some movement. As I slowly released my grip on the pump, I both felt and saw my penis start to enlarge inside the tube.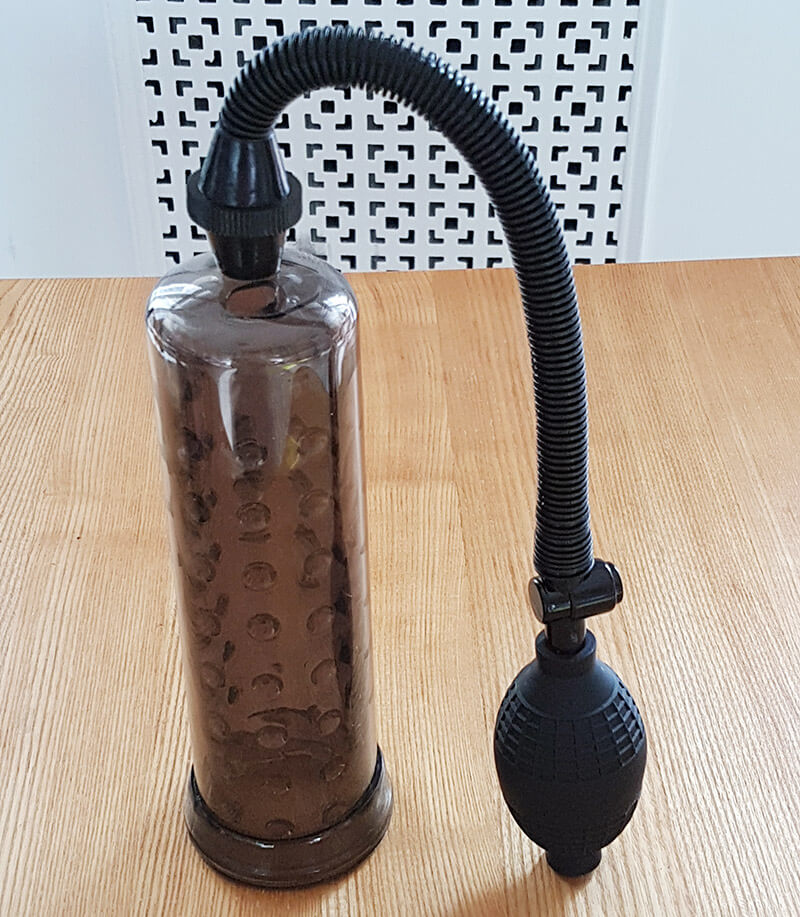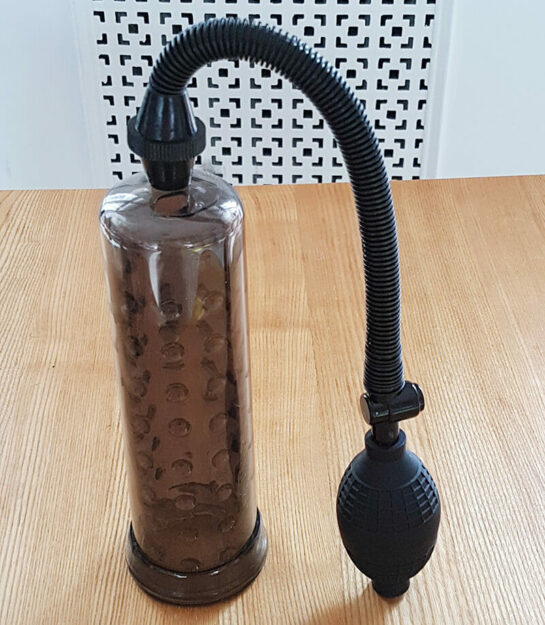 Flaccid to erect in little time
It's a strange sensation and you can really feel the pressure from the vacuum even on the first squeeze. I was surprised that it had such a visible effect on the first pump.
I decided to take a minute to check the quick release air valve worked properly, just in case. It does work well and releases the feeling of pressure quickly, which was reassuring.
I then continued with a second and third squeeze, making sure I was very slow with every squeeze and release. After just five pumps I was fully erect, which was sooner than I'd expected. So even though it's advisable to pump slowly, it still gets you from flaccid to erect in just a minute or two.
Removal
I turned the release air valve a little and twisted the cylinder to remove it, which was easy enough. I checked for discoloration but didn't find anything unusual. My feeling is that discoloration is more likely if you pump too quickly, too much, or too often.
The important thing is that I had a full erection, which stayed even after I stopped pumping. I was then able to make love to my partner in the same way as I would when getting an erection naturally, so I was very happy about that.
My ongoing tests
I decided to use the pump almost daily for a month to see how reliable and safe it is, and if it affects penis size at all. Here's what I discovered:
It worked every time, regardless of my libido, physical or mental state.
If you pump too fast, it's uncomfortable.
I had some slight discoloration the one time I pumped more than necessary.
The erection stayed for long enough to have sex, lasting for 20-40 minutes on average. I also tried a constriction ring, which helped keep an erection harder for longer.
It's possible to give yourself an engorged erection, making your penis appear bigger temporarily.
I didn't notice any permanent flaccid size increase after a month.
Criticisms
1. You need to be careful how you use a penis pump
The main issue is that you do need to be a bit cautious when using a penis pump. It's uncomfortable, and a little worrying, if you pump too fast or too much in one session.
You get used to the odd feeling of the blood quickly filling your penis, but to avoid pain or discoloration, you really can't overdo it.
2. Claims of a bigger penis are probably exaggerated
In my experience, the penis pump might temporarily give you bigger erections by engorging your penis. But I remain skeptical of claims it can add inches to your size, even with daily use. It made no difference whatsoever to my flaccid penis size once the effect of using the pump was over each time.
To be fair, I only used it for a month, so maybe you need much longer to see results. However, I believe from reading other sources online that this isn't a proven way to increase penis size.
3. Not so subtle to use
Another issue is the timing of using a penis pump. Do you let your partner watch? Do you sneak off to the bathroom and reappear a few minutes later with a surprise erection?
"I was just imagining making love to you babe… look what happened!"
I think it's fine to use it in your own time, and if you have an understanding partner. My partner thinks it's quite funny and finds it fascinating to watch. I'm not letting her anywhere near the actual hand pump though, no matter how much she asks.
If you're with a new partner, however, it's perhaps not as convenient or subtle as a quick pill like viagra.
Verdict
There's no denying that the penis pump did its job during the month I used it. I was able to get an erection whenever I wanted to have sex and in very little time. So as a way to treat erectile dysfunction, I was very happy with it.
Compared to strong erectile dysfunction drugs, it was great not to have any of the unpleasant side effects like headaches or a blocked nose.
Although it can give you a bigger looking erection when you use it, I didn't find that it changed my size once the effect had worn off. If you're thinking of using it because you've heard it can increase penis size, I think you might be disappointed.
I'm sure I'll use the penis pump again with my partner. We've gotten past the initial awkwardness and she finds it kind of entertaining. For us then, the penis pump is an effective and easy way to deal with frustrating erection problems.
Further information
How to use a penis pump safely
The specific pump you buy should have detailed instructions for correct usage and safety advice.
Based on my own experience, and a lot of time reading medical websites and research studies (see below), here are some safety points I think are worth keeping in mind:
If you're using the pump following cancer treatment/surgery, make sure you get guidance from your doctor on the correct usage for you personally.
If you use a constriction ring, apply it after you gain an erection. Don't keep the ring on for longer than 30 minutes.
Only use a penis pump that has a quick pressure release valve.
Shaving pubic hair can help create a better seal.
Make sure you apply lubricant to your penis and the opening of the tube.
Push the tube against your body to create a tight seal.
Make sure you only put your penis inside the tube, and not your testicles.
Pump slowly, and wait until your penis stops growing after each squeeze before continuing.
Only pump until you have an erection. As soon as you do, release the tube.
Evidence for the effectiveness of penis pumps
A review of erectile dysfunction treatments in the United States looked at different research studies, finding:
A penis pump produced a good enough erection for sex in over 90% of men.
69% of men continued using it for at least two years, with only 31% stopping.
In a group of 100 men, 68% said they were satisfied with the pump.
According to the British National Health Service website, a penis pump will work for most men with erectile dysfunction. They say:
Vacuum pumps encourage blood to flow to the penis, causing an erection. They work for most men and can be used if medicine isn't suitable.
The British Society for Sexual Medicine also suggests that the cause doesn't matter:
VCDs are highly effective in inducing erections regardless of the cause of the ED.
And researchers in 2013 found strong evidence that a penis pump helps after radical prostatectomy surgery, saying:
There is convincing evidence that vacuum erection devices are successful in the treatment of ED following RP, especially when used in combination with phosphodiesterase-5 inhibitors,
Risk of side effects
As long as they are used safely, penis pumps are generally regarded as having a low risk of side effects, especially compared to some drug treatments.
According to the British Society of Sexual Medicine:
As compared to drug treatments for ED, a major advantage of the VCD is that it has a low risk of systemic side-effects and therefore the potential to be used in a greater number of patients…The VCD can be used to ensure multiple erections on a daily basis.
However, studies have shown that some men do experience some side effects during pumping. The U.S. study (above) found the following statistics:
20% to 40% of men experienced some pain during the suction process.
25% to 39% experienced petechiae (small purple spots caused by minor bleeding).
6% to 20% experienced some bruising.
Despite, those concerning statistics, it was the same study that reported the 90% satisfaction rate!
Safety warnings
The FDA recommends not using a penis pump if any of the following conditions or situations apply to you:
If you have a bleeding disorder, sickle cell disease or severe Peyronie's disease.
If you take aspirin or blood thinners.
Impaired pain perception.
Reduced hand strength (and are unable to easily remove the pump or use the safety valve).
A history of prolonged or painful erections.
Can it improve penis size?
Some men say on forums and blogs that pumping increased their penis size, and manufacturers often claim they can too. However, there isn't much scientific evidence to back this up.
The Mayo Clinic says that a penis pump can only make it look bigger in the short term, and reminds users to be careful:
A vacuum pump can make a penis look larger temporarily. But using one too often or too long can damage elastic tissue in the penis, leading to less firm erections.
And an Italian review of multiple penis enlargement studies found that six months of pumping gave no significant improvement. However, men did report psychological satisfaction due to the temporary increases.
So my advice would be to take claims they help with penis size with a grain of salt.