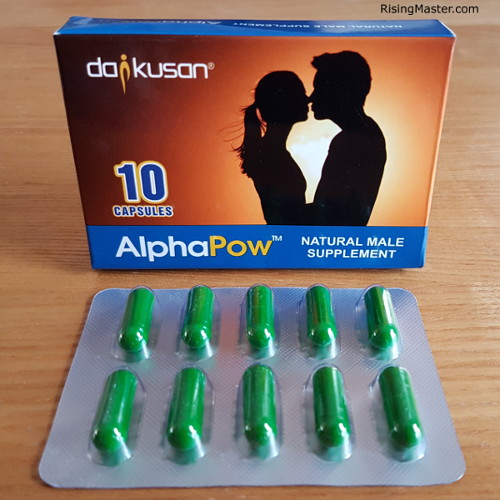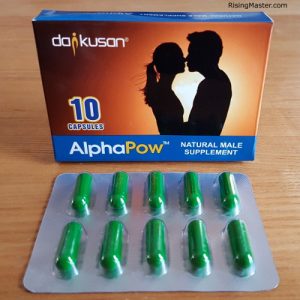 AlphaPow is a natural supplement that's marketed as helping men with erection problems and low libido.
I've tried a range of over the counter erectile dysfunction pills. For me, they often have a similar effect, but also similar side effects.
This one wasn't quite as heavy on the side effects as some of the generic Viagra I've tried (like sildamax), and it did seem to help with erection quality.
So in this AlphaPow review, I'll be talking about my experience using it. I'll also look at the ingredients and potential side effects to help you decide if it's right for you or not.
---
What is AlphaPow?
AlphaPow is sold as a 'natural male supplement'. There are some bold claims on their website explaining what it does:
"…no side effects"
"pure high-quality oyster property increases your sex drive and gives you the hard long erection you deserve"
"Within half an hour, your libido will dramatically rise and increase your sperm load at the same time"
"Not only AlphaPow gives you a rock hard erection, it also maximizes your virility and lets you feel young again!"
So if it's all true, it should help with erectile dysfunction, increase your libido and sperm load, and produce no side effects.
Bold claims, and not exactly easy to test!
---
Who makes it?
It's made by a company called Daikusan Ltd., which is registered in England. It's not a pharmaceutical company though; their business nature is listed as 'Retail sale via mail order houses or via the Internet.'
And as far as I can tell from their online activity, all they do is sell 2 different supplements online.
They say it's made in the UK "under strict guidelines set by GMP". But there's no information about where exactly.
So as is often the case with male enhancement supplements, there's not much transparency to the product or company behind it.
---
My experience
The instructions tell you to take AlphaPow on an empty stomach 30 minutes before sex. So I decided to try it first thing in the morning to give it the best chance at working.
30 minutes later and the typical stuffy nose appeared. That made me think they've snuck some Sildenafil in. But there was no headache or strange vision, which I usually get with Sildenafil.
Good erection
My partner and I got down to some foreplay and I was able to get a good, solid erection pretty easily. It wasn't as rock hard as it gets with any Sildenafil products, but was definitely better than with no help.
I had no erection loss using a condom either, which often happens to me, so that was a good sign.
I did feel a little more aroused than usual, though I wouldn't say my libido was supercharged. But we had some good sex nonetheless. Interestingly, my erection stayed hard long after climax. 10 minutes later it was still good to go, so we had a second round.
Odd vision
AlphaPow did its job and I was quite impressed to start with. However, a side effect cropped up around the hour mark – my eyes started to feel quite uncomfortable.
They looked normal in the mirror, but they just felt a bit sore. And I struggled to focus on my computer for the next couple of hours.
The stuffed nose cleared up quickly though, so really, the unusual feeling in my eyes was the only thing that really bothered me for long. And that also stopped around the 3 hour mark.
Over the next 24 hours (it's supposed to last that long), I can't say my libido was any different. So for me, it helped for a couple of hours, but no more.
I tried it again later in the week and had exactly the same effect.
What do others say about it?
AlphaPow currently has 73 customer reviews on Amazon, with a total rating of 3.3 out of 5. It has a lot of both 1 and 5 stars, which is relatively common with sex pills.
Nobody seems to have said much about it, but it seems to either get comments like 'worked great' or 'useless'. So it seems like it might either work well for you or do nothing at all.
Other than that, I haven't seen any other bloggers or health sites talking about it, other than the usual comparison sites.
---
Ingredients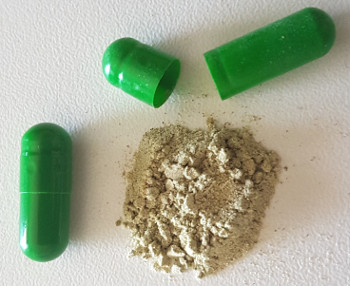 The ingredients do include some which have evidence to support their use in sexual functioning.
Here's what I found:
Panax Ginseng
Used in Chinese medicine to help with erectile dysfunction and libido. It does have research evidence to back up its effectiveness. It's also reputed to improve sperm quality.
It can cause side effects though, notably connected to the heart, blood pressure and blood sugar.
Saw Palmetto
A palm tree that's sometimes used to help with erectile dysfunction and low libido. Men with prostate problems should seek advice before taking it.
Tribulus Terrestris
A plant that's used as an aphrodisiac, among other uses. There's some research that it helps with libido, but not with testosterone. Evidence that it helps with ED is mixed.
Lycium Barbarum
Used in China to enhance sexual functioning. Some animal studies have shown it works as an aphrodisiac and improves sperm quality.
Capsicum (cayenne pepper)
Argued by some that it helps erectile dysfunction as a secondary effect of improving heart function and blood flow. I can't find any research evidence that it's a significant effect though.
Fenugreek
Used traditionally to enhance libido and testosterone. The Washington Post reported on a 2011 study into this effect.
Guarana
Used in South America to boost energy and as a sexual enhancer. But there's no evidence to support its effectiveness other than for energy levels.
---
Who shouldn't use AlphaPow
According to the instructions on the box and website:
It's for adult men only
Anyone with an underlying health condition should consult a doctor first. Obviously, this is a very broad statement. But they also give the specific examples of hypertension or heart conditions.
You shouldn't use it if allergic to any of the ingredients.
If you have a health condition and don't want to speak to your doctor, I'd at least check online for the possible precautions associated with Ginseng.
---
Summary
Pros
Works quickly – just 30 minutes before sex
Might help you get and maintain an erection
Might help increase libido
Cheaper than erectile dysfunction drugs (£14.99 for 8 capsules when I bought it)
Assuming no contamination, it should have fewer side effects than stronger meds.
Cons
Despite the manufacturer's claims, there are potential side effects associated with some of the ingredients. A blocked nose and uncomfortable feeling in the eyes for me.
Lack of information about the company that makes it.
No information about the exact quantity of each ingredient.
Verdict
As I test more of these type of herbal sexual enhancement products, I get a similar feeling: people are putting together their own combos of traditional ingredients and selling them online.
AlphaPow did work for me, though not quite as spectacularly as the advertising would suggest. Yes, it helped me get a good erection, which was good.
But it wasn't without side effects. Admittedly, I could tolerate them, and I've had worse with some generic Sildenafil. But it's important to be aware that it might cause some discomfort.
So would I recommend it? Only if you don't mind experimenting with low cost over the counter products, and don't want to take recognized medication.
Just be aware there's limited information about who's behind AlphaPow, and how it's made. That doesn't mean it's definitely bad, just that there's a risk involved.
---
Where to buy
I bought mine from the U.K. Amazon site. You might be able to find it online elsewhere too.
Alternatives
Have a read of my other ED articles for reviews of other pills, as well as tips and advice about the problem.
Have you tried AlphaPow?
If you've tried it, it would be great to hear from you in the comments below, and it's always useful for other readers too.