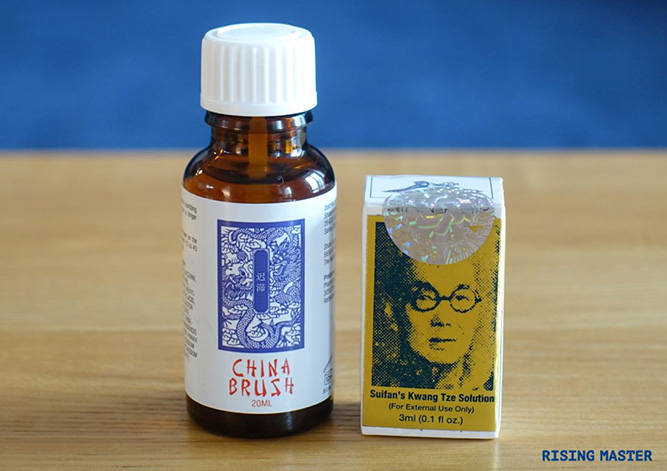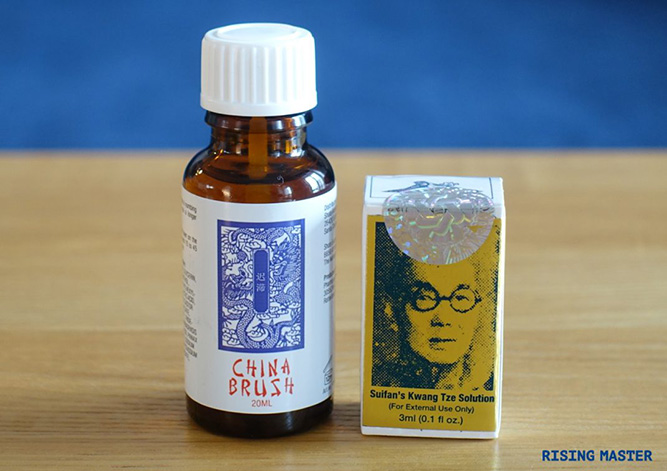 Summary
China Brush helped me last longer during sex when I had an authentic version of it a few years ago. To my knowledge, it has now been discontinued by most major online sex stores.
Over the years, I've seen it pop up from time to time on different websites, but none consistently stock it. At the time of writing this latest update, Walmart is selling it online, which I find kind of surprising. How long they stock it for remains to be seen.
I recommend being careful if you buy it online as there have been many reports of fake versions, which makes safety a potential issue.
You might also like to check out some of my recommended delay sprays and gels for alternatives.
Review
China Brush, also known by the tongue-twister name of Suifan's Kwang Tze Solution, is an unusual desensitizing product to help men delay ejaculation.
The main appeal is that it contains natural ingredients, instead of the usual pharmaceutical anesthetics like Lidocaine or Benzocaine.
The good news is that it helped me last much longer during sex – up to 10 minutes. The bad news is that despite the big improvement in time, I discovered two major problems with it which I'll be discussing later in this China Brush review.
What I was also very interested in was the ingredients; there's always something that feels mysterious about Chinese medicine and herbs – to me at least.
So I wanted to know exactly how and why China Brush works. To find out, I dug up some information about the eight main ingredients to find out exactly what I was putting on my most delicate parts.
I'll share these findings briefly below and then discuss in more detail what I found good and bad about China Brush. If you're not interested in my obsessive-compulsive dissection of the ingredients, scroll down a bit to find out more about how it works.
China Brush Ingredients
Please note that I didn't waltz into a Chinese herbal remedy shop with a beaming smile and ask for a breakdown of these ingredients. This is simply a summary of some basic online research.
1. Fructus Cindii
This is a dried fruit of the Cnidium plant. It's used in Chinese medicine to help men with impotence. It has nothing to do with holding back ejaculation as far as I can tell.
2. Cortex Cinnamomi – Cinnamon bark
Cortex Cinnamomi is listed on the World Health Organisation website, described as being used according to 'folklore' to treat impotence. But they also add the caveat that there's no clinical data to support this or any other purported benefit.
According to Chinese medicine websites, it's a potent aid for those who have a low sex drive and helps build strong internal and physical sexual energy. So again, nothing about delaying ejaculation and more about being some kind of natural Viagra.
3. Flos Caryophylli – also known as Ding Xiang and Clove
Flos caryophylli is the dried flower of the Clove tree. In one experiment involving rats, it was found to significantly increase sexual libido. It's also apparently used to numb tooth pain by rubbing it in. Perhaps the creators of China Brush have decided that it would also numb other body parts.
4. Rhizoma Alpiniae – a kind of ginger
This root is very similar to the type of ginger used in cooking. A study on rats in 2006 found that it worked as an aphrodisiac. But I'm not a four-legged furry animal, and I've never noticed I feel horny after eating a ginger heavy Thai Curry either.
5. Rhizoma Atractylodis – also known as Cāng zhú
Cāng zhú is a dried Rhizome which again doesn't appear to have any obvious connection to premature ejaculation. It's widely used in Chinese medicine, but not apparently for any sexual reasons.
It's used to improve fatigue and night vision though. Perhaps the creators of Kwang Tze Solution were being, well, creative.
6. Pericarpium Zanthoxyli – known as Prickyl ash Peel or Chinese Pepper
Chinese Pepper is the first China Brush ingredient that does have an anesthetic property. Native North American Indians used it as a numbing agent for toothache. So perhaps it could also help to reduce the sensitivity of the penis, and thus delay ejaculation.
7. Radix Angelicae Dahuricae – also known as Bai Zhi or Angelica
This root is also definitely known in Chinese medicine as being a pain reliever, among other uses. So there are at least two, and possibly three, China Brush ingredients that are known pain relievers. And pain relievers, if they actually work by applying directly to the skin, could help numb the penis during sex.
8. Radix Ginseng – Ren Shen
Radix Ginseng is the dried root of the Panax Ginseng herb. It's widely used in Chinese medicine to promote good Qi – the internal energy. Research studies suggest it can help with erection problems and libido.
9. Other ingredients
Water is also used in China Brush solution to create the liquid it comes in. I've also read reports that it can contain Aloe and Gallstone, but I don't know where this information is being found. As far as I know, I've listed all the ingredients that are included in the official Kwang Tze Solution.
Hitting the problem from different angles
On the surface, these nine ingredients appear to stand up to scrutiny: there are ingredients that work as anesthetics, and so should reduce sensitivity; others that boost libido; and a few which help with erection strength. There are even energy boosters and aphrodisiacs thrown in for good measure.
It appears to me then that China Brush was designed to work from several different angles. And it seems that they've found a way to combine all nine herbs and roots to good effect.
Or have they?
Problems and side effects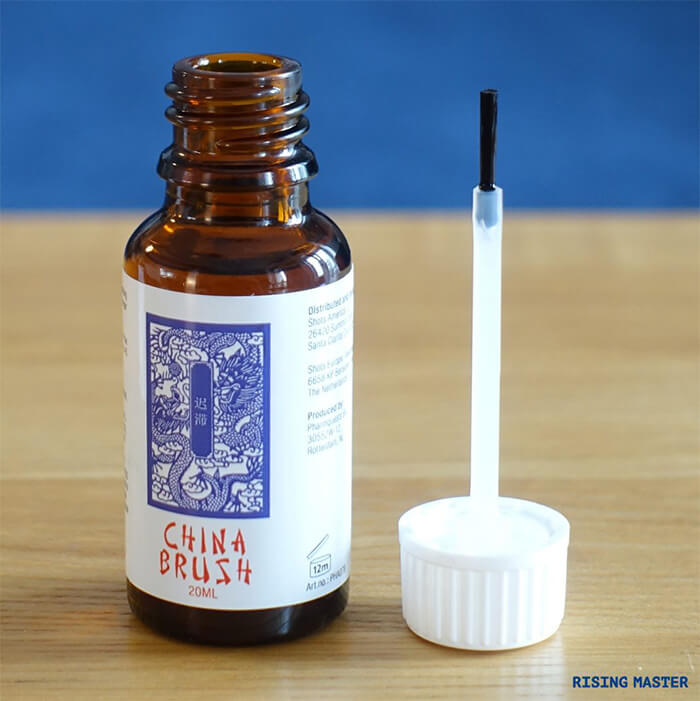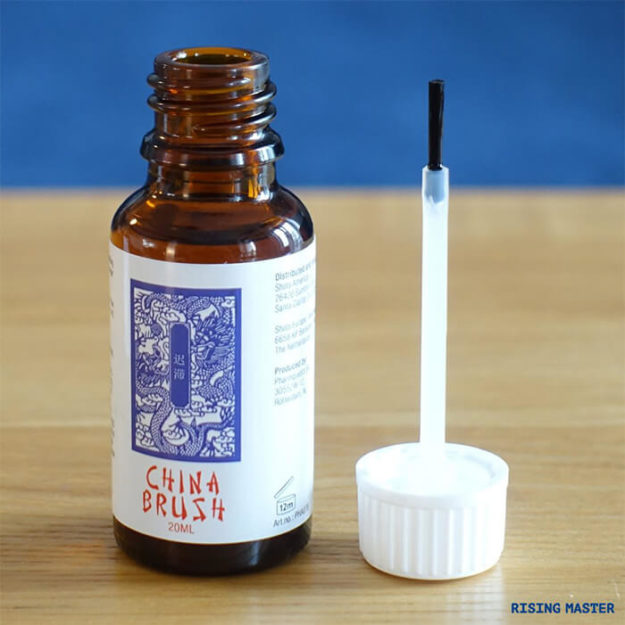 China Brush would appear to have the potential to help some men delay ejaculation, especially if your problem is caused mainly by physical sensitivity. 10 minutes extra? You can't deny that that's a huge improvement.
However, there are a couple of issues that bothered me when I used it:
You have to apply it 30-60 minutes before having sex. That means you have to plan sex in advance every time.
If you apply too much it can sting or produce a rash. I didn't get a rash, but did feel a mild burning. And even though it disappeared after a while, it was still unpleasant. I experimented with different amounts over a few days just to be sure, and it always caused a sensation I found difficult to ignore.
I struggle to recommend a product that you need to apply so far in advance of sex and that gives a more noticeable burning sensation than basic lidocaine sprays.
Fake or authentic, and where to buy?
It seems that Suifan's Kwang Tze Solution is as difficult to find as it is to pronounce, as many online sex shops have discontinued it.
There are also many reports of fake China Brush being sold. There are also various different theories as to which color label, type of application stick, packaging, and bottle are genuine, and which are fake.
Some readers have left comments describing the difference between the authentic and fake, but often referring to a 2009 eBay description. However, that was more than a decade ago and it makes sense that the manufacturer has changed the label and packaging since then.
A new Chinese herbal retailer
After a couple of readers said they got it from Rootandspring.com, I wrote to ask about the version they are selling, and if it's authentic.
I got a reply from Cindy, who agreed for me to publish her reply:
We obtain our inventory of Suifan's Kwang Tze Solution directly from their sole distributor in the U.S. Our distributor is the only confirmed distributor in the U.S. and has a longstanding record with Suifan's Medicine: they have provided to reputable companies over ten years before and after the rebrand of the product, and we've seen verification of the exclusive relationship they have with the manufacturer. For these reasons we have no reason to doubt its authenticity.
There seems to be a discrepancy of information on the web. I do think its worthwhile to clear it up. Yes, they've tweaked the formula a few years ago, it is now lighter in color and they've had a packaging rebrand, but it all still has the same ingredients and comes from the same manufacturer (Suifan's Medicine) in Hong Kong. It may be worthwhile for you to review the current Suifan's Kwang Tze formula on your website since the old one has been discontinued and no longer in existence, to see if you agree with the assessment above. I think sometimes, because the look and formula has changed over the last few years, a few customers assume it is fake. This is not the case, the product is not fake, just updated, and I have confirmed this directly.
Since then, I've bought their version, and also one from lovehoney.co.uk to see how they compare. In the photo below you can see both versions. The yellow label is from Root And Spring, and the blue label is from Love Honey.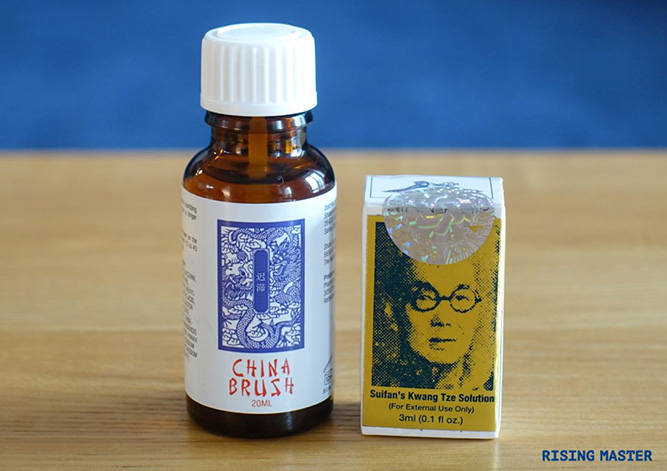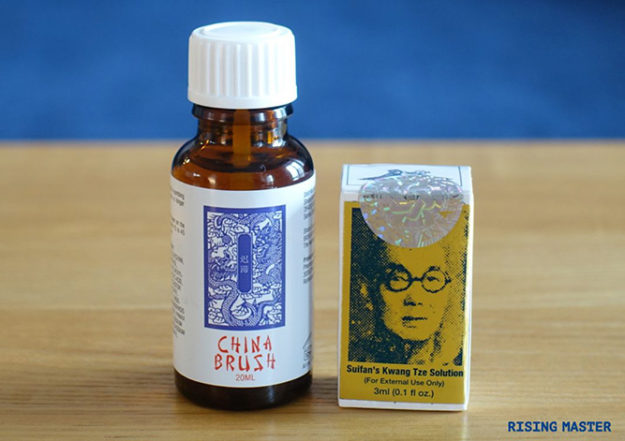 Update about where it's sold
Every couple of years, I update this article (I first wrote it a very long time ago) with some current information about where it's sold.
In May 2022, I found versions of it on these sites:
Walmart.com
Rootandspring.com
Ebay.com
Stressnomore.co.uk
Modernherbal.co.uk
I can't tell you which ones are genuine or not as I haven't bought any myself for some time. Feel free to add your experience in the comments below if you think it will be helpful to others looking for it.