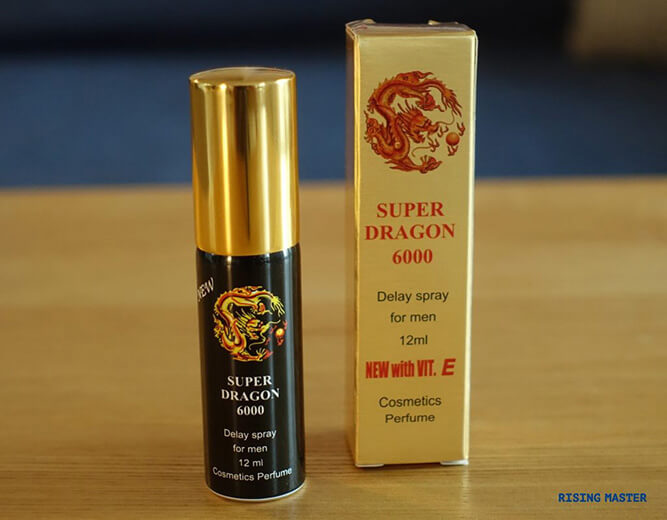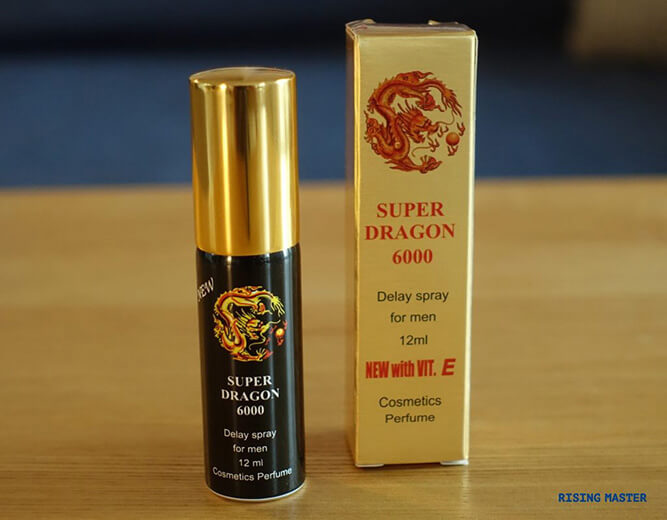 Summary
Super Dragon 6000 is a desensitizing spray designed to help men with premature ejaculation. It also has a cool name, which helps make it feel more acceptable to use.
With 10% lidocaine, it has a strong numbing action and you can apply it just a few minutes before having sex. I found it helped me last considerably longer, extending my stamina by several minutes on average.
As always with these spays, it takes some trial and error to work out the right dosage and exactly where to rub it in. Once you've tested it a few times, it's very easy to use and has the potential to help men who ejaculate quickly because of the physical stimulation of sex.
---
Pros
Strong numbing and an effective on-demand product for premature ejaculation.
Small and discreet bottle.
Take action quickly in just 5-10 minutes.
Lasts for over an hour.
Can be used with or without a condom.
Reasonable price.
Cons
Can't be used for oral sex.
Might cause tingling or too much numbing.
Not a permanent cure for premature ejaculation.
---
My experience with Super Dragon 6000
Super Dragon 6000 would win the top prize if I was judging delay sprays by the branding alone! As much as I like the name though, what really matters is whether or not it can help you with ejaculation control.
Over a two week period, I used it several times and recorded how long it helped me last during sex. I also looked out for other details like how fast acting it was and any side effects or problems that occurred.
Overall, I found that Super Dragon was very effective. It increased my lasting time considerably on most occasions, so I can't complain about how well it achieved the main aim of reducing sensitivity.
It was also one of the quickest to start working that I've tried. I found I could apply it just five minutes before sex, and after giving it a wipe to remove any residue, I was good to go.
It would then last for well over an hour, which was enough to have sex more than once without needing to apply any more of the spray.
I was disappointed that the instructions say not to use it when having oral sex. Other lidocaine sprays don't have that warning, so I'm not sure who is right and who is wrong.
Perhaps it really depends on how well you wash first, and some manufacturers prefer to be cautious and not risk people complaining because their partner got upset when their tongue accidentally went numb.
Ingredients and how it works
Super Dragon 6000 contains two main ingredients: lidocaine 10%, and vitamin E 1%. The lidocaine does the numbing, and the vitamin E is apparently included to soften the skin. I still don't understand why they decided that skin softening was an important part of managing premature ejaculation (let me know in the comments if you have the answer).
Lidocaine is one of the three main topical anesthetics commonly used in delay sprays, along with benzocaine and occasionally prilocaine. 10% seems to be around the maximum they typically include, which explains the strong effect.
It comes in a 12 ml bottle which will give you a maximum of 100 sprays. With the recommended dose being two sprays, that should last you 50 uses.
The manufacturer recommends spraying it once at least five minutes before sex. For the best effect, they recommend waiting 20 minutes, spraying again and waiting for five more minutes. Personally, I think that adds extra steps in a process that you really just want to get over and done with quickly and subtly.
I suppose it gives you the option of either using it once and getting on with it, or patiently undergoing a longer 30 minutes process for the strongest numbing effect.
Is Super Dragon 6000 safe?
As far as I'm aware, the spray hasn't been passed as safe by the United States Food and Drug Administration (FDA), or any authority around the globe either. This is common for over the counter delay sprays sold online as they are not currently regulated like medicines.
That doesn't necessarily mean it will harm you, just that no clinical trials have been conducted to pass it as safe.
Some men may have an adverse reaction to lidocaine, such as a tingling or burning sensation, redness, small spots, or a rash. I recommend just using one spray on your first attempt and being ready to wash it off if you notice any side effects.
It's also generally advised to stay clear of lidocaine products if having sex with a pregnant woman or trying to conceive. And the manufacturer recommends not using Super Dragon 6000 if engaging in oral sex.
And if you're thinking of taking the capsule version, be aware that the FDA issued a statement in 2015 advising not to use them after they found traces of sildenafil, the active ingredient in Viagra.
Pros
It's a strong spray, so it's good for men with a sensitive penis.
It's fast-acting – you can have sex 5 to 10 minutes after applying it.
It's effective. It helped me last at least 10 minutes longer on average.
It's affordable.
The can is quite small, so you can hide it discreetly and use it in the bathroom without a partner knowing.
Cons
The numbing strength is also a possible problem if you spray more times than you need to. I found in two sessions that it numbed the penis too much and I then had trouble maintaining an erection.
It may produce a tingling sensation for a few minutes after you apply it.
It's advised not to use it if having oral sex due to the risk of transference to your partner.
It's not a cure – you'll have to use it each time you have sex.
Verdict
Super Dragon 6000 is one of the strongest delay sprays I've tried and it worked well for me. It's also one of the fastest to take effect, even without waiting for the second dose.
As with all the lidocaine and benzocaine desensitizing products, I imagine the strength could pose problems for some people – if you apply three sprays when you only need one, for example.
I think the key with delay sprays generally is to start slow and work your way up. You won't know until you try it how many sprays you really need, so start with one and see if that works.
If it numbs you too much or tingles, I would suggest not using use any more sprays. But if it doesn't have any side effects, you can try two sprays the next time if you feel you need a little more numbing.
Where to buy
Super Dragon 6000 isn't so easy to get hold of these days. You can sometimes find it on Amazon, sold by third party sellers usually. You might also be able to find it on eBay.
I don't know how trustworthy the third-party sellers are on either site, so I recommend caution if buying it from a seller without a good history of customer feedback.