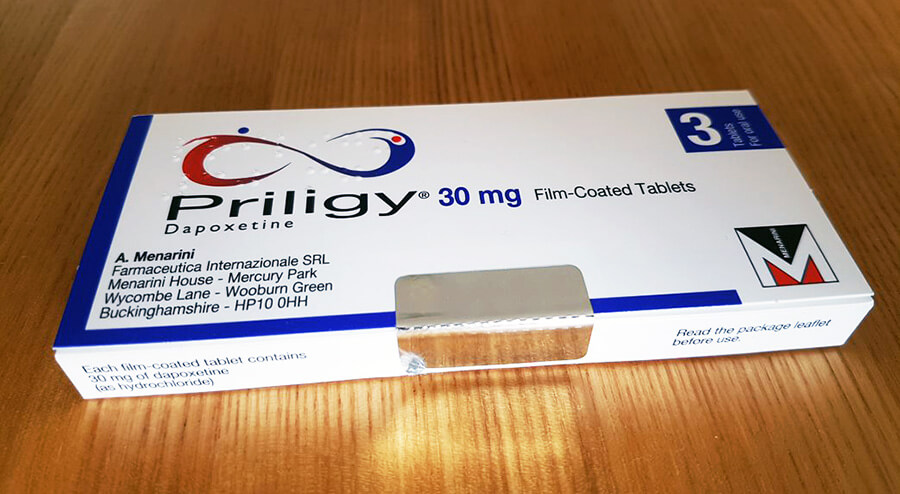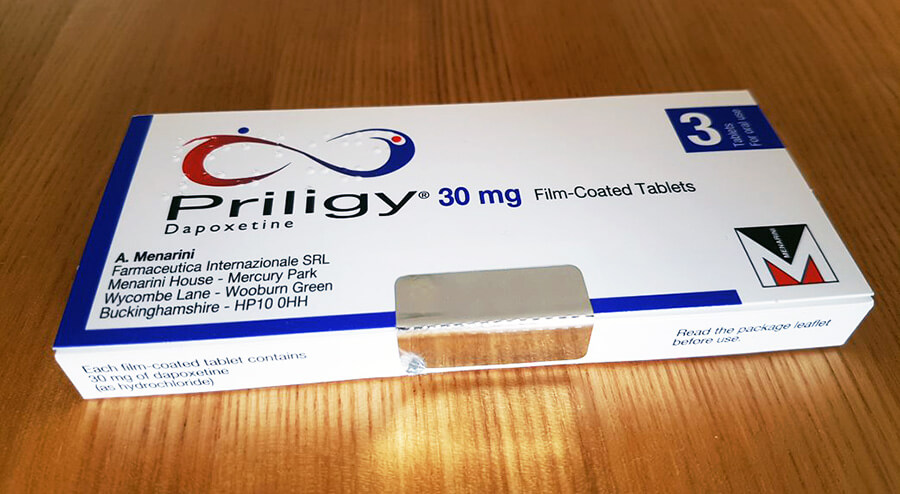 Dapoxetine, also known as priligy, is the first oral medicine specifically created to treat premature ejaculation.
It's not currently available in every country, though is rapidly being approved in more every year. Currently, you still can't get it on prescription in the United States, for example.
It's important to note that it can't permanently cure premature ejaculation – you have to take it every time you have sex.
What is dapoxetine?
Dapoxetine is a member of the selective serotonin reuptake inhibitor (SSRI) family of drugs, which are typically used as anti-depressants.
The original idea was actually to create a new anti-depressant, but it never came to be. Instead, it was found to work in delaying orgasm.
Anti-depressants are sometimes prescribed by doctors to help with premature ejaculation. They're well known to be effective in delaying ejaculation. But this is the first time a drug of this kind has been manufactured purely for this purpose.
It comes in two different dose levels – a 30 mg and 60 mg version. You would usually start on 30 mg and move up to 60 mg if necessary.
What makes it different?
Anti-depressants have long been offered to men to help with premature ejaculation. For example, fluoxetine (Prozac), citalopram, sertaline, paroxetine, clomipramine, and fluvoxamine have all been tried.
The main problem with these drugs, however, is that you need to take them every day. This is to ensure that the ejaculation delay effect will work when you come to have sex at any point during the day.
But would you want to take a powerful anti-depressant every day if you don't suffer from depression?
You may end up facing some of the common side effects of anti-depressants. And some of those side effects involve your sexual function: a reduction in sexual libido or increased risk of sexual dysfunction. Out of the frying pan and into the fire, as they say.
In contrast, dapoxetine takes action faster than those anti-depressants. The body absorbs it quickly, so you can take it a couple of hours before you think you might have sex. The body also eliminates it quickly, reducing the risk of the longer-term side effects.
The benefit then is that it can be used as an on-demand treatment for premature ejaculation. You don't have to constantly cover yourself by taking a pill every day. And this is a key point if you don't have sex very frequently.
My experience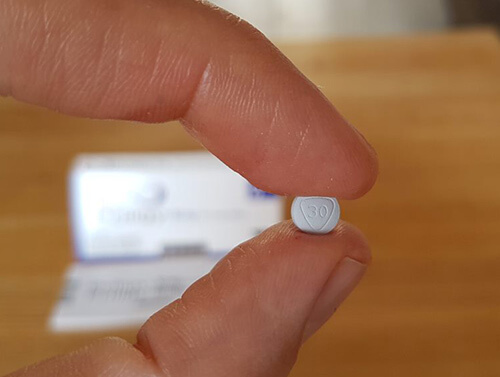 Dapoxetine still isn't easily available in the United Kingdom. I was able to get hold of it privately though. This proved quite expensive, working out at about £15 per pill.
My usual lasting time during sex was pretty short. Between one and eight minutes was the normal time I could have sex without needing to stop for a while to reduce my arousal.
I did find that the 30 mg dose of dapoxetine I took improved my lasting time. Over the couple of weeks that I experimented with it, I found I was able to last between two and eight minutes on average.
So it didn't exactly turn me into a marathon man overnight, but it was still an improvement. And the good thing was that it worked every time, as long as I took the tablets on average two hours before.
So that's the good news. The bad news is the headaches. Dapoxetine is known to cause some side effects in a small percentage of men, and it seemed I was one of those.
The first time I thought it was perhaps due to the anxiety of trying out a new drug. But in fact I experienced unpleasant headaches the first few times I took it. It did seem to improve after that but didn't disappear altogether.
So would I recommend taking them? I'm not a medical professional, so it's perhaps best to talk it through with your own doctor if you want to try it. I do recommend doing two things though:
That you don't buy it online if you live in a country where it isn't licensed for use yet.
That you consider whether you need a powerful drug like this to treat your premature ejaculation.
Which countries have approved Dapoxetine?
Currently, dapoxetine has been approved and marketed in many countries, including Sweden, Finland, Austria, Portugal, Germany, Italy, Spain, Mexico, South Korea, New Zealand, Australia, France, Malaysia, Philippines, Argentina, and Uruguay.
It's available in the United Kingdom, both on prescription through the National Health Service and private online pharmacies. It's not currently approved by the FDA (Food and Drug Administration) in the United States though.
Should I buy it online?
It's a personal choice to buy priligy online or not. However, it's a choice which comes with risks attached.
There are a number of online pharmacies selling authentic priligy. There are also a worryingly large number of online companies selling counterfeit products.
Are you sure you can tell the difference between a trustworthy and a fake source just from their website? If you're determined to buy it online, then here are some things to consider:
If the website looks bad, is very small or selling nothing other than dapoxetine, then look elsewhere.
Do some background checks on the company name of the website.
Some counterfeit drugs are ineffective, so you may end up wasting your money.
Some counterfeit drugs are dangerous. They may contain harmful components such as lead paint or animal poison.
There's an eye-opening article written by the Pharmacy Times outlining the many dangers of buying prescription drugs from online pharmacies.
Having said that, I've bought it from an online pharmacy in the U.K. and as far as I can tell, it was the authentic product.
What evidence is there that it works?
The main evidence for the effectiveness of dapoxetine can be found in a large research review conducted by Dr. Chris G McMahon in 2012.
He reviewed five major studies that had involved over 6000 men in total. His main findings were:
For men who last an average of 0.9 minutes, a 30 mg dose increased that to 3.1 minutes.
A 60 mg dose increased it to 3.6 minutes.
Patients on a placebo increased to 1.9 minutes.
A significant number of men reported that their premature ejaculation was better with dapoxetine.
So it appears that on average dapoxetine does increase the lasting time by a couple of minutes on average, which was my experience also.
An improvement in the feeling of control
The study also notes the change in men's belief about their control level. Before the percentage of men saying they thought it was good or better was 0.9%. With 30 mg priligy this was 26.2%. With 60 mg priligy it was 30.2%. And with the placebo it was 11.2%.
This level of satisfaction is similar then to a report in the U.K. website, Netdoctor, which says:
Unfortunately, the trial results we've seen so far suggest that in reality only about 45 percent of men reported that the drug gave them control that was fair, good or very good.
So it seems then that the evidence that it works is strong, but it still might not be good enough for many men.
Side effects and safety
Dr. McMahon also reviewed how many of the 6000 men experienced side effects with the drug. The percentage of men who experienced side effects with the 30 mg dose were:
Nausea – 11%
Dizziness – 5.8%
Headache – 5.6%
Diarrhea – 3.5%
Nasopharyngitis – 3.2%
Somnolence – 3.1%
Insomnia – 2.1%
Fatigue – 2%
And with the 60 mg dose:
Nausea – 22.2%
Dizziness – 10.9%
Headache – 8.8%
Diarrhea – 6.9%
Nasopharyngitis – 2.9%
Somnolence – 4.7%
Insomnia – 3.9%
Fatigue – 4.1%
This was far more than with the placebo, for example just 2.2% had nausea. And the highest was headaches, with 4.8% of men having them with the placebo.
In addition to these common side effects, there were also reports of a very small number of men experiencing snycope:
It was concluded that dapoxetine is associated with vasovagal-mediated syncope (a temporary inability of the brain to control blood pressure and heart rate adequately causing syncope), but otherwise caused no other cardiovascular adverse events.
In concluding, Dr. McMahon does state though that dapoxetine is safe to use for the majority of men.
You should be aware that it does come with warnings that you shouldn't take it if you have certain health conditions. That's why it's so important to discuss taking it with a doctor first.
Study shows high rate of discontinuation
In 2017, a study was published in which 182 men were asked about their usage of dapoxetine for two years. They found that the discontinuation rate was 'high'. After six months, 79.1% of men had stopped using it. 90.1% had stopped by the end of the two year period.
The main reasons given for stopping were:
Cost (29.9%)
Disappointment that dapoxetine was required every time sexual intercourse was contemplated (25%)
Side effects (11.6%)
Perceived poor efficacy (9.8%)
Search for other treatment options (5.5%)
Unknown (18.3%)
Conclusion
The way you decide to treat premature ejaculation is a personal choice. The frustration it causes understandably leads many men to be willing to try different treatments.
There's no doubt that dapoxetine can help many men to improve their premature ejaculation, but it's still not ideal.
Even if it does work, my personal tests found that it may only extend your lasting time by a few minutes. Whilst this is certainly an improvement, the side effects need to be carefully weighed with the benefit.
And a lengthy study shows that many men will stop using it rather than rely on it for years on end.
Your view
Have you tried Dapoxetine? Let me know in the comments below.