Disclosure: This website is reader supported. If you decide to purchase a product through one of the links provided, I may receive a commission, at no additional cost to you.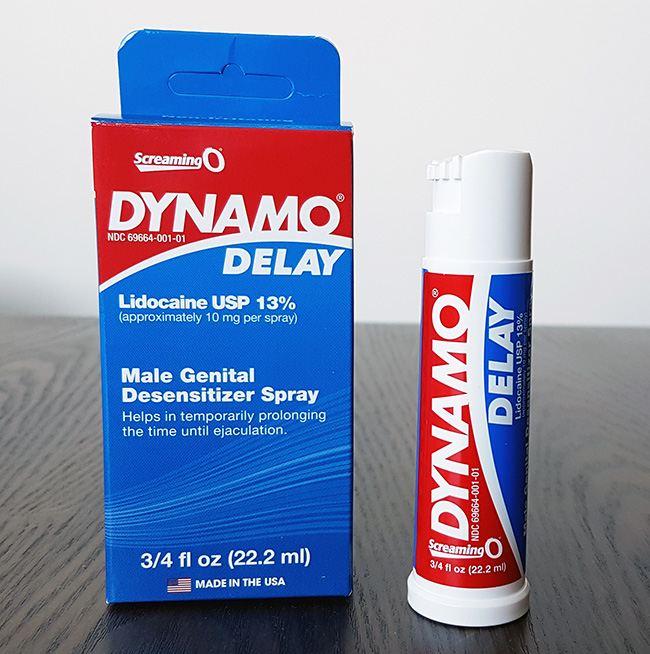 At a glance
Dynamo Delay is an effective desensitizing spray for men. Whether you have premature ejaculation or simply want to extend the fun in bed, it's an affordable and reliable spray to try out.
With swift action that kicks in within minutes and easy application, it offers potent numbing. The formula of Lidocaine USP 13% makes it one of the strongest over the counter delay sprays.
My personal experience showed a significant increase in how long I lasted during sex, with negligible side effects.
Pros
Strong numbing effect.
Enhances control.
Rapid onset.
Long-lasting (over an hour).
Consistent dosing with a metered pump.
Suitable for oral sex.
Compatible with or without condoms.
Affordable price (under $15 for a bottle).
Cons
Not a permanent solution to premature ejaculation.
Applying too much at once may affect erection quality.
Potential for a tingling sensation.
My experience using Dynamo
I bought a bottle of Dynamo Delay online, and it arrived in a standard parcel with nothing giving away the contents.
My first impression is that they used a very similar bottle as Promescent. It's the same size, has the same child safety lock and a similar metered pump.
At the end of the day though, it's good it has that safety lock. And the metered pump is much better than the aerosol sprays, as it's easier to apply the same dosage each time.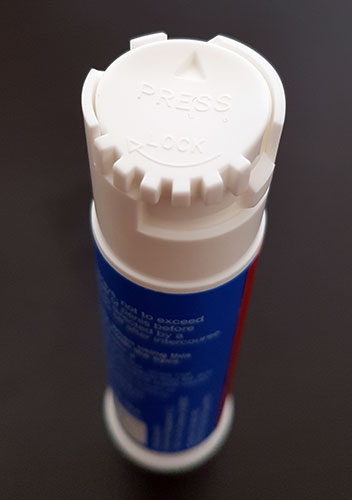 Applying it
I ignored the three sprays instruction and started with one as always. It's usually enough for me anyway and I don't like being so numb it only feels like I have half a penis. You'll know what I mean if you apply too much…
There was no noticeable smell, which is a plus. The spray was easy and quick to massage into the skin, without leaving a sticky residue. So far so good.
Effective numbing
Five mins later and I could already feel it taking effect. 10 mins later after a quick wipe with a cloth, I called my partner into the bedroom.
We started with oral sex, which is an important hurdle not all sprays pass. Dynamo was fine though – only a slight chemical smell, which is as good as it gets, and no transference to her mouth.
I was definitely feeling numb on the penis head, so after some foreplay, we moved on to sex.
Longer lasting sex
As is always the way with these sprays, the pleasure was definitely reduced somewhat – especially on the penis head.
But the sensitivity was also significantly calmed. That meant I felt in good control, and was able to last a fair bit longer.
I don't time sprays these days; experience has taught me that they either do or don't work well. Even if it helped me last ten minutes longer, for you it might be a different length of time.
So really, the effect was more than good enough for me. Yes, it reduced some of the pleasure, but it left me with enough sensation to enjoy sex, and last longer.
Finally, the numbing lasted around an hour an a half before slowly wearing off over the next 30 minutes.
Side effects
With one spray, I did have a tingling sensation. It was tolerable though, and not as noticeable as some other sprays which feel more like burning than tingling!
The next day I tried with three sprays, and found that was way too much for me. The tingling feeling increased to an uncomfortable level, I found it difficult to get an erection, and had zero sensation where I'd sprayed it.
So as always, I recommend erring on the side of caution. Start with one or two sprays and only add more the next time if you feel you need more numbing.
Verdict
If you're looking for a cost-effective and strong delay spray, Dynamo Delay is a good choice.
If you find these type of sprays work for you, but only if you apply a ton of it, then Dynamo's stronger formula might help you save some money in the long run.
However, if you're sensitive to lidocaine, and ever have difficulty getting an erection because of feeling too numb, then it perhaps isn't right for you.
On the whole, my partner and I were impressed with how it worked. It's particularly good that there's only a light smell and taste, so if you're into oral sex, it won't ruin the fun.
Additional information
Who makes Dynamo?
Dynamo is made by the adult sex toy company Screaming O, which is based in the United States. They pride themselves on having won several awards for their adult products.
I got in touch to find out more about the spray and found they were helpful and friendly to communicate with. It's also worth noting that Dynamo is FDA compliant, which means the manufacturer has tried to make it responsibly.
Ingredients
The active ingredient is Lidocaine USP 13%. That translates as approximately 10 mg per spray.
Interestingly, this makes it the highest concentration of lidocaine I've seen in a spray. The company suggests that it means you'll get more in the bottle. To me, it also increases the risk of too much numbing, which I'd be looking out for.
The inactive ingredients listed are:
Isopropyl Palmitate
SD Alcohol 40B
Stearic acid
How to use Dynamo Spray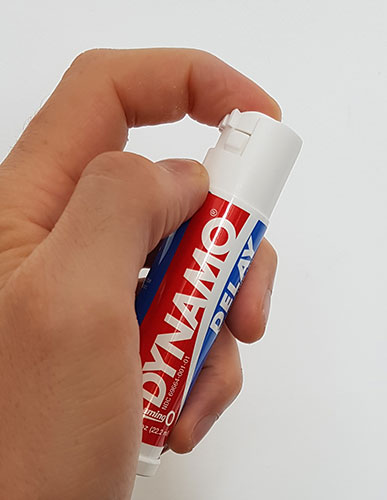 The package has the following instructions:
Apply three or more sprays, not to exceed 10, to head and shaft of penis before intercourse, or use as directed by a doctor…Wash product off after intercourse.
There are some more instructions on the website. They recommend waiting 5 to 10 minutes before having sex. And to wipe with a damp cloth if you plan to have oral sex.
My tips for using the spray
Over the years, I've developed a more cautious approach to using delay sprays. Here's what I'd do:
Spray your forearm once and wait to see how your skin reacts.
Just use one spray first time, and only on the penis head.
Wait for 5 to 10 mins and then wash off any residue with a damp cloth (or have a shower) if you plan on oral or unprotected sex.
Wash your hands too so you don't get it in the eyes.
Wash after having sex.
Decide next time if you need two or more sprays, and if you want to apply to the shaft as well as the head.