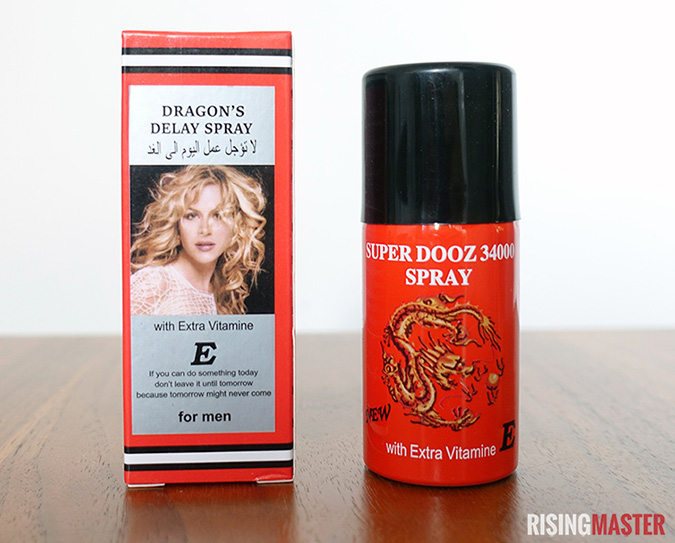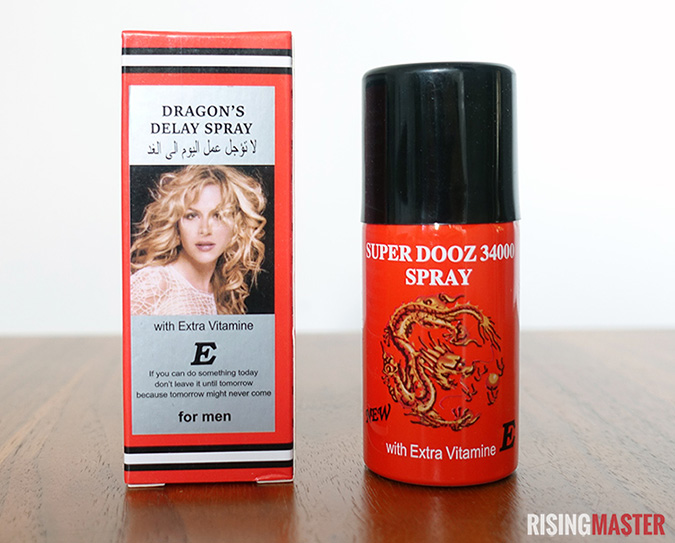 Summary
Dragon's delay spray, also known as Super Dooz 34000, is made to help men last longer during sex. It contains lidocaine and vitamin E, and has a strong numbing action.
It did help me last longer during sex, but you need to make sure you get the right amount to avoid the numbing being so strong that your erection is affected. And with the fast spray action, it can be tricky to judge exactly how much you're applying. So it's a slightly unpredictable delay spray, but it does the numbing job at a low price.
Pros
It provides a strong desensitizing action.
It takes effect very quickly, working in just 5 minutes.
No smell.
It's ok for oral sex and has no noticeable taste.
One bottle gives 100-200 sprays.
Low price.
Cons
It's not a permanent solution to premature ejaculation.
No metered pump, so it's hard to get the right dose.
If you apply too much, it might affect erection strength.
No information about the manufacturer.
No instruction leaflet or information about safety.
The different names
There's some confusion about the name because the package and bottle have two different names printed on them:
Dragon's Delay Spray
Super Dooz 34000 Spray
Online, some men refer to the spray as Dragon spray or Dooz for short. So basically, it's just one spray with several different names.
Who makes it?
The company that makes it appears to be called Super Dooz. However, they don't have a website and there's no information that comes with the spray. So the only reference I can find is the listed seller name on Amazon and other websites.
The bottle says 'Germany' in big letters, and also has 'H.S. David GMBH' written on it. The only thing I could find about that is a couple of connections to other sex products, like Shark Power spray.
On Amazon, the listing says it's made by the people behind the more established delay spray – Super Dragon 6000. But I could never find much about them either.
So I can't tell you with confidence who makes it exactly, or where, which is one reason I suggest using it with caution.
Ingredients
The ingredients appear to be the same as Super Dragon 6000. So perhaps it is a rebranding of that one, especially as Super Dragon is harder to find nowadays.
There's 10% lidocaine, which is a standard ingredient and quantity for delay sprays. There's also 1% vitamin E.
The bottle says the following about that:
The first spray with vitamin E nourishes and activates the cells. This new spray contains natural vitamin E which is very easily absorbed. Local application stimulates the cell's energy stores. Vitamin E renews cell activity.
Does the vitamin E actually do anything useful though? If it does, it's a subtle effect as there's nothing I could tell when I used it.
How to use it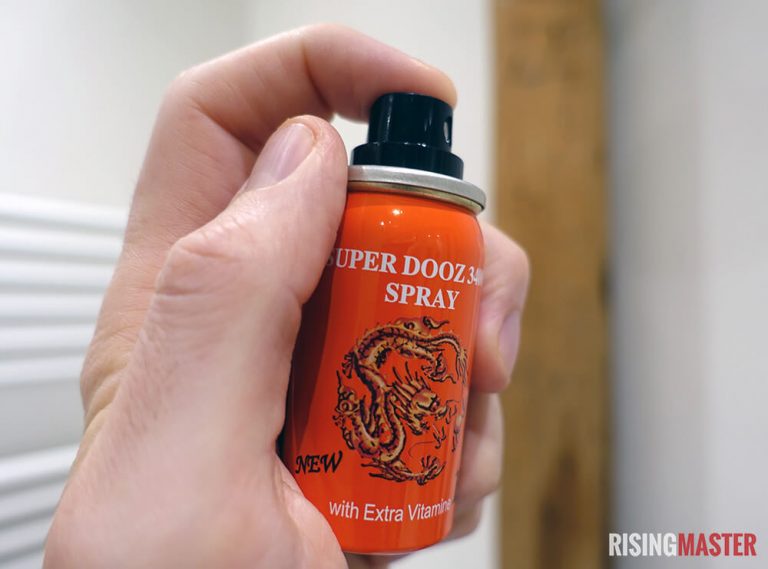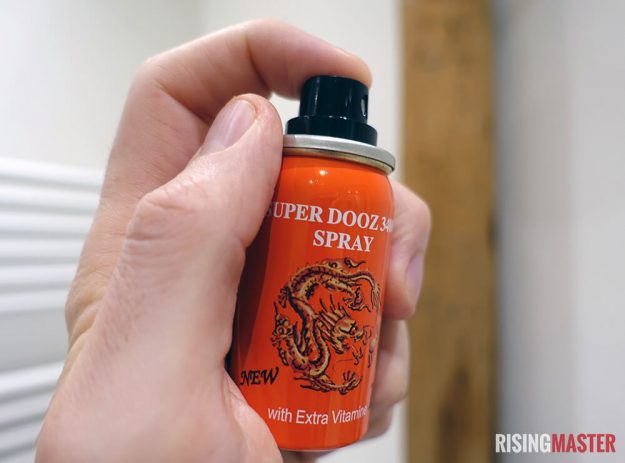 There's no instruction leaflet included and the only instructions are literally just six words on the package:
Spray twice – wait for 5 minutes
Talk about keeping things simple!
So I recommend using it the same way as other sprays with lidocaine, and ones that come with more instructions, such as promescent and stud 100.
I also recommend doing a test spray on your arm first to make sure your skin won't react badly to the ingredients. Wait 10 minutes, and then use the spray on your penis if your arm is fine.
It's a good idea to start with just one spray on the penis head. I discovered it's not a metered spray, and the aerosol shoots it out fast. So you need to be careful to only spray it very lightly and quickly or you'll end up with far too much numbing.
Then wait five minutes, give yourself a quick wipe with a damp cloth or warm running water to remove any excess, and you're good to go.
My experience using Super Dooz
The first positive is that there's no discernible smell. My partner also added that she couldn't smell or taste anything when she gave me oral sex, which is a plus.
The first time I used it, I probably applied too much because so much sprays out. I wanted to use just one spray first time, but ended up with more like the equivalent of three.
Tingling
I rubbed it into the penis head and frenulum in particular, which is the most sensitive part for me. There was a noticeable warm tingling sensation, which is normal for me to feel with lidocaine sprays. It wasn't too strong though, so I wasn't that concerned by it.
Five minutes later and I gave myself a quick wash with warm water and jumped into bed with my partner. She's great with testing new products, finding it both interesting and fun. She was more than happy to accept the challenge of getting me hard when using a desensitizing spray.
It definitely works, that much is for sure. When she was manually stimulating me, I couldn't feel much at all on the head, only on the shaft, and so struggled to get an erection.
Oral
She then moved on to oral, and even though I couldn't feel much physically on the head, I could feel the warmth. And the pleasure of receiving a blowjob helped get me fully hard.
Sex
After some extended foreplay, we moved on to sex and the spray definitely helped me last longer by reducing the stimulation. For me, it's always the penis head that I find gets too stimulated, but I didn't feel much there apart from the warmth.
Not spraying the shaft is a trick I've learned which allows you to still feel plenty of pleasure during sex, so we both had an enjoyable experience.
I didn't time myself, as I don't bother these days when testing new products. I've tested enough of them now to know from feeling and experience how good they are or not! If I had to guess, I'd say I could last many minutes longer with the Dragon's Delay Spray.
As with most lidocaine sprays, it lasted strongly for about an hour, before slowly reducing in effect until three hours later there was no numbing left.
Verdict
Dragon's Delay Spray, or Super Dooz 34000 – whatever it's called and who makes it remains a bit of a mystery.
It definitely works, which is the main thing, and works very fast. It helped me last longer during sex, we could use it with oral, and there was no transference to my partner.
My main concern is around the application. The fact that it's an aerosol spray rather than a pump is a shame, as it means it's harder to apply the same amount each time.
You can spray it into your hand or a glass and then dab it onto your penis if you want to, but it still doesn't feel as easy as using a spray with a metered pump.
Still, at the end of the day, if you want an inexpensive spray that numbs effectively, it will do the job.