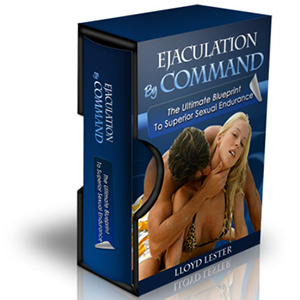 Ejaculation by Command is a self-help guide to premature ejaculation which teaches you to last longer sex using only natural techniques.
It gives you all the background information you need to understand premature ejaculation, and a range of effective exercises to help you develop better physical self-control.
I think it's a particularly good option if you're just starting to learn about premature ejaculation, with its clear introduction explaining how arousal control can be achieved.
So when you start practicing the exercises, you have a good understanding of how mental and physical control works, and what you're trying to achieve at each step.
It's also a useful guide if you currently have a partner, and want to work on the problem together, as there are sections with exercises for couples.
Visit the Ejaculation by Command website >>
How does Ejaculation by Command help?
I should tell you that this review is based on my knowledge of premature ejaculation rather than my experience of trying the techniques in the book. By the time I discovered it, I'd already gotten the problem under control.
So my view of how it can help is based on the fact that I've read many premature ejaculation books, and I've practiced all the different arousal control techniques they recommend.
So, the Ejaculation By Command core training program consists of several proven ejaculation control techniques.
It describes how you can practice alone to understand and control your arousal levels. This is crucial in developing control, so it's great that it's explained in such detail.
It then builds up to include partner work as well, telling you exactly which positions you should practice with. It also breaks down the techniques in an easy to follow step by step guide.
For me, this is the most impressive part of the Ejaculation by Command course: the partner work is described in depth, and if you practice it regularly it can help you improve your stamina on the job, so to speak.
The course also explains how you should focus on your partner rather than yourself. It has good advice about foreplay and oral sex which will prime her so you don't need to last so long.
There's an excellent section on correct breathing techniques, which is very thorough and easy to understand. And there's a useful explanation of why distraction techniques are ineffective. Instead, you learn how to focus your mind on the right kind of body sensations.
Towards the end, there's an interesting section on which food you can eat to improve your endurance – something most other books don't include.
All in all, I think the author – Lloyd Lester – does a good job of looking at the problem from different angles and giving you different options for dealing with it.
The extras
The emergency tactics mini-book is full of tips and tricks you can put to use straight away. And it has a couple of interesting new ideas – the one about the tongue on the roof of the mouth being a new one to me.
The quick-start guide is a useful and practical addition. It summarizes the training exercises in the main book if you don't want to read it all in one go, and you can also easily use it for reference later on.
Following from this there's an audio companion as well, so you can download and listen to the whole book if you find that an easier way to learn. Handily it allows you to download the entire book or just individual sections.
There are also several other useful sex guides included, and you get access to videos in the private member's section of a sex guide website.
Some of the ideas in the videos about giving a woman oral sex were interesting and could be useful. But overall, I think some of these extras are a bit of an unnecessary distraction from the main part of the course.
Is the program safe?
As far as I can tell, Ejaculation by Command is a safe program to follow. There are no extreme techniques and he doesn't advise buying any pills or supplements. They are all natural techniques and don't involve anything risky at all.
Criticisms
My only real criticism is that there's some exaggerated advertising about it being possible to last for a long time from the outset.
I think that while some men might have that kind of lucky outcome, the vast majority will have to put some time and effort into making the techniques work.
How long is impossible to say; it could be weeks, or it could be months. But it's unlikely to be just one day!
Having said that, I put the effort into these techniques and had fantastic results with them. So as far as I'm concerned, it's worth the effort.
Conclusion
Ejaculation by Command is a great choice of ejaculation control guide if you're at the start of your journey in dealing with premature ejaculation and/or if you're currently in a relationship.
It contains lots of effective techniques you can practice alone, and also a range of ways you can work with your current partner to last longer during sex.
The quick start guide is excellent as it summarizes the whole book for easy reference. And you get the emergency tactics book with ideas that don't need practice, just key adjustments to the way you have sex.
Overall, I think this guide contains everything you need to know to deal with premature ejaculation on a lasting basis.