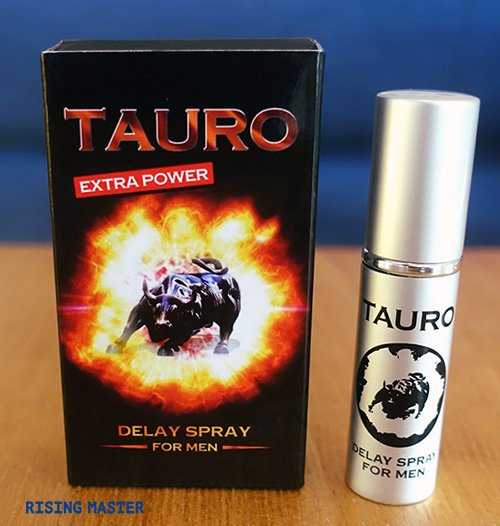 Summary
Tauro is a delay spray that's intended to help men with premature ejaculation. It doesn't use lidocaine or benzocaine but has a range of alternative ingredients instead. I found it did have a mild numbing effect, which was good for extending sex and not reducing erection strength.
I wasn't keen on the tingling feeling that it gave though, and it takes longer to start working than standard lidocaine sprays.
Pros
Provides a milder numbing than lidocaine or benzocaine – good if you sometimes have erection problems with delay sprays.
No bad smell or taste.
Can be used with a condom and oral sex.
Reasonable price.
Cons
Might produce a tingling sensation.
Takes at least 30 minutes to work.
Small bottle with fewer sprays than other brands.
Not really 100% natural ingredients.
Not a cure for premature ejaculation – needs to be used every time you have sex.
Full review
Tauro, which means bull in Spanish as you might guess from the picture on the packaging, is a desensitizing spray designed to help men have better ejaculation control during sex.
Nearly all of the many delay sprays I've tried contain lidocaine, benzocaine, or prilocaine. So it's interesting to find one that takes a different approach. And in the case of Tauro, that means an unusual range of ingredients.
I do know from past experience, however, that those that avoid the traditional anesthetic route haven't exactly been the best. Products like China Brush and Jamaican Stone, for example, sometimes cause unwanted side effects.
So in this review of Tauro, I'll be talking about my experience using it, as well as taking a closer look at the ingredients.
Who makes it?
Tauro is made by the company Intimateline. They make a wide range of sex products, such as lubricants, stimulants, aphrodisiacs, and massage oils.
Their registered admin office is based in England, but their products are still manufactured in Italy. You can read more about them on their website www.intimateline.co.uk.
The ingredients that might help with sexual function
I did some background research into the ingredients of Tauro. The ones that appear to have some potential for helping with premature ejaculation are:
Chamomila Recutita flower extract: can be used to soothe the skin.
Laureth-9: has anesthetic properties, and helps with dry and itchy skin. Used in shampoos and conditioners.
Phenoxyethenol: might have anesthetic properties.
Panax ginseng root extract: used in Chinese medicine to help with premature ejaculation, boost libido and help with erectile dysfunction.
Ginkgo biloba leaf extract: sometimes used for erectile dysfunction.
Hedera helix leaf extract (English Ivy): can help inflamed and irritated skin.
Eugenia caryophyllus bud extract (clove): can reduce sensitivity and pain.
It looks like there are several ingredients that could in theory help decrease sensitivity, as well as potentially help with erection strength too. Whether they actually work or not in this formula is the million dollar question. Or in this case, the twenty dollar question.
I also found out that some of these ingredients can cause allergic reactions, such as rashes, in some people. So as always, I highly recommend testing on your arm first before your penis.
Really all natural?
I've read a couple of criticisms that there are four parabens in the ingredients. Parabens have been subject to some controversy, though most studies have shown them to be safe in the small quantities used in cosmetic products.
Having said that, if the claim that it uses '100% natural ingredients' appealed to you, you might want to look into parabens yourself.
How to use Tauro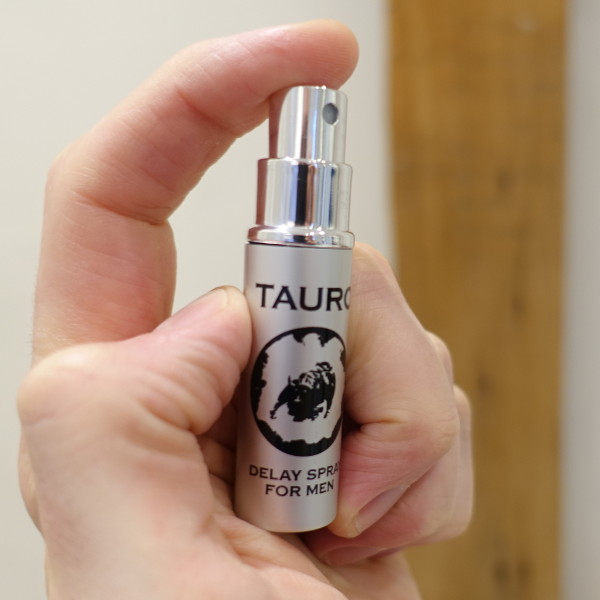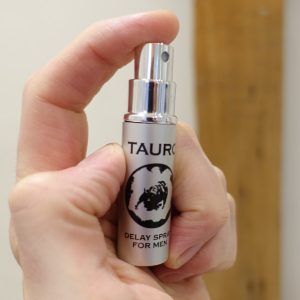 The instructions tell you to apply one or two sprays to the penis head 30 mins or more before sex.
You should wash it off before intercourse. Don't get it in the eyes or nostrils, don't use it if your partner is pregnant, and don't use it on broken or inflamed skin.
Personally, I never feel that you get enough instructions with these sprays. So I recommend reading my thoughts on using delay sprays.
Two key points missing, for example, are to do a test spray on your arm, and to wash your hands thoroughly after rubbing it into your penis.
My experience testing Tauro
Having delved into the ingredients, I have to admit I was a little hesitant to actually use it. But I was also curious to see what would happen, considering how many ingredients can apparently help with sexual performance.
As usual, I made a test spray on my forearm and waited 30 minutes to see how my skin reacted. There was nothing to note, so I went ahead and applied two sprays to my penis head.
One thing to note is that it has no smell at all, which is a good thing. Lidocaine always has that faint chemical spray, so it's a plus that it's totally invisible.
It's kind of annoying that you have to wait at least 30 minutes before having sex. It's fine if you can plan it, or are up for very extended foreplay. But if it's a spur of the moment thing, it's not very practical.
Anyway, my partner and I played around while we waited for it to take effect, which she was happy to do as it was all about her.
Over the course of about 10 minutes, a sort of cold tingling sensation appeared where I'd sprayed it. It wasn't painful or too annoying, but it was definitely noticeable and didn't go away for at least an hour.
After the deadline had passed, I went to the bathroom and gave myself a quick wash downstairs to remove any excess, then went back to my partner. All a bit clinical, but it has to be done.
She started giving me oral, and couldn't taste or smell anything bad, which was good. She also didn't feel it transferred to her – another plus point.
But I personally didn't notice a huge reduction in sensation, though there was definitely some. But compared to lidocaine sprays, it was definitely a lot weaker in effect.
I also didn't notice any change in my erection quality or libido. If anything, the tingling sensation made it slightly more difficult to relax and get going.
We eventually moved on to sex, and I found that it did seem to help a little in reducing the sensitivity, but nothing too spectacular.
Interestingly, it didn't seem to reduce too much of the pleasure, which is another point in its favor compared to some numbing sprays.
I tested it again a couple of times during the week, and found the same effects: cold tingling, takes a while to work, and provides a mild desensitizing effect.
Verdict
Tauro is an unusual spray, containing a confusingly long list of ingredients. I found it did reduce some sensitivity, but not a lot. That might be a good thing if you find other sprays too strong, even at the lowest dosage.
I also found I was able to enjoy the sensations of sex more than with some of the very strong numbing sprays.
However, I wasn't impressed with the length of time it takes to work. And I didn't like the tingling sensation, which made it harder to relax and get into it.
I'm also slightly dubious about the ingredients – particularly the inclusion of parabens in a product marketed as being 100% natural ingredients.
Maybe if they change the ingredients a little and get it to work quicker, I'll be more in favor of using it again. But for now, I won't be shouting praise from the rooftops for Tauro.
Where to buy
The last time I checked, Tauro was available on Amazon, eBay, and Lovehoney.co.uk.