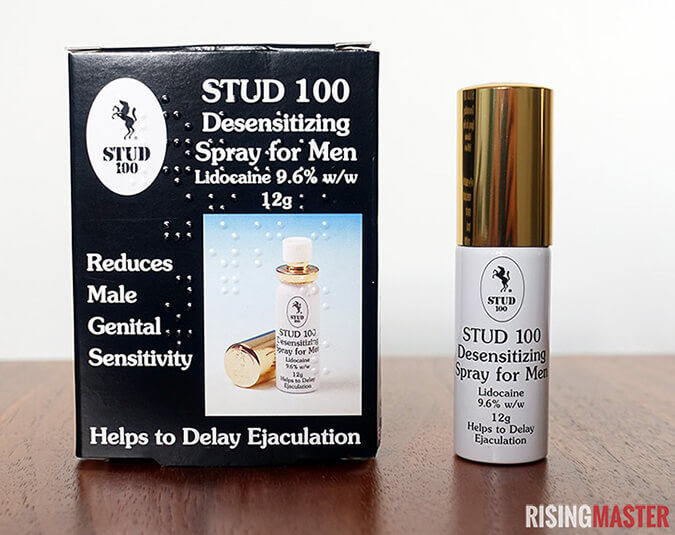 Summary
Stud 100 is a strong desensitizing spray that helped me last several minutes longer during sex. It's a convenient, easy to use, and fast-acting over the counter treatment for premature ejaculation.
Some men might get a tingling sensation from the lidocaine or have difficulty maintaining an erection if they use too much. So I recommend testing a small quantity to start with.
The good
Only need to apply it 5-15 mins before sex.
Strong numbing.
Metered pump for consistency.
Ok with oral sex.
Use with or without a condom.
Non-prescription.
Low cost per spray.
The bad
Need trial and error to get dosage right.
Can reduce some pleasure.
Possibility of erection problems for some men.
Might have tingling sensation.
Not a cure for premature ejaculation.
My experience
I ordered a bottle of Stud 100 from Amazon, which seems to be the main site it's sold on. It's also a good way of ensuring only you know what's in the box before opening it.
I was pleased to see that the bottle has a metered pump so you can apply a similar amount each time. Not all sprays (and no gels) have this useful feature to help you get the dosage right.
I sprayed the head of my flaccid penis once and gently rubbed it in, paying attention to the tip and frenulum which is where I'm most sensitive. I waited for 10 minutes, then wiped myself with a damp cloth to remove any residue.
I could definitely feel a good amount of numbing even before the 10 minutes was up. And really, it seemed similar to most other strong lidocaine sprays I've used.
My partner is always up for trying new sex products with me, so once the 10 minutes was up, we got down to some 'testing'.
Helped me last a few minutes longer
It worked well the first time we had sex using it, helping me last several minutes longer. And in one session later that week, I was able to last more than 10 minutes. That's a considerable improvement to my usual under five minutes.
I was still able to feel pleasure, which is of course very important. However, the sensation was considerably dulled on the penis head with the numbing. That always happens with lidocaine sprays and is to be expected.
But there's always a trade-off between pleasure reduction and longer sex with these sprays, so on the whole I was happy enough with Stud 100. There's more to sex than just the physical pleasure you feel on the tip of your penis. For me, it's very important to be able to give my partner the chance to enjoy longer sessions of intercourse. She agrees, of course…
Three sprays is too much
I also experimented with two and three sprays later on. Two was ok, but perhaps a little too strong. And three was total overkill, making it difficult to get an erection – especially when I rubbed it into the shaft as well.
So personally, one is definitely the right number. This does vary from person to person though, so you might find you need three or more even. It's why I suggest experimenting on your own first, as you don't want to use any more than is necessary.
Fine for oral and condoms
Stud 100 has a light smell, which all lidocaine sprays do. If you're worried about it, have a shower instead of just wiping of the excess. As long as you wait a few minutes for it to absorb, even a long shower won't stop the numbing effect and it will get rid of any lingering smell.
It was also fine for oral sex as long as I wiped the excess and waited for it to absorb – my partner had no complaints about the smell, taste, or numbing in her mouth.
And you can use it with or without a latex condom, which is always a plus from this type of spray.
Tingling sensation
All lidocaine sprays give me a bit of a tingling sensation, but it's usually mild. Nothing as extreme as some of the more unusual products that give you a "get it off me!!!" feeling.
So all in all, Stud 100 was at the light tingling end of the spectrum and was tolerable.
Verdict
Stud 100 worked for me in a similar fashion to the other good delay sprays that use lidocaine as the active ingredient. So like Promescent, Dynamo, and K-Y, I think it's one to try if you need to reduce your sensitivity.
It's good that it has the metered pump, can be used for oral and with or without a condom. These are some of the basic usability points I look out for.
And unlike some of the less impressive sprays out there, it absorbs quite well and doesn't have too much of a chemical smell, so you can use it fairly discreetly before you have sex.
One final point in its favor is that it's not as expensive as some of my other top-rated sprays. So if you'd like to test a decent spray without spending too much money, this is a good choice.
Further information and questions
Who makes it?
Stud 100 is manufactured in the U.K. by Pound International. They've been making and selling it since the 1970s, making it the oldest desensitizing spray I've seen.
Stud 100 Ingredients
Lidocaine Base USP 9.6% (the active ingredient)
Isopropyl Myristate
Stearic Acid
2-(2-Ethoxyethoxy) ethanol
Fragrance
Is it safe?
The manufacturer states that Stud 100 is FDA compliant, meaning they adhered to the standards set for male desensitizing sprays. It hasn't undergone clinical trials though, so there is no official safety data.
The manufacturer also says it's safe for use during oral sex. But be sure to wait at least 10-15 minutes after application to avoid the risk of numbing your partner's mouth.
Lidocaine can on rare occasions cause problems for some people. Stud 100 is unlikely to cause any problems at such small doses, but be careful not to use too much of it in one session.
Finally, if your partner is pregnant or you're trying to conceive, I wouldn't use this or any other desensitizing spray.
How long does it last?
I found it lasts for up to two hours. This will probably vary from person to person. So you can apply it long before you have sex if you like. And if you don't actually end up having sex, that's not a problem (other than the fact that you missed out on some sex…)
How do you use it?
You're supposed to spray it onto your penis head (the exposed head). Rub it in, then wait 5 to 15 minutes. You can also spray the whole shaft if you think it will help better. Some trial and error is always a good idea to find the balance between numbing the sensitivity and not killing your erection completely because you can't feel a thing.
Personally, I think it's a good idea to wipe off any excess, especially if you have oral sex or don't use a condom.
You can use a damp cloth or towel, your hand and running water in the sink, or have a shower. It doesn't matter what you do as long as you get rid of any liquid that didn't absorb before you put it in contact with your partner's sensitive areas.