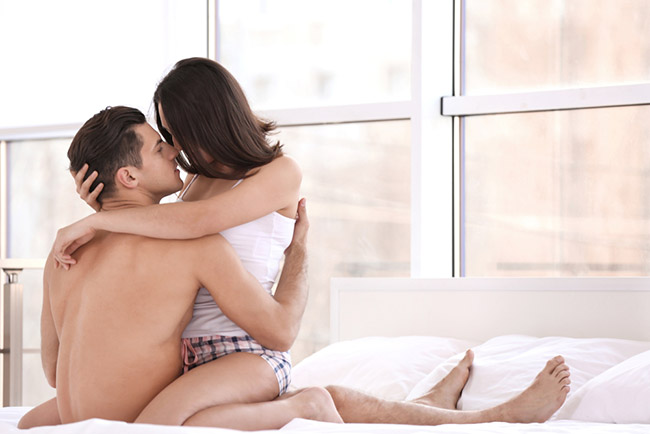 Do you struggle to get an erection when you're with a new partner? And no matter how much you're attracted to them, it just doesn't spring to life when you most need it to?
That's exactly what's happened to me in recent times, and it's proven to be a very frustrating and embarrassing problem.
Every time I'm with a new partner, I just can't get an erection the first time we try to have sex.
And the problem only resolves when we sleep next to each other, wake up the next morning and try again.
The first time it happened, I didn't put much thought into it, especially because I'd drunk a fair bit of alcohol. I just put it down to the wine and didn't worry too much about it.
But over the next few months, it happened with three different women. And every time the exact same thing happened.
It was becoming a serious problem that I was going to have to find a way to deal with before my confidence took an even bigger hit.
What happens
Everything always seems to go fine at first. Usually, I take someone on a couple of dates at least before we end up back at my place or hers.
Things naturally progress from kissing to undressing as the passion builds nicely.
I feel very horny mentally, and physically too, but then I just can't get a full erection. I can get a partial erection – sometimes even 75% – but not enough to have sex.
I don't feel like I'm particularly stressed or anxious, but then when this happens I definitely get stressed.
So I've had to develop a coping mechanism to deal with the inevitable awkward moment when she realizes it's not going on.
I've accepted that it's probably going to happen, and decided the best thing to do is to talk about it openly in advance.
Obviously by 'in advance' I don't mean when you're out having a drink. I find a moment during foreplay to bring it up, rather than leave it as a mystery and pretend I'm as surprised as she is.
Taking responsibility for it
I realized it was important to take responsibility for one very important reason: if I don't, then she might. And that's unfair and unpleasant for her.
I spoke to the last two partners about it, who both admitted in virtually the same words that they would assume they just don't turn me on.
And even when I told them it always happens, I could tell they were still doubtful.
You can't exactly start telling them about all the times it's happened. No woman wants to hear about the last 3 women you were with at the moment the two of you are supposed to be enjoying something magical.
But you still somehow need to convince her it's just a 'thing' that happens, and it will pass. It's a tricky one.
What caused it?
I did wonder if by learning to avoid premature ejaculation through relaxation, I'd somehow gone the other way and become so relaxed my penis was too 'zen' to bother getting erect.
But I think the real explanation lies in anxiety, and probably in relation to my body. I had testicular cancer several years ago (I'm 6 years all clear now!) and it's ever since then that I've had these erection problems.
The treatment I had left me with some physical, and emotional, scars. And although women tell me that scars are sexy, I think they really mean from motorbike accidents more than medical treatment.
So I think deep down I'm still anxious about their reaction.
Add to that the fact that I've had to deal with premature ejaculation for years, I think it's natural to have developed an anxiety problem.
Even though I don't feel anxious on the surface, I do know I'm a born worrier, and that I've just learned to mask my anxiety with a well-trained sense of confidence.
First attempts at dealing with it
I think I'll need to do some personal work on that anxiety – if I can get to the root of it on my own. I'd like to think I can, having managed to do so well in my battle with premature ejaculation.
If you're reading this and have similar issues, my advice to you is this: talk about it openly and with confidence.
Take responsibility for it and don't let her think it's her fault. Otherwise, you might not have the good fortune to wake up with her smiling and willing to try again.
After that, a bit of internal self-work may be needed, either alone or with some professional help.
Anxiety may or may not be the root cause, and it may be a while before I'm completely sure. I'll come back and update this article if I ever do find out for certain.
1 year later: I think I've found a solution
Since I first wrote this article a long time ago, I've spent a lot of time reading the many comments from other guys with similar problems, thinking about their stories and theories and trying to come up with a solution.
And finally, a year later, I've had some success. I managed to get an erection the first night with the last 2 women I slept with, and also pretty much when I wanted to.
The secret – I think – has been to boost my testosterone levels so much that it balances out the anxiety, nerves or whatever else is going on psychologically.
Basically, I did a lot of research into erectile dysfunction and discovered a common suggestion is that it's sometimes due to low testosterone levels. So I duly decided to do everything within my power to boost it.
Here's what I did:
Stopped smoking.
Started doing lots of work on my legs in the gym, particularly dead-lifts and similar exercises for the thighs, which apparently help with testosterone production.
Stopped drinking protein shakes (apparently, they can lower testosterone!)
Worked hard to improve my sleep pattern and get a regular 8 hours.
Started on a testosterone boosting diet.
Started taking L-Arginine supplements.
Within 2 weeks I noticed that even during masturbation I was getting harder erections, particularly on the days I really focused on my legs in the gym.
Other than the gym work, I'm fairly sure I also noticed an effect from the L-Arginine supplements.
I'd read that researchers have found that L-Arginine can be effective in treating erectile dysfunction because it boosts blood circulation to the penis.
I also think my serious health and fitness regime helped increase my circulation and on a psychological front my confidence. So it looks like I hit the problem from a few different angles.
2016 update: trying Viagra
Since the last update, I've once again had the same problem. I think this time it was because I totally fell for someone, and I really wanted to things to go well, resulting in the old anxiety resurfacing.
So I decided to give Viagra a go, and it was very effective. I won't be using it on an ongoing basis, as I'd like to try to manage the problem naturally, and it gave me headaches. However, it was interesting to try and a good confidence boost.
If it's something you're also considering, you might find my Viagra review helpful.
2017 update
Since the last time I wrote, I haven't tried Viagra again. However, I've been doing a lot of research into the issue of erectile dysfunction.
Interestingly, I experimented this year with not watching any porn at all for a month. And I'm sure it's had a positive effect on how easily I get turned on in the presence of women. So it might be worth a try if you have a similar issue.
I've also put a lot of thought into the annoying problem of having problems keeping an erection when wearing a condom.
2018 update
This has continued to be an issue for me from time to time. I now think it's a blood flow problem, combined with initial nerves sometimes.
I've tested a range of different treatments in the last year, and all the ones that work by increasing blood flow always work well for me.
That includes well-known drugs like Viagra and herbal remedies that affect your circulation.
I've also tested a penis vacuum pump, and that worked very well. But it's not my first choice when I'm with a new partner – I think it's more acceptable with an established partner.
So for me, my current way of dealing with it is to work on the psychological points, continue being healthy in general, and have a backup pill at the ready.
Your views
If you or your partner experience this issue, what do you find helps or makes it worse? Feel free to share your story below and any ideas you have for coping with it.