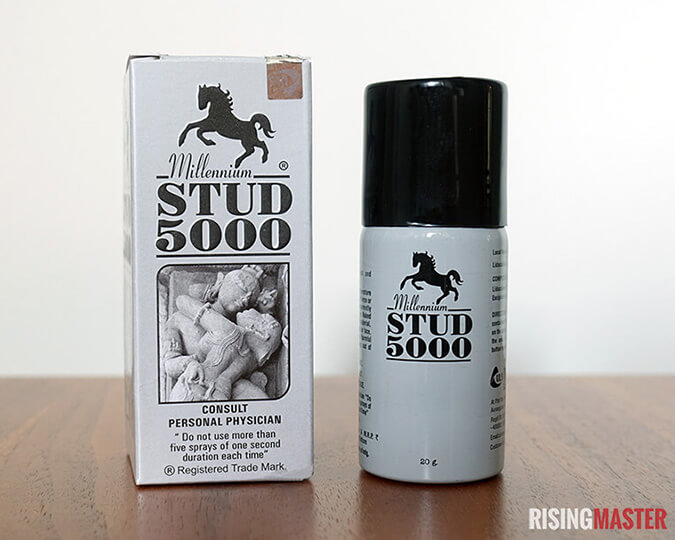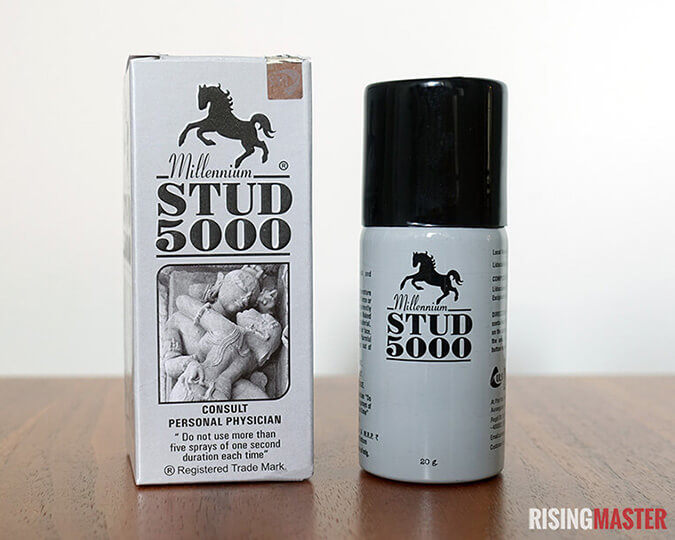 Summary
Stud 5000 is a lidocaine-based delay spray intended to help men last longer during sex by reducing the physical sensitivity of the penis.
I found it has a strong numbing action, works very quickly and lasts a long time. However, it does have a slight chemical smell and doesn't seem to be the best for oral sex.
It isn't made by an established company, so this is one for men who just want a cheap generic lidocaine spray.
Please note that I don't include links to buy it in this review because of the lack of key information I'd like to see before recommending a product.
Who makes it?
There's no connection between Stud 5000 and the classic spray Stud 100. Despite the similar name, it's not a new version of Stud 100 and is made by a different company.
Just as I discovered when writing about Climax spray recently, the manufacturer appears to be a pharmaceutical company in India – Universal Life Science.
They don't appear to have a website though, and I can only find a brief description of the company on a couple of Indian wholesaler websites, such as Indiamart.com.
And strangely for a pharmaceutical company, the email address on the spray's packaging doesn't sound particularly professional: universallifescience@yahoo.com.
Ingredients
Stud 5000 contains the most common ingredient of delay sprays – 10% Lidocaine topical anesthetic.
There are no other listed ingredients apart from 'solvents, excipients & propellants'.
How to use Stud 5000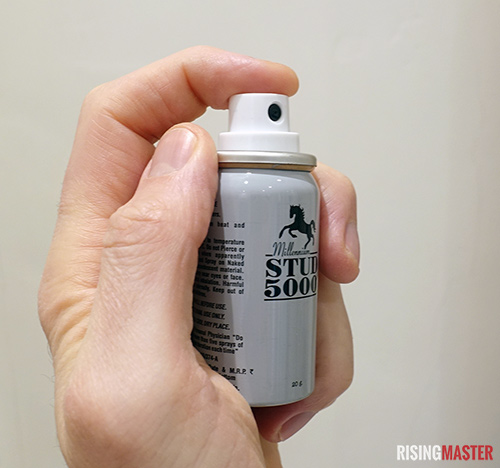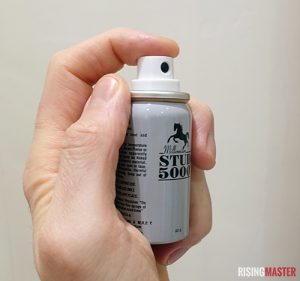 There's no instruction leaflet included in the box, so the only instructions are printed on the side of the box and the spray bottle:
Shake well before use…For external use only…Hold the container 10 cm. apart with the arrow on the spray button pointing toward the area of application. Press button repeatedly to spray…Do not use more than five sprays of one second duration each time.
There's nothing about where to spray exactly, how long to wait, if you should wash it off and if you can use it with oral sex or a condom etc.
These are important points, so it's a shame they didn't include them in the instructions. So if you're planning on using it, you might like to read my advice about using delay sprays.
Here's how I recommend using the spray
Make a test spray on the arm to test the skin reaction. Wait 10 mins.
Spray just once onto the penis head and rub it in.
Wash your hands.
Wait 5-10 mins, then wash your penis with warm water.
Turn on the music and have fun with your partner.
Decide if you need more than one spray in the future.
Don't use it with oral sex (more on that below).
My experience
As always, I tested it on my arm to check how my skin would react. That was fine, but I immediately noticed two things: it has quite a strong smell, and it sprays in a continuous flow, with no metered pump.
Right from the outset both of those points were a disappointment. I think it's much better to have a metered pump so you can apply roughly the same amount each time. And nobody wants a strong chemical spray on their penis when they're in bed…
I waited 10 minutes, then had a quick shower to get rid of the smell and any residue. I know from experience that once they start working, you can have a hot shower and wash thoroughly, and the effect will still be there.
Tingling
I did notice a slight tingling sensation, which is typical of lidocaine sprays. But it was light enough not to cause any concern.
I then called my partner into the bedroom for some testing. She's used to testing these sprays with me now, so even with music and candles, we still have a laugh about it!
We started with some foreplay, and I was noticeably numb. Not as numb as some sprays make me, but numb enough to know it was working well.
My partner gave me some oral, saying there was still a very faint lingering taste and smell. She described it as almost mint or eucalyptus, but I couldn't smell that.
Numb mouth!
Five minutes later and she suddenly announced that she could feel her mouth a bit numb. She asked me if I'd washed properly (thanks!) to which I replied I had, of course.
So this was an unexpected issue that we haven't seen for some time. For whatever reason, it seems the spray wasn't being absorbed properly by my skin.
She put that aside though, saying it wasn't too dramatic, and we moved on to some sex. The spray did a good job of keeping the sensitivity down, and as expected, I lasted a little longer than I would do without a spray.
There was definitely some loss of pleasure, as usual with these sprays. But having only sprayed it on my penis head, I still had full sensation on the shaft.
All in all, the effect lasted for around 2 hours before wearing off slowly.
Pros
Numbs well, helping you last longer by reducing penis sensitivity.
Takes action quickly – just 5 to 10 mins before sex is enough.
Only a light tingling sensation – nothing too strong.
Lasts a long time – 2 hours or more.
Low price.
Cons
No metered pump, so it's hard to get the right amount.
Has a strong smell and taste unless you wash very thoroughly.
Doesn't seem to be good for oral sex.
No information about the company that makes it.
Lack of instructions or safety information.
Verdict
Stud 5000 appears to be a very basic, generic desensitizing spray. It does provide fast and strong numbing, that much is for sure. But the manufacturer doesn't appear to have done much more than add some lidocaine to a spray mix, and give it a name that sounds like an already established brand.
My partner and I were both unimpressed with the strong smell and taste. And we were surprised to find it numbed her mouth during oral, even after I'd washed off any residue.