If you need something to immediately boost your sexual stamina and regain your confidence in bed, a good delay spray can be an effective option for a few reasons:
It will help you last longer by reducing the physical sensitivity during sex.
You can apply it quickly and easily just before having sex.
Some can be used with or without a condom and shouldn't transfer to your partner.
You can achieve the same effect every time.
It's important to understand that even the best delay spray won't cure you permanently if you have a serious problem with your lasting time. You can find ideas about more permanent solutions at the end of this review.
But if you're looking for something which has the potential to instantly make a big difference to your sex life, desensitizing sprays can be an effective temporary solution.
1) Promescent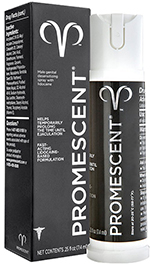 Ingredients: Lidocaine
Application: Metered pump spray
Promescent is in my experience the best delay spray currently available: it ticks every box in terms of effectiveness, reliability and lack of side effects.
At a time in my life when I was struggling a lot with premature ejaculation, I found it enabled me to last between 10 and 20 minutes on average. This was a big improvement from the usual 1 to 5 minutes.
It has a unique design in that the spray is absorbed quickly by the skin to numb the sensitivity, but doesn't stop you enjoying the pleasure or reduce your erection strength.
This absorption action also means it doesn't transfer to your partner like many others, and can be applied just 10 minutes before having sex.
Importantly, I experienced no side effects like tingling or burning, which is sometimes an issue with numbing sprays. The only potential downside is that it's expensive, so it's up to you to decide if the cost and quality balance out.
Promescent review | Find out more at amazon.com
2) Stud 100

Ingredients: Lidocaine
Application: Metered pump spray
If the price of Promescent is beyond your budget, then your best low-price option is probably Stud 100. I found it can help delay ejaculation by several minutes, was easy to use and again had a useful metered pump.
There were some problems with Stud 100 though, and the effectiveness in general is somewhat unpredictable. I think some guys will find it just doesn't work, at least not all the time.
Other guys will have the reverse problem: there's the potential to over-numb your penis, meaning you won't feel so much pleasure. That can then bring about a loss of erection, which isn't ideal. However, considering the low price it could be worth seeing if it does the trick for you.
Stud 100 review | Find out more at amazon.com
3) Super Dragon 6000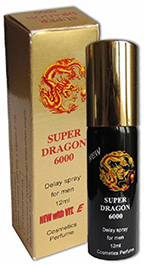 Ingredients: Lidocaine & vitamin E
Application: Spray bottle

Super dragon 6000 is a good desensitizing spray, with the main plus points being that it's strong and fast-acting (and has a very cool name of course).
The strength comes from the fact that it has a higher percentage of numbing agent than most other types, with 10% lidocaine.
And Super Dragon 6000 is possibly the best delay spray in terms of how soon before sex you can apply it – literally just 5 to 10 minutes. Compare that to the 45-60 minutes for China Brush for example and you can see the obvious benefits.
It does seem to work effectively, helping me last at least 10 minutes longer during testing. On the downside, some guys may find it a little too strong, with the risk of reducing erection strength and pleasure.
Super Dragon 6000 review |  Find out more at amazon.com
4) Tauro Extra Power Delay Spray For Men
Ingredients: all natural – including Ginseng Extract, Ginkgo Biloba Extract, Hedera Helix Extract and Chamomilla Recutita Extract
Application: Spray can
Tauro is probably the second best delay spray if you don't like using pharmaceutical anesthetics and fancy something more natural.
I'm not entirely sure where they got the idea for throwing together those particular ingredients, but it does seem to work reasonably well.
On the plus side it did help extend ejaculation by a few extra minutes, was easy to use, wasn't messy and didn't bring about much tingling.
But on the negative side you need to apply it 30-45 minutes before sex. So it's not exactly a good spur of the moment product to discreetly apply.
5) Adam And Eve Marathon Delay Spray
Ingredients: Benzocaine
Application: Spray can
Adam & Eve Marathon is the only pharmaceutical spray on the list which uses benzocaine instead of Lidocaine, in case you have an allergy to Lidocaine.
The good points are that it's strong, fast acting and low cost. And unlike the problems I had using benzocaine creams, the spray makes it a little easier to get the right amount.
They say it works in 5 minutes, but I found a minimum of 10-15 minutes was more realistic. Once on, it definitely helps delay ejaculation with the strong benzocaine formula.
On the negative side I don't know why they market it as a product which gives stronger erections and delays orgasm. There's nothing I can see which would give you stronger erections.
Overall though it's a good desensitizing spray for a good price.
6) Doc Johnson Power Delay Cream
Ingredients: 7.5% Benzocaine
Application: Cream

Doc Johnson have created various versions of delay sprays and creams, with the Power delay cream being the most commonly found one.
The cream is quite strong, and being a cream you need to be careful to work out how much to apply each time.
That's why I generally prefer desensitizing sprays because once you know how many sprays you need, you just repeat it. But with messier creams like this, a little too much and it's game over.
If you do get the amount right, then you should find it numbs you well, and that you last much longer. And because it's strong, it's particularly useful for guys with severe premature ejaculation.
But the downside is that you can easily put too much on and then either kill the pleasure of sex, or worse still, lose your erection.
7) Rock Hard
Ingredients: Benzocaine
Application: Spray can
Rock Hard is unfortunately another desensitizing cream which shoots itself in the foot by being difficult to use reliably.
This is a shame because when you do get the dose right, Benzocaine creams can be highly effective. But I just don't think it's worth the risk of applying too much and ruining sex.
On the plus side Rock Hard has the whole 'odorless and tasteless' thing going for it, and I did find this was the case.
But it's just too hit and miss, so I advise giving it a miss and going for something more reliable.
8) Jamaican Stone
Ingredients: Usually tree sap from a Caribbean tree. Sometimes also toad venom!

Application: Apply water to the stone, rub it in, then rub the resulting liquid onto your penis.

Jamaican Stone is an unusual and potentially dangerous product. It's popular in some countries because if you get it right it can be very effective.
But if you don't get the amount right, you could be in for some problems. I found it can result in an unpleasant burning sensation which takes time to go away.
The FDA have banned it after a man died from eating it. And some rumors online suggest that other people have had serious problems using it.
It's marketed as also helping you have better erections. I didn't find that, but perhaps some guys would do in which case it could be a useful aid to improve your sex life.
9) EMLA Cream
Ingredients: Lidocaine and Prilocaine
Application: Cream

Some guys use EMLA cream for premature ejaculation, but I don't advise it. Although it's a topical anesthetic numbing cream, it's not manufactured with the intention of delaying ejaculation.
It's actually used mainly for other activities such as pain relief when getting a tattoo. So using this as a delay cream is delving into the world of do-it-yourself treatment.
Although I found that it does numb the penis effectively, there are two big problems. The first is that it is just a bit too strong and numbs too much.
The second is that it is quite oily and so takes a while to absorb into the skin. This then brings too much of a risk of transference unless you use a condom at all times.
10) China Brush
Ingredients: Chinese herbs including cinnamon, Korean ginseng, gallstone (bovine), Aloe Vera, and clove.
Application: a liquid gel solution with a little brush to apply it with.

China Brush is touted as being an ancient formula that men in Asia have been using for years. It uses all natural ingredients, which is a plus.
It's definitely effective, and should extend your love-making by more than just a couple of minutes. But there are two annoying problems. Firstly you need to apply it a really long time before sex, between 45 and 60 minutes.
Secondly it sometimes produces a tingling sensation which can be quite strong. Once you wash it off it's not so bad, but until then you have to put up with it.
Overall, China Brush is great, but the length of time you need to wait kind of ruins your chance of using it in the throws of passion.
I've also moved it to the bottom of my top 10 list, not because it isn't as good as the rest, but because it's very difficult to find the authentic product. The last time I checked (in 2016) I couldn't find any reliable supplier.
Conclusion & alternatives
As you can see, there's quite a range of delay sprays to choose from. There's also quite a range of possible problems that could arise from using them. And so there's probably an element of chance as to whether one works well for you or not.
The most important point is that none of them are a lasting solution to premature ejaculation. They only work for a short period of time, so you'll always have to buy more.
If you're interested in tackling the problem in the long-term, I do recommend looking into natural training techniques. There are some good ejaculation control guides which will teach you a range of effective techniques to help you overcome premature ejaculation naturally.